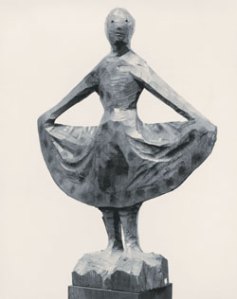 The artist and critic Fairfield Porter once suggested that painters have an easier time of it than sculptors. He contended in a 1960 essay that it "requires much more imagination to be a sculptor than to be a painter" and that "a sculptor's activity is consequently more serious."
Porter fails to back up this blunt declaration beyond some fuzzy talk about "relative values." But his opinion that "a sense of humor is more necessary to [a sculptor] than to a painter" does serve as an appropriate introduction to his review of William King's sculptures, early examples of which are currently on view at Alexandre Gallery.
In this context, Porter's musings about humor and art (at one point, he wonders if they can be considered equivalents) are on the money. Mr. King's sculptures, after all, are funny. Not laugh-out-loud funny—the visual arts, due to their static nature, mostly forfeit the knee-slapping immediacy of outright comedy.
The humor inherent in Mr. King's sculptures isn't transient; it's ingrained, considered and, at its best, bottomless. His stoic brand of comedy gains in power and clarity upon prolonged contact. He's no Henny Youngman.
Mr. King is an acute observer of both type and personality—that is to say, received traits and individual quirks. He's wise to humankind's inherent capacity for folly; he's also shrewd enough to know that no one is blameless—including himself. Gently mocking yet never cruel, Mr. King sums up what we know about ourselves without dodging complexity or contradiction. In the process, he doesn't miss a trick.
The Early Work of William King is dedicated primarily to sculptures created in the 1950's. (Mr. King is now 81.) Thirty-two pieces attest to his familiarity with a variety of processes and media: We see him fold galvanized iron, carve wood, pour bronze and mold clay. He seems most at ease working in terra cotta, but that may reflect personal taste. Given his overall level of mastery, it's hard to make claims for his proficiency with one material over another.
As is typical with young artists, experience enlarged initial influences. Mr. King's early work is inconceivable without the example of Elie Nadelman, the American modernist whose streamlined figuration offered a muffled send-up of high society and its mores.
Nadelman admired folk art, and so does Mr. King: He's taken with its earnestness, its humble materials, its clumsy means and, not least, its radical—if often inadvertent—rethinking of form. His sculptures reveal an appreciation for the art of non-Western cultures and antiquity: African masks, Native American totems, the monolithic idols of Easter Island and the stylized symbolism of Egyptian reliquaries, to name just a few.
The great Hungarian sculptor Constantin Brancusi, who employed a sophisticated approach to construct elemental shapes, is another source of inspiration. Mr. King reverses that equation, using elemental methods to fashion sophisticated forms or images.
With notable exceptions—the intensely primordial Aviatrix (1952) is one—Mr. King's characters are, if not necessarily affluent, then cosmopolitan. You can see it in their dress (Mr. King exhibits a keen curiosity as to how clothes make the man or woman) and in their demeanor (his knack for distilling the telling gesture is sharp and sometimes devastating).
Edith Halpert (1959) purses her lips and tilts her head in a manner stopping short of snootiness; kindness emanates from behind her imperiousness. The woman wearing The Nylon Dress (1954) curtsies with a take-it-or-leave-it coquettishness. Portrait (1950) depicts a self-possessed young woman who doesn't look at us so much as through us. Urbane subjects—jazz musicians, dancers and Mr. King himself as a hipster sporting shades—reflect a sociable crowd that's smart and genteel but never highfalutin' or prudish.
A significant part of the comedy resides in how these characters are crafted. Mr. King's acuity as a sculptor reveals itself because of, rather than despite, his deceptively roughhewn techniques and the brusque, lumpish contours of his figures.
You might mistake weathered terra-cotta pieces like Daphne (c. 1955) or Bob and Terry (c. 1954) for archaeological relics, except that they so clearly typify 20th-century attitudes and anxieties. Working in wood, Mr. King carves and chops with fervor, creating agitated Expressionistic surfaces, though raw passions aren't his thing.
Which isn't to say that he doesn't tap into psychological currents. The closest Mr. King comes to ugly emotions is in Self (1957). The artist, rigid with worry, the top of his head noticeably absent, puffs on a cigarette. Mr. King doesn't exploit feelings so much as contain them. The upshot is that the tenor of the work is made all the more taut, dynamic and, at moments, foreboding. Just what is going on in the head of the unrelentingly composed Shirley (1953)? A lot—more than you'd care to know.
A comic vision aims to engender humility, sometimes shame and, in the end, self-knowledge. Mr. King's brand of wit is no less pointed for its compassion; his sculpture is no less honest for its charm. That the Alexandre exhibition offers only a fraction of his output is frustrating. I left wanting more. But one should be grateful for big delights in small packages. The Early Work of William King is a gift.
The Early Work of William King is at Alexandre Gallery, 41 East 57th Street, until Jan. 27.