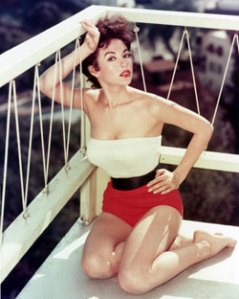 No more torrid tamale jokes. When Rita Moreno kicks off the new cabaret season at the plush little Café Carlyle by jokingly introducing herself as Chita Rivera, you know both Rita and Chita are as tired of those old "Latin from Manhattan" labels as Lina Romay and Estelita Rodriguez were in the 1940's. (Not to mention Lupe Velez, who was tired of everything!) Besides, the old Hollywood casting-department clichés that drove coffin nails into the early careers of talented women like Ms. Moreno no longer have any relevance. She may have been born Rosa Dolores Alverio in the Puerto Rican rainforest and raised in Spanish Harlem, but it's been 57 years since she played Esther Williams' sarong-wrapped Tahitian maid in Pagan Love Song. In the interim, she won an Oscar, a Tony, a Grammy and two Emmys, and carved a distinguished career playing everything from Norma Desmond and Maria Callas to Tuptim, Googie Gomez, Amanda Wingfield in The Glass Menagerie, Mama Rose in Gypsy, and the toughest nun in the history of the American prison system on the HBO series Oz. Do not even think about typecasting Rita Moreno. She's done everything every other actress ever dreamed of, sometimes twice, and almost always better.
Did I forget to mention that at 75, in her new Louise Brooks bangs, a Jewish grandmother named Mrs. Leonard Gordon, a.k.a. Rita Moreno, is also one of the most glamorous septuagenarians since Dietrich? If you don't believe me, then get yourself over to the Carlyle, where this volcano of versatility literally erupts, like a musical Vesuvius, on Tuesday through Saturday until Feb. 10. It's high time, if you ask me. I've seen dazzling little demonstrations of her unique abilities through the years, but never before have so many of her protean talents come together in an intimate showcase so carefully constructed and custom-designed. The third number by Charles Strouse and Lee Adams sets the stage for what's to come: "Part Tijuana, part Boston … half Jane Fonda and half Jane Austen," she sings—"But Alive!" And she proves it, with favorite songs, anecdotes, tributes to Harold Arlen and Peggy Lee, a bit of up-tempo jazz over here, and a lump-in-the-throat ballad over there. There is something for everyone, and her joy and enthusiasm treat every sold-out house like a class of favorite students on a holiday picnic.
It's odd but endearing that, as a youngster from the tropics, her favorite singer was not Carmen Miranda, but honey-dripping Peggy Lee, whose memory she toasts with a bittersweet "Black Coffee" and a foxy "Fever." I occasionally forget how much beauty and magic came out of the legendary Harold Arlen–Truman Capote musical House of Flowers, but when she brings out all of the wistfulness and bravery of first love in the exquisite "I Never Has Seen Snow," I was electrified all over again. "Breezin' Along with the Breeze" brings back the old days at Birdland and gives veteran pianist Russ Kassoff a chance to swing in chords. Popping a noisy, obnoxious gumball in her mouth for a hilarious take on "Class" from the score of Chicago proves all over again what an adroit comic she is when she finds a clever piece of material that matches her own bawdy sense of humor. Though she mostly sings—and wonderful, underexposed songs, at that—the gypsy still resides restlessly in her soul; in a space the size of a bridge table, she does some happy soft-shoe Terpsichore from The Pajama Game with a real Fred Astaire cane. You might not believe her when she tells you she remembers the days when you could take a round-trip trans-Atlantic voyage for $195, but you'll be thrilled that she remembers her roots with a Puerto Rican Christmas samba called "Aguinaldo." (Yes, she even plays the maracas.) Two caveats: a forgotten number from Sunset Boulevard that does not work out of context, and her encore. I can't wait for legions of singers to dis­cover a new anthem that will bury and replace the boring, ossified "Here's to Life." Rita hasn't tired of it as much as the rest of us, who suffer through countless arrangements of this overexposed war­horse by every cabaret diva from Kitty Carlisle to Eartha Kitt, many of them in the same Café Carlyle. But hey, why grumble? Rita Moreno is so lovely, graceful, accomplished and entertaining that she even sends the curmudgeons away cheering.
40's Folly
More lighthearted bliss awaits lovers of the Great American Songbook in When the Lights Go On Again, a celebration of the nostalgic songs of World War II at an intimate little upstairs cabaret room on West 72nd Street called the Triad. The usual reason for retro hep-cat revues that re-create Betty Grable movies like Pin-Up Girl and popular 40's radio shows like Your Hit Parade is pure camp. But this show is different. O.K., it rekindles memories of Snooky Lanson, Dorothy Collins and "Lucky Strike Extras," and the four bright and eager cast members include two guys (Bill Daugherty and Paul Kropfl) with Harold Teen haircuts and two gals (Christina Morrell and Connie Pachl) in Toni home permanents like Martha O'Driscoll and Jane Frazee, but the show really does combine beautiful songs with the kind of nostalgia that will live on in the hearts and minds of anyone who remembers the last meaningful and important war in history whenever they play Kate Smith singing "God Bless America." It was a time of ration books, war-bond rallies and victory gardens. Prime rib was scarce, but people on the home front never seemed to run out of cucumbers.
There is even something of a storyline, thin as a slice of Hollywood Canteen Spam, that revolves around a vocal group called the Moonlighters. Singing close four-part harmonies reminiscent of the chartbusting quartets of the day like the Modernaires, the Honeydreamers, Four Jacks and a Jill and Mel Tormé's Mel-Tones, they broadcast from hotel ballrooms, move into radio, fall in love, break up when the war breaks out, and reunite on a U.S.O. tour. Twenty-eight songs arranged by the show's musical director, Doyle Newmyer, are laced with actual replays of old, popular commercial jingles for Cream of Wheat, Pepsi-Cola and Rinso White, as well as F.D.R.'s announcement of the Japanese attack on Pearl Harbor. Is there a market for this kind of flag-waving morale in today's cynical world? Judging from the packed house on the day I saw the show, the answer is: You bet. Most of today's cabaret audiences may think Pearl Harbor is a duty-free port in the Caribbean, but stupidity is no reason to ignore history.
Besides, when all is said and done, it's the songs that make memories glow and hearts melt. And with 28 of them to make an entire decade live again, if you don't hear something that moves you to reach for a Kleenex, then you might as well throw in the towel and move to a mudslide in Kazakhstan. From the gorgeous Burke–Van Heusen ballad "Humpty Dumpty Heart" to Glenn Miller's theme song "Moonlight Serenade," your ears will rejoice. "No Love No Nothin'," introduced by Alice Faye in The Gang's All Here, and a creamy picnic harmony arrangement of "The White Cliffs of Dover" are two particular favorites of mine, and there were even a few gems I was amazed to discover for the first time, such as "I Came Here to Talk for Joe." What's missing are the dreamy big-band voices that enhanced those vocal groups that served as star-spangled morale-boosters for the boys in the trenches. Mr. Daugherty is a cabaret staple with range and versatility, and the handsome Mr. Kropfl (change that name, kid, if you want to go places) can croon with the best of them. The women are especially good on comedy material ("He's 1-A in the Army, and he's A-1 in my heart!"), but their voices sound too much alike to add much ballast on solos, and Tommy Dorsey would never have hired one soprano, much less two. Still, it's not easy to grouse about any show with so many terrific songs, so much enthusiasm, or so much heartfelt entertainment value. I had a swell time, and so will you.
Jude in Snooze
The new movie season is off to a stumble and a mumble. With Anthony Minghella writing his own script as well as directing Jude Law, Juliette Binoche and Robin Wright Penn, I expected more from Breaking and Entering than a dull and dreary snooze. It premiered last September in Toronto to sluggish reviews, then opened briefly in December in Los Angeles to qualify for the Oscars, and now is finally arriving commercially. What a disappointment. After 10 years, the eroding relationship between Will (Jude Law), an unmarried London architect; Liv (Robin Wright Penn), his Swedish girlfriend; and their autistic daughter, who is obsessed with ballet and acrobatics, finally implodes after Will falls in love with Amira (Juliette Binoche), a Bosnian refugee whose teenage son breaks into his office and steals his computer. For a film about urban angst and adultery, it's more dysfunctional than both its plot and characters, stretching patience and credibility to the max.
Envisioning London as the nadir of the multicultural mayhem that is overwhelming the atlas faster than global warming, Mr. Minghella deposits proud and decent people in the dangerous neighborhood of King's Cross, where Will struggles to rebuild city slums with daring new architecture that enrages traditionalists (think of the ugly Pompidou Center in Paris), and where the inhabitants have been hit by a series of burglaries. For Will, spending his nights slouched in his Land Rover staring at his warehouse seems preferable to sitting at home with his depressed Swedish partner and their daughter. When the teenage thief turns up, Will tracks him down to a council flat near Camden, where the boy's exotic mother persuades him not to call the police. When he discovers his laptop inside her flat and finds his first flash of happiness in years inside her bed, a brief encounter leads to an affair fraught with lies and deceptions. Describing the collapsing moral centers of their lives, the characters keep using the word "complicated." It's a word that fits the movie, too. The dilemmas faced by everyone are well drawn, but the humanity with which Will and Liv save the vulnerable Bosnian immigrants from deportation is not entirely credible. Amira, the woman from Sarajevo struggling to stay alive as a seamstress and save her son from a life of crime in a seedy, hopeless environment, is the emotional center of the film, and Ms. Binoche is touching and effective. Less believable is the anemic home life of Will and Liv, whose frigidity is passed off as one of those "Swedish things," but which fails to work in English, let alone Swedish. The bizarre behavior of their daughter, who performs gymnastics day and night and screams hysterically at all hours, is an annoying distraction. So is the intrusion of Vera Farmiga (from Martin Scorsese's The Departed), who keeps popping up as a flamboyant hooker from Eastern Europe who turns tricks in Mr. Law's Range Rover. I was more impressed with the way the director uses the change from ruin to revitalization in both architecture and human contact as metaphors for globalization. But in the end, nothing in Breaking and Entering makes much of an impact. Like the decaying London sprawl it depicts, the film is also a damaged blight ready for the wrecking ball.