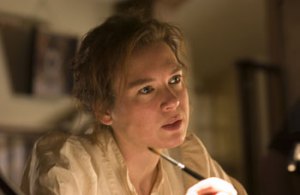 Miss Potter may have the cinematic punch of a wet vanilla wafer, but the cynics who have dismissed it as a confection sweet enough to fatten a dentist's coffer have overlooked one thing: Its unpretentious intentions and feel-good charm are a welcome relief from the deadly, violent despair found elsewhere this winter in overrated bores like The Departed, The Good Shepherd, The Good German and The Dead Girl. I found it slight but enchanting, which is not the same thing as slightly enchanting.
Beatrix Potter was the legendary British author and illustrator whose stories about Peter Rabbit and his four-legged friends have captivated millions of children throughout the world for more than 100 years. Oddly enough, every publisher in London rejected her early stories and drawings, but by the time she died in 1943, at the age of 77, she was one of the most successful best-selling authors of children's books in the history of publishing. Adored and celebrated from sea to sea, she remained so private that little was known of her personal life—until now. This is her endearing story, scandal-free and utterly resistant to the tragedy and suspense required of most biopics about famous writers.
Renée Zellweger is pluperfect as Miss Potter, so-called because she was a proper middle-class Victorian who spent most of her life as a spinster. The British accent that Ms. Zellweger worked on in the two Bridget Jones movies has been polished so effectively you'd swear she was the toast of Bloomsbury—no mean feat for a cowgirl from Texas. She literally takes us by the hand, guiding us through the dreams and aspirations of a polite but secretly ambitious girl who shocked her parents by admitting, early on, that she was more interested in a self-fulfilling career than a socially acceptable marriage to a dullard simply because it was the expected thing to do. Using her drawing skills and the menagerie of pets she and her younger brother kept in the schoolroom on the top floor of their house, Beatrix illustrated her first book and published it herself in 1902. Overnight success drew the attention of a fussy, foppish editor, Norman Warne (Ewan McGregor), who turned Beatrix into a literary sensation and awakened her heart to the even more unthinkable reward of first love. Ignoring the vocal disapproval of her snobbish parents, Beatrix turned for guidance to Norman's family, especially his sympathetic and caring sister Millie (Emily Watson), and eventually a comfortable, privileged but emotionally dormant old maid whose only friends were the animals in her watercolors found bliss as Norman's intended.
The triumph was brief. Sadly, Norman died of leukemia a few weeks after their engagement, leaving the celebrated but decimated author to move from the fashionable drawing rooms and lush gardens of London to the isolated farm country of the Lake District. With her decision to make a new life by buying an idyllic cottage in Windermere, Beatrix fell in love with both the land and a neighboring lawyer, whom she eventually married—paving the way for a second career as a sheep farmer and land conservationist. Eventually, her dedication to preserving the endangered rural beauty of the Lake District and protecting it from developers resulted in a real-estate windfall more lucrative even than her books. When she died, she left over 4,000 acres of Lake District property to the National Trust, to be preserved in its natural state of scenic perfection for posterity. Combined with the 23 volumes of Peter Rabbit books that are still being published today, "Miss Potter" has left behind quite a legacy.
It is easy to see why Ms. Zellweger became so infatuated with this story that she executive-produced it. It's also obvious why so much nursery-school innocence informs it visually. The director is Chris Noonan, who rocketed to prominence with Babe, and the script is by Richard Maltby Jr., the distinguished Tony Award–winning lyricist and director of such intelligent Broadway musicals as Baby, Big, Fosse and Ain't Misbehavin'. The film's rapturous visual splendor is the work of Andrew Dunn, the distinguished cinematographer of Gosford Park and, more recently, The History Boys. Collaboratively, they have brought to life Miss Potter's world with the daffy, delightful whimsy of pop-up Hallmark Easter cards. The frogs, mice, squirrels, foxes and porcupines in her lovely watercolor illustrations come to life in the animated sequences just as they did in her fertile imagination. The movie is as rarefied as the life of Miss Potter herself—no big revelations, but oozing endearment in a discreet, old-fashioned way. Mercifully, it is only 92 minutes long. So lower your eyebrows and check your cynicism at the door, and Miss Potter will move and entertain you in happy, surprising ways.
Perfume Stinks
Perfume: The Story of a Murderer is another nauseous example of style over content: a toxic tale of serial homicide set in 18th-century France that creeps you out faster than it makes you think. The movie is helmed by German director Tom Tykwer, with all of the Gothic horrors for which the Germans have an enduring affection, and is based on the gruesome book by Patrick Süskind, which first raised hairs on the wrists of page-turners nearly 20 years ago and, curiously, has remained a popular favorite to this day among bored passengers browsing in airport lounges. The book is a moribund mix of muted, malevolent mystery and metaphysical mumbo-jumbo. But setting a lurid imagination free on a crowded plane is not the same thing as being trapped in a grotesquely graphic film for two hours: The audiovisual medium of movies threatens a more visceral form of bondage than the pages of a novel. Trapped in a cinema with a screen the size of a stage, there is no escape. This makes for double jeopardy with a movie like Perfume, because it's all about smells, and the one sense that no motion picture can capture or share is the olfactory. This is a good thing, because the scents conveyed in this movie are largely putrid.
This loopy black fable is about Jean-Baptiste Grenouille, an ill-fated lad conceived by fishmongers and born into a pile of fish guts and maggots in the filthy streets of Paris in 1744. A weird, almost catatonic urchin alienated from the cruel world by everything except his nose, J.B. lives with the constant stench of sewers and rotting swill, raised in an antediluvian orphanage that makes the tribulations of Oliver Twist look like a picnic at Versailles. By the age of 5, his talent for sniffing out every kind of malodor is already evident, but nothing prepares him for what he encounters after being sold as an apprentice to a tannery run by a vicious brute replete with boils. Ironically, he was born with no scent of his own, which makes his obsession more acute. The day his refined sense of smell leads him to his first scent of a perfumed woman selling plums, he has no choice but to stalk and kill her in a fearless attempt to preserve the aroma forever. But perfume fades, and as he tries feverishly to bottle another pleasurable scent, more women die in pools of blood throughout Paris. The gendarmes move in, but J.B. survives every peril like a resilient bacterium. The first hour wobbles along interestingly enough, but the movie seriously slides downhill with the entrance of Dustin Hoffman as the charlatan Giuseppe Baldini, a has-been perfume merchant who needs fresh inspiration. Identifying the ingredients of Baldini's old creations and creating new essences that revive his career, the boy begins a whole new series of repellent murders to preserve every scent and find one of his own to prove his miserable existence has not been meaningless. It's a pity Mr. Tykwer didn't spend more time developing the point of the novel that "the soul of all things is their essence," instead of wasting so much time on a hammy performance by the miscast Mr. Hoffman that comes off like a cross between the Merchant of Venice and Helena Rubinstein. While narrator John Hurt gives a blow-by-blow description of the boy's rise and fall from olfactory insanity, British newcomer Ben Whishaw admirably performs above and beyond the call of duty in a role that I fear is hardly worth the sacrifice. The odyssey leads to the guillotine, where a crowd bigger than Marie Antoinette's stages a massive sexual orgy and declares the "disciple of Satan" the true Messiah. If you're still awake at this point, you'll find renewed respect for Givenchy, Armani and Chanel No. 5.