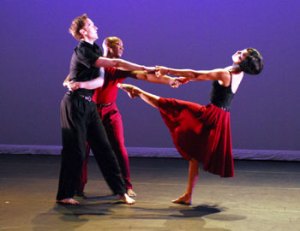 Through Jan. 27, Mark Morris is presenting a program of chamber works in the pleasant chamber theater (it seats 140) on the fifth floor of his spacious dance center opposite B.A.M. The featured attraction is a new piece: Italian Concerto, to Bach's famous concerto of the same name, played emphatically (on the piano, not the harpsichord) by Colin Fowler. This is music that doesn't really benefit from being danced to, or else Morris hasn't made the most of it—Italian Concerto is a minor contribution to the Morris canon.
The first and third movements—"allegro" and "presto"—are brisk and frolicsome, featuring two couples. Morris himself is seen for a moment at the very start and (uncomfortably) towards the end. It's the central movement—the andante—that's clearly the raison d'etre of the piece, since it's used to provide the choreographer with a long, intense solo that's a real oddity. Dressed in black, Morris takes his place downstage left and with deliberation moves directly upstage, then forward again and back again several more times, rather than taking advantage of the lateral space a stage provides: It's as if he's caught in a narrow corridor.
Perhaps he's feeling caught—or trapped—by the toll his advancing years have taken on his ability to perform. Like every great dancer (and he certainly was one), the power of his dance personality comes through whatever he does and whatever the condition of his body. (Martha Graham in her 70's wasn't pleasing to behold, but she could raise an arm or turn her head and you were riveted.) However, Morris' current bulkiness—or, if you prefer, portliness—now keeps him from dancing full-out and presents a picture that takes some getting used to. And the problem is exacerbated by the contrast between him and the rest of his dynamic company when he joins them at the close. The audience was clearly thrilled to be seeing him, and I was too—but more as a reminder of what he has been. I can't imagine what someone seeing him here for the first time would have made of his dancing. The choreography he gave himself focused on intelligent detail he could readily handle, but it wasn't strong enough to distract us from the unusual picture he presents.
The first two pieces on the program are fairly recent: The Argument from 1999, Sang-Froid from 2000. The first is a witty dissection of three man-woman relationships, set to Schumann's passionate "Fünf Stücke im Volkston." (The cellist, Susan Babini, was particularly compelling—but Morris always gives us superb musicians.) All three women are elegantly dressed in Elizabeth Kurtzman's little black dresses, with low black pumps. These are today's women, engaged in today's dysfunctional relationships. Dominating the piece is the beautiful Julie Worden, no longer Ms. Nice Girl—she's in violent rage, lunging, thrusting, disdainful. Her partner, Charlton Boyd, is softer, but he can give as good as he gets. The second couple, Michelle Yard and John Heginbotham, are more melancholy, more wistful. The third, Maile Okamura and Craig Biesecker, are the most unresolved: We don't know quite who they are, and they don't seem to know either. The work as a whole is convincing, at times moving, its world somewhat akin to that of Sondheim's Company.
Sang-Froid is—yes—another Chopin piano ballet: one piano, nine dancers. There's a lot of running, spills to the floor, arms stretched out toward the audience. Although Morris uses some of the same music that Jerome Robbins used for Dances at a Gathering, the two works aren't similar: Sang-Froid doesn't try to be winning or uplifting. On the other hand, the dance invention is more restricted than Robbins'.
For me, the great joy of the evening came from Love Song Waltzes, which Morris created in 1989 during his immensely productive Brussels years (Dido and Aeneas; L'Allegro, il Penseroso ed il Moderato). Again, he's using music familiar to us—the Brahms songs that accompany the first part of Balanchine's great Liebeslieder Walzer (some years earlier, Morris used the rest of the music for New Love Song Waltzes). But the Morris and the Balanchine are utterly unalike. Whereas the Balanchine waltzes are danced by four elegant couples in a formal social setting, the Morris waltzes are free-ranging, emotional, tumultuous. Now a duet, now a solo, now a rush of all 12 dancers—everything is natural and full, and seemingly inevitable. Morris isn't solving problems here, or making points, or vamping. His creative forces are in full flow, joyous and exhilarating. This is very much a group ballet, and about being a group. It's Waltzers at a Gathering (to refer again to Robbins). The highest praise you can give it is that when it's over—all too soon—you realize you haven't been missing Balanchine.