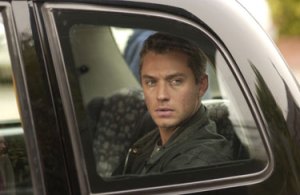 Anthony Minghella's Breaking and Entering, from his own screenplay, very expressively projects his own feelings about the tumultuous changes taking place in the King's Cross section in North London, under the impetus of an ambitious urban-renewal project in an immigrant-swollen area rife with crime and vice. It is never made entirely clear what political position, if any, the writer-director holds on all the ferment he has witnessed and is now recording in fictional form.
There are traces of mild satire in his depiction of the central character, Will Francis (Jude Law), a landscape architect and developer, shown in media-cartoonish fashion somewhat pompously promoting his grandiose vision of "new" London. But in other respects, Will is an unusually laconic and uncommunicative presence in the center of two initially parallel family narratives, one upper-class, one lower-class. He interlocks them sexually through his impulsive infidelity to his already passive-aggressive Swedish-American girlfriend, Liv (Robin Wright Penn). Liv has entered the relationship with Will burdened by her now-13-year-old autistic daughter, Bea (Poppy Rogers).
With whom does Will guiltily betray Liv? Well, that is the strange crux of the film, which is literally set into motion by two successive burglaries of the office that Will shares with his partner, Sandy (Martin Freeman). I say "literally" because the burglaries are committed by a gang of Bosnian refugees from Sarajevo, and this gang depends on the roof-jumping gymnastic feats of 15-year-old Miro (Rafi Gavron). Miro is the son of widowed Amira (Juliette Binoche), who, like her son's burglary gang, has fled Sarajevo after the murder of her husband during the period of "ethnic cleansing." But Amira is totally unaware of her son's criminal activities; she thinks that he is attending school.
After the second burglary, Will and Sandy begin keeping watch on their office building after hours in Will's S.U.V. The first night they are discovered by a passing prostitute, Oana (Vera Farmiga), who comically propositions the two men with her exposed breasts. They tell her to go away, but she insists on getting into the back seat and philosophizing to her heart's content.
Mr. Minghella's wittily drawn characters tend to be hyper-articulate and seemingly self-educated, regardless of their modest social and economic status. For example, Erika (Caroline Chikezie), the Nigerian cleaning woman, invokes Kafka in her first sentence of outrage after her boss, Sandy, allegedly tells the police that she should be considered a prime suspect in the two burglaries (she is especially indignant because Sandy has expressed an unwelcome infatuation with her). Even so, one wonders if Kafka is a household name in Nigeria.
One night, Will discovers Miro in the opening stages of yet another burglary. Seeing that they've been discovered, the rest of the gang drive away, but in the ensuing chase, Will manages to track Miro to his mother's apartment, though Miro thinks he has given his pursuer the slip. The next day, Will sees Amira in the street with Miro and is fascinated by her. He follows Amira and discovers that she works as a seamstress to support herself and her son. He finds a pretext to knock on her door and slowly begins an affair with her. Here, the narrative takes some peculiar twists and turns before everything is resolved to allow both families to emerge unscathed from a near-brush with the law and several traumatic confrontations caused by Will's shameless prevarications. Bruno Fella (Ray Winstone), the wryly authoritative spokesman for the police point of view, places the whole affair in perspective when he remarks to Will and Sandy: "There's one law for them and one law for us." Still, Will and (surprisingly) Liv combine to place the less-privileged Amira and Miro under the legal umbrella of privilege possessed by Will and Liv (and everyone else like them). Yet there is no bitter aftertaste to this clear confirmation of social and legal inequality in our society. Hence, in a movie scene saturated with pessimism and paranoia, Mr. Minghella seems remarkably optimistic.
Juliet Stevenson, the romantic lead of Mr. Minghella's first film, Truly, Madly, Deeply (1991), makes a brief but vivid impression as Rosemary, a canny relationship counselor for Will and Liv. Breaking and Entering is the first film Mr. Minghella has directed from his own original screenplay since his debut 16 years ago. His outstanding subsequent career consists of such successful adaptations as The English Patient (1996), The Talented Mr. Ripley (1999) and Cold Mountain (2003).
One curiously kinetic note: There is a strangely, seemingly opportunistic symmetry between Miro's occupational exertions and the autistic symptoms of Liv's daughter, Bea, who doesn't eat or sleep but spends all her time doing gymnastic routines much like Miro's. All in all, Breaking and Entering isn't a bad start for 2007.
Woman at War
Philip Haas' The Situation, from a screenplay by Wendell Steavenson, is the first fictional film about the Iraq War since Irwin Winkler's undervalued Home of the Brave, and, like its predecessor, it was shot in Morocco. Unlike Home of the Brave, however, The Situation is a view of the current situation in Iraq as seen through the eyes of a skeptical American foreign correspondent, who first runs into trouble by investigating what seems to be an American war crime, and then gets into real trouble when she decides to investigate an Iraqi sectarian political assassination.
Mr. Haas, who has previously specialized in literary adaptations with The Music of Chance (1993), from the novel by Paul Auster; Angels and Insects (1995), from the A.S. Byatt novella Morpho Eugenia; and Up at the Villa (2000), from the W. Somerset Maugham novella, has undertaken a project more in line with his earlier background as a documentarian. Even so, he says of his choice of project: "It struck me that if we could make a film during the U.S. occupation of Iraq that dealt with the effect of the war, both on the Iraqis and the Americans, and treat it as fiction as opposed to documentary, it would have a strong impact.
"There wouldn't be historical perspective," Mr. Haas continues, "but there would be a sense of urgency, and a sense that we might be able to understand what was going on even though we are in the middle of it." His first step was to find a screenwriter who could offer an informed perspective on the occupation, along with the ability to create a fictional story. According to the production notes: "Then he came across an article by Wendell Steavenson, an Anglo-American journalist in her thirties who had lived in and reported from Iraq in the heat of the conflict."
The result of this collaboration is The Situation, an inevitably dated contemplation of the complexities of the American occupation of Iraq, as if the story created for this film could be frozen in time to serve as a guide to American policy. Indeed, there is only one reason for us to watch The Situation, and that lies in the casting of the ineffable Connie Nielsen as Anna Molyneux, an American journalist who travels back and forth between the legendary Iraqi cities of Baghdad and Samarra to determine why a group of American soldiers threw two Iraqi boys off a bridge, with one of the boys drowning. Anna's investigation goes nowhere. Accompanied by her translator, Bashar (Omar Berdouni), Anna visits one of her prime Iraqi sources, Rafeeq (Nasser Memarzia), whom she admires for his fair-minded view of the sectarian conflicts throughout Iraq. Rafeeq puts her in contact with the surviving boy in the bridge incident, and with the bereaved family of the drowned boy. By attending the funeral, Anna gets an insight into Samarra's power structure when Tahsin (Saïd Amadis), the sheik whose word is law in the town, makes his ceremonial entrance, a handshake here, a hug there and a perpetual smile everywhere. By contrast, Anna is welcomed as both a friendly guest and as a target of suspicion. She is an American, after all, and who can trust the Americans?
Meanwhile, Anna's boyfriend, intelligence officer Dan Murphy, is in Baghdad's Green Zone, arguing with his superiors on the best way to curtail the violence and repair the country's shattered infrastructure. After many dis­illusioning experiences with both Americans and Iraqis, Dan concludes with a statement that encapsulates the film's bewildering narrative as well: "There is no truth, you know. It's not about locking up all the bad guys. It doesn't work like that. There are no bad guys and there are no good guys. It's not gray, either. It's just that the truth shifts according to each person you talk to."
As Dan becomes increasingly frustrated and cynical, Anna begins to drift away from him into an intense friendship with an Iraqi photographer, Zaid (Mido Hamada). (This parallels Ms. Steavenson's real-life liaison with an Iraqi photographer.) But all of Anna's relationships are put on hold when Rafeeq is assassinated right in front of his home. Anna mistakenly believes that Rafeeq has been killed because of his association with her, and she vows to find his killer and write a story about her discoveries. Despite Zaid's warnings, Anna and Bashar drive off with Walid (Driss Roukh), a sinister Samarra resistance leader, who has promised to assist Anna in her investigation.
Instead, Anna is, in effect, kidnapped by Walid, who shows Anna that Rafeeq was murdered not for sectarian reasons, but because he stood in the way of the killer's courtship of a local beauty. Despite Anna's not being in any real danger, Zaid and Dan collaborate to get American troops to raid Walid's headquarters in order to "rescue" her. The consequences of this raid serve only to confirm the ultimate futility of all violent "solutions" to Iraq's problems. My favorite character in the film is Bashar's father Duraid (Mahmoud El Lozy), an Iraqi diplomat at the U.S. Embassy in Baghdad. For the information he gives Dan about Anna and Walid's whereabouts, Duraid requests that Dan use his influence to get him reassigned to the United States Embassy in Australia, which is about as far as he can ever hope to get from Iraq.
Of course, the real situation in Iraq is not all that funny, and Mr. Haas' and Ms. Steavenson's The Situation doesn't suggest that it is. Yet I fail to see what this mystify­ingly motivated independent production has to contribute to the ever-escalating and increasingly virulent debate over American policy in Iraq. Perhaps the point of the film is that there are no satisfactory answers, easy or otherwise.
Eccellente!
Andrei Kravchuk's The Italian, from a screenplay by Andrei Romanov, is already a strong candidate for my 2007 10-best foreign-film list, in addition to its being nominated by the Russian Film Industry for the 2006 Academy of Motion Picture Arts and Sciences for the Best Foreign-Language Film Oscar. Mr. Kravchuk is making his directorial feature-film debut after more than a decade working in television and on documentaries.
In his director's statement, he says, in part: "The idea for The Italian started in 2000. There were a lot of children on the streets of Russia trying to earn their living selling newspapers, washing cars and doing all sorts of menial jobs. I started thinking about the subject and shared this idea with screenwriter Andrei Romanov. He told me that he had read an article about an orphan boy from a children's home who decided to find his own mother. In order to do so, he taught himself to read and write and afterwards ran away from the children's home. This became the basis for our screenplay."
A terrific tot named Kolya Spiridonov plays Vanya Solntsev, the title character and heart-rending protagonist of The Italian. Actually, Kolya was closer to 10 than the movie's 6 or 7 when he worked in The Italian, but he is marvelously mesmerizing just the same. (And hey—if grown-up actors can play younger or older characters, why can't children?) Kolya had already appeared in five or six films before Mr. Kravchuk picked him over many other applicants. Many of the "extras" in the film were real-life orphans from the Lesogorsky Children's Home.
Many reviewers have applied the term "Dickensian" to describe the emotional power of the film, and the director has acknowledged the influence of David Copperfield as well as Italian neo-realism, particularly Vittorio De Sica's The Bicycle Thief (1948). Nonetheless, The Italian is much more than a children's fairy-tale, as some reviewers have suggested: Its social texture is too rough-hewn and scratchy, more grim than Grimm, as it follows a child's mini-odyssey to an uncertain destiny.
The Italian provides an unusually incisive and insightful portrait of a certain sector of provincial Russian society. It is, in many ways, a messy film, with many seemingly distracting detours from Vanya's desperate journey suddenly producing a spark of kindness here, a flash of juvenile hooliganism there.
Yet Vanya remains spunky, determined and resourceful throughout. He is called "the Italian" because a married couple from Italy have paid an adoption broker identified only as Madame (Maria Kuznetsova) an enormous amount of money to facilitate his adoption. Madame, unwilling to refund this money, becomes Vanya's implacable pursuer, like Javert in Victor Hugo's Les Misérables. Vanya and the other children in the film are marvelous to watch—before we realize that we are looking, in many instances, at real orphans with horribly bleak prospects in their future lives. Fortunately, Mr. Kravchuk and Mr. Romanov refrain from editorializing on the subject; even Madame is treated with a degree of humor and compassion. The Italian is quite simply irresistible entertainment.