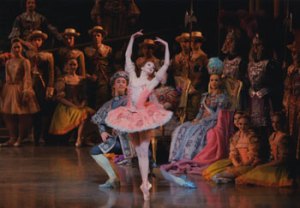 The Sleeping Beauty is the greatest, most challenging and most vulnerable of classical ballets. Everything can go wrong with it, and all too often, everything does. Most of us have an ideal Beauty in mind; for my generation, it's the famous Sadler's Wells version that we first saw in New York in 1949 and that established Margot Fonteyn as the supreme Aurora—and ballerina—of her time. Alas, it's been a rocky road since then.
When that production, designed by Oliver Messel, deteriorated, the Royal replaced it with a whole series of versions, none of which measured up to what they were replacing. (Its current staging is sadly pallid.) The Kirov Beauty, already in trouble, gave way recently to a fussy historical reproduction of the 1890 original—a fascinating curiosity if not a living work of art. Balanchine, unfortunately, who all his life talked about staging it, never got further than the Garland Dance. A.B.T. abandoned the ballet some time ago, and is only now—in June—bringing it back in a new version staged by Kevin McKenzie and Gelsey Kirkland.
And of course at City Ballet we've had, since 1991, Peter Martins' speeded-up (two-and-a-half-hour) production, which has just completed a two-week run at the State Theater.
The Martins has its virtues—clarity is chief among them—and his own choreographic contributions (the dance for the three court jesters, the dance for the four jewels) are successful classical pastiche. But just as his Swan Lake is devoid of feeling, his Beauty is devoid of resonance; it moves lickety-split ahead, hitting the high points, efficiently sketching in the rest. Of grandeur, of meaning, of all that the story, the music and the characters suggest, there's nothing. His Aurora is a nice girl to whom something unpleasant happens, but then—a century later—boy gets girl (and vice versa) and they get crowns as well. His Lilac Fairy is a pleasant lady with a wand who basically serves as a benign matchmaker. His Carabosse is a mean lady in black who laughs fiendishly and shakes her fists. Good and evil? Life and death? Innocence and experience? No way, José.
It's too late for Martins to do anything about his big strategic mistake: Going without interruption from the Spell to the Vision Scene 100 years later defies all emotional logic. But smaller things could be improved. The christening party doesn't have to be so skimpily populated and garishly dressed; and the peasants in Balanchine's Garland Dance don't have to look as if they'd wandered in from Bournonville's Napoli, or be pushed too far forward by the stage design, or be upstaged by courtiers sauntering around behind them, distracting the eye. (To be fair, in a 1946 review of the hallowed Messel production, the dance historian Cyril Beaumont wrote: "Mr. Messel's costumes, with their high-crowned hats, suggest Bavarian rather than French peasants, and the construction of the setting seriously restricts the dancing area.")
In the long run, however, Beauty lives and dies by its Aurora. She has to be both a superb classicist and a radiant personality—a powerful technician and the essence of youthfulness and goodness. For opening night, Peter Martins cast the company's stalwart leading dancer, Wendy Whelan, and the admirable Whelan worked as hard as she always does. It was an honest performance that was all wrong—her quirky, powerful neoclassicism has nothing to do with Aurora.
Three younger dancers were all appealing—in different ways. Ashley Bouder is a powerhouse technician, and she ate up the role's challenges, but though she's learning to tone down her attack, for me she lacks the delicacy, the loveliness, that Aurora demands. Megan Fairchild was at her best in the Vision Scene—composed, fluent-in easy-command; but in the first act I found her somewhat lacking in joyous spontaneity. Whereas Sterling Hyltin, whose technique isn't yet as solid as Fairchild's or Bouder's, gave me the crucial Aurora elements: radiance, charm, naturalness. She appears to be all spontaneity onstage, even when she's overstretched. I believed in her excitement about her birthday party, about stepping into adult life, about her four suitors ("O brave new world … ").
How did she fare in the perilous Rose Adagio, which looms before every Aurora just after her entrance the way "Celeste Aida" does for every Radames? No better (and no worse) than the others: Bouder and Fairchild both had their unsteady moments. In fact, all four of the Auroras I saw were clearly anxious—they make this celebrated passage look like a terrifying ordeal rather than a thing of beauty. Listen to Fonteyn, girls: "The greatest difficulty is to manage to do it without making a great fuss; it is only really valid if one can make it seem as easy as getting off a bus." Not that Dame Margot didn't wobble now and then ….
Of the Lilac Fairies, Sara Mearns was the most suggestive—her beautiful port de bras and the creaminess of her dancing are valuable here, although for me she lacks the amplitude that the greatest Lilacs display. Jennie Somogyi, for all her mastery, also lacks grandeur. Amanda Hankes and Ellen Bar made game efforts. As the malign Carabosse, Lilac's enemy, Merrill Ashley was back on opening night, laughing up a nasty storm—don't leave Ashley off your guest list! And it was fun to watch that highly intelligent dancer Melissa Barak riff on Margaret Hamilton's Wicked Witch. But having grown up on Frederick Ashton and other male character-dancers in the role, I prefer it in travesti. After all, the original Carabosse was the great ballet-master and teacher Enrico Cecchetti, who doubled as the Bluebird!
With the fairy variations, the Bluebird pas de deux and, in this production, the jewels, Sleeping Beauty provides young comers with generous opportunities to refine their classicism. And since strict classicism is hardly City Ballet's greatest strength, this exposure is both important and revealing. More than a dozen girls were spotlighted, and on occasion the spotlight was flattering. Immediately you see in Ana Sophia Scheller, trained in Argentina, a highly accomplished classical dancer: Her Florine was ravishing, as was her "Fairy of Tenderness." Scheller will be confronting the Rose Adagio one of these seasons. Also particularly pleasing: the very musical Ashley Laracey and the very precise Alina Dronova.
As for the Prince, his is not a very grateful role, given that the forest scene has been seriously amputated. Most impressive by far was the veteran Nikolaj Hübbe—noble, filled with restrained feeling, and a tactful and eloquent partner. He's a paragon. None of the Bluebirds was more than adequate, and at least one was less.
And, finally, Stephanie Zungre and Sean Suozzi were the sexiest and most feral White Cat and Puss in Boots I've ever seen. There was nothing cute about these kitties: They were out on a hot tin roof.