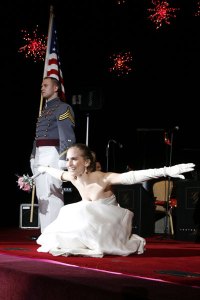 "Hello, I'm Ashley Bush," said a fresh-faced brunette, extending an arm sheathed in white kid. A native of Houston, the granddaughter of former President George H.W. Bush, 17, was among those chosen to represent the United States at the 52nd Annual International Debutantes Ball at the Waldorf-Astoria Hotel on the evening of Dec. 29. Fifty-nine lovely young ladies from around the world "came out" that night before over 900 guests.
The family's strong genes were discernible between the dangling pearl earrings that Ms. Bush wore to complement a strapless Monique Lhuillier gown with a girlish bow spreading across the bust. "I'm from the South, and you have to do this if you're from the South," she said. Indeed, 15 of the 49 Americans at the event were from Texas, almost twice the number fielded from New York.
"We're very proud of our princess," Sharon Bush had gushed earlier, as The Transom made its way through the receiving line, which began at 6 p.m. in the Astor Room and lasted two and a half hours. At 7 p.m., the queue to meet these eligible society bachelorettes and their supporters stretched into the hallway outside the hotel's main ballroom and down the stairs. It included many young cadets in uniform: The proceeds of the ball, which is expected to net $300,000 after expenses, principally benefit the Soldiers', Sailors', Marines' and Airmen's Club on Lexington Avenue.
At 8 p.m., cadets Ralph Filosa and Kieran Carroll, of the Naval Academy in Annapolis, were mingling down the hall in the Jade and Basildon rooms, where cocktails were being served. "It's a good time," Mr. Filosa said. "It's interesting. You see the other side, how rich people live."
"I think this party is awesome," said Mr. Carroll. "Open bar, really good-looking girls. I love it. I love it."
Then he lowered his voice a few decibels.
"I hear the Duchess of England or whatever is a wild child," he whispered. "I got my eye on her."
As described in the program, it's tradition for each debutante to be escorted by both a civilian "dressed in white tie and an assigned member from the United States Air Force, Coast Guard, Military or Naval Academies or Norwich University who carries the flag of the country or state the debutante represents."
Cadet Michael Wolk, of West Point, had his game face on as he worked the room. He had been chosen to escort Ms. Bush, along with her older brother Pierce Bush. "For me, this is a chance for us in the military to interact with our peers on the civilian side," he said. He wore the West Point "dress blues," a uniform covered in shiny gold buttons that dates back to the Civil War. "Tonight, during the presentation, I will be carrying the American flag behind Ashley as she processes up," he said, "and then stand just to her back right onstage when she does her curtsey—which will be a Texas curtsey, because she's from Texas, so she'll go very low to the ground. It's a very difficult maneuver."
"I've been working out so that I can give her a firm helping hand up," said Pierce Bush, 20, an American studies major at the University of Texas. He wore a tuxedo with tails and white gloves and bore a striking resemblance to his cousin, the TV personality Billy Bush.
At 8:30 p.m., guests were hoarded into the giant main ballroom, done up in the traditional International colors of pink for femininity and silver for elegance. Three-foot glass vases stuffed with pink roses, pink lilies and white orchids sat on the tables, and a balcony of green foliage and white lights left gave the effect of an enormous Christmas wreath hanging above the room.
Individual tickets to all this splendor cost $750 apiece. Debutantes pay $12,000, which includes 12 tickets. "Not everybody has the $12,000," said Margaret Stewart Hedberg, who has run the International since 1983. (Her aunt, Beatrice Dinsmore Joyce, founded it in 1954.) "A lot of people would rather buy a watch."
And not everybody who does have the scratch gets to curtsey. "I have to get to know you a little first," said Ms. Hedberg, who added that the ball has become more diverse over the years. "It's more of a mix now," she said. "But high society is more of a mix now …. We're in New York City, and I think it's nice to have a nice broad representation."
It was, in fact, a nice representation of broads.
Like Countess Magdalena Maria Habsburg-Lothringen, who wore a V-necked satin gown made in her hometown of Vienna.
"Vienna is also very famous for its balls," she said. "We also have a lot of balls, especially in the wintertime. I am going to probably one ball every week this time of year."
She wore her blond hair down on her shoulders and a pearl necklace.
"At a debutante ball in Austria, they are a lot different. But this is just amazing—so many people. It's great meeting so many people from all over the world, and I love it. I like Americans. They're always so friendly to foreigners—that's really great."
Standing next to the Austrian Countess was the Honorable Isabella Murray, daughter of Viscount and Viscountess Stormont of Scotland, where the family has occupied the Scone Palace—that's right, the Scone Palace—for some 400 years. She too was enjoying making new friends.
"We've been looked after so beautifully, especially by our escorts as well," she said. A Scottish sash accentuated her gown, and around her neck hung a large diamond necklace. "Murphy Bright is my escort," she said. "We went out for a meal and some drinks last night. They introduced us to their friends. It's been very nice."
The ballroom was soon alive with the popping of Champagne bottles and, from the stage, the sweet sounds of the Lester Lanin Orchestra playing oldies like "Under the Boardwalk."
Outside, Lady Henrietta Seymour—the "wild one" Mr. Carroll had had his eye on—was enjoying a quick after-dinner fag with her friend, Freddy Paterson-Morgan.
Lady Henrietta, scion of the Duke and Duchess of Somerset, had pink sunglasses perched atop her head and was pleased to show off leopard-print tights under her gown.
She said she'd been to four different prep schools in the last three years. For his part, Mr. Paterson-Morgan, a theology student at Oxford, had rounded out his formal wear with black Wayfarers and wine-stained teeth.
"I don't know what 'coming out' is in the first place," Lady Henrietta said.
Her escort was more voluble. "It's full of room-temperature-IQ Texans, ghastly boring Americans and ugly old people," he said of the party. "It's ghastly—it's so bloody pretentious. Yes, there are beautiful women here, but their brains are like Down syndrome. Bad breeding, bad brains."
He took a deep pull from his cigarette and exhaled, and continued with equal theater.
"We stopped doing this sort of thing 100 years ago," he said. "It still goes on now, but it's lower-class peasants who do it."
"Fuck off," Lady Henrietta shot back. "Stop being such an obnoxious dick."
Inside, Ms. Hedberg was about to sit down to dinner. "I'm in a business that's a bit of an anachronism, so it hasn't changed all that much," she said, when asked what's changed about the International over the last half-century. "I'll tell you, the girls are certainly as bright as can be. They all went to great schools—you know that's different. And, of course, they've been to some parties …. It used to be a marriage market—I mean, that's why these things were founded—and that's no longer what this is about. I think it's more about honoring your daughter."
Jane Marion Mosbacher, granddaughter of legendary oilman Robert A. Mosbacher Sr., taking a break from her steak, said she has no plans to marry anytime soon. She's currently studying at the School of Foreign Service at Georgetown.
"I'd love to be President," she said, blushing. "We'll see. It's just one of those dreams. It's better to be ridiculous about your dreams and, you know, end up somewhere close."
She was also wearing a dress by Monique Lhuillier—The Transom counted about 10 Lhuilliers that night–and her aunt's Tiffany earrings.
"I think there's a huge cultural gap that I'd love to look at," she said. "I've recently fallen in love with the whole Middle Eastern region. I've started to teach myself Arabic. One of my Christmas presents was this program to teach myself Arabic."
Nearby, Father Emmanuel Pratsinakis was swirling the cubes in his glass. He was a guest of the Dr. Demetrios Skliros, whose daughters, Anastasia and Ana-Sofia, were representing Greece.
They had grown up in New Jersey, outside Philadelphia; Father Pratsinakis' church is in the affluent suburb of Cherry Hill.
"The planet is such a small planet," mused the towering Greek Orthodox priest. "The world really needs our understanding, and I think by fostering events that bring together people from other countries, it really brings the message that even though you're from another country, you're a human being."
As 11 o'clock approached, the girls once again lined up and prepared to be introduced to the stage to take their bows.
Ms. Bush was at front of the line. "It's exciting, but kind of a nerve-racking responsibility," she said of being the leader of the pack. "You know—because I've gotta show everyone up," she added and giggled.
"Miss Ashley Walker Bush," came the voice of announcer, Ivan Obolensky, who is also the chairman of the Soldiers', Sailors', Marines', Coast Guard and Airmen's Club. "Daughter of Sharon Bush and Mr. Neil Bush, and granddaughter of President George Herbert Walker Bush and Mrs. Bush, Houston, Tex., and New York, N.Y."
Ms. Bush ascended the stage on the arm of her brother, with the diligent Mr. Wolk trailing close behind carrying the American flag. She then let go of her brother's arm and proceeded with to "Texas dip."
First she spread her gloved arms out to the sides, plié-style, then slowly bent all the way down, transitioning further into an almost seated position on the floor. Then she touched her nose to her toes. And then slowly all the way back up, with the gentle assistance of Pierce's hand. And all without breaking wind. She smiled.
The temporarily anxious crowd burst into applause. "I cried," said Ms. Bush, who wore a black Vicky Tiel blouse-and-pants set. "She seemed so comfortable."
The Wild Child, Lady Henrietta, was waiting her turn patiently, but took a moment to provide some context for her earlier altercation with her friend.
"You can look at it in a really bad way," she said. "That it's just a lot of feeble rich people who have nothing better to do with themselves. But I have to say that there are lots of girls here that are really with it, really cool and want to have fun, who are just here because they're here." As she walked to the stage to curtsey, Lady Henrietta flipped her sunglasses down over her eyes. ("If I were in a better position, I would have tried to snatch them off her," Ms. Hedberg remarked later.)
After an hour of curtseys, the waltzing began—though the announcer, Mr. Obolensky, who has been involved with the International since the mid-1980's, had an observation to make: "It used to be real ballroom dancing—but now all they do is jump up and down, because they're lazy bastards," he said.
His hair was perfectly parted to the side, and a Military Order of the Loyal Legion medallion hung from around his neck.
"I don't think we'd want to hear any rap music here," he said. "I mean, who the hell wants to be preached to, if you could even hear it? Frankly, I think it's a bore. I mean, when you've got Cole Porter, what the hell? I don't want rap. And I knew Cole very well."
The Transom brazenly waded onto the dance floor, recorder in hand.
"We didn't know the waltz was part of this," said young Ms. Bush, who was struggling a bit to keep up. "Oh my gosh, we did lots of cotillion growing up. But in Texas, it's more, like, relaxed, fun dancing. Whatever you want, you know."
Joanna Katherine Elizabeth Pinto was maintaining such a brisk waltz pace that it was hard to keep the tape recorder on her.
"I am wearing a dress designed by Henry Picado," said Ms. Pinto, whose mother is the double Olympic gold-medalist swimmer Donna de Varona.
"It is a corset with a French bustle and, uh, with roses down the back and sides, and it's floor-length and it's strapless. And it has pink flowers and rhinestones decorating the front."
In the adjoining east foyer—the kids' room, if you will—a real dance party was taking place. When the D.J. put on the Electric Slide, all the wallflowers came unstuck and hit the floor.
Nearby, Mr. Harold DeLong was clearing the table. At 86, he claims the title of oldest living waiter in the union. He's been working the International for 20 years.
"I think that the children today don't know the value of a dollar. They're spoiled with a credit card, unfortunately," he said. "If this continues, our nation is going to be in critical debt. You don't buy clothing today; you buy the name brand. When I was a boy, you wore jeans to go to work in; you wore trousers, a white shirt, a necktie and a sweater to go to school. Today, the sloppier you look, the more fashionable you are."
Mr. DeLong says he gives all his extra money and free time to charity. He just recently came from China, where he was working with children with disabilities.
"But I think charity is a wonderful thing. All good causes could be ridiculous," he said. "They have dog shows and they raise money, and they have running meets that raise money and swim meets that raise money. Why not have a pretty-girl ball?"