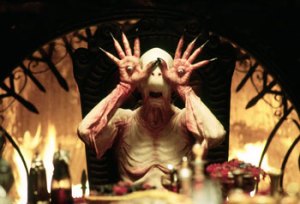 Robert De Niro's The Good Shepherd, from a screenplay by Eric Roth, has been described as "The Godfather of spy movies," which is reasonably accurate as far as the depiction of violence is concerned, as well as the emphasis on ethnicity, which in The Good Shepherd is mostly multi-generational American ruling-class WASP, while in The Godfather it was mostly the Italian-American (or, more specifically, Sicilian-American) lineage that was on the line. But the differences between the two films are more striking.
Whereas The Godfather was based on a vividly lucid and transparent fictional narrative, The Good Shepherd is made shadowy and secretive by its fictional variations on the founding and clandestine operations of the C.I.A., starting even before its official creation in 1947 from the Office of Strategic Services during World War II, and more or less ending with the agency's disastrous Bay of Pigs invasion, intended to overthrow the Castro regime.
The motivation behind this period movie seems to be to make viewers even more suspicious of an outfit whose recent head assured President George W. Bush that proving the existence of concealed W.M.D. in Iraq would be a "slam dunk." Also, the early sequences of the film places its central character in the midst of a Skull and Bones initiation at Yale that invokes W.'s own reportedly colorful college days.
The prevailing tone of the film is both cautionary and cynical in its very reasonable assumption that excessive secrecy can induce excessive paranoia among the operatives involved in maintaining the secrets, to say nothing of the population at large. Matt Damon is in top form as the fascinatingly repressed Edward Wilson, who is first seen in female garb and makeup in a collegiate production of Gilbert and Sullivan's The Mikado. When a classmate asks Edward in the dressing room afterward what it feels like to be a woman, Edward snaps back with a nervy "Why do you want to know?" This quickly establishes the pattern of Edward's terse wit, though it must be added that the terseness often suppresses the wit.
Mr. Damon's Wilson is loosely based on the still-controversial James Jesus Angleton, the legendary head of C.I.A. counterintelligence from 1954 to 1974. During his initiation ceremony into Skull and Bones, Edward reveals upon request a literally deadly family secret to clinch his acceptance into what will prove to be only the first of several secret societies. His story also demonstrates his unremitting poise under pressure, which eventually earns him the grudging admiration of his Soviet counterpart.
Still, Mr. De Niro and Mr. Roth have made Edward such an uncommunicative character throughout the film that much of the narrative is hobbled by understatement—usually an aesthetic virtue. I was also momentarily confused by the casting of dopplegängers Angelina Jolie and Tammy Blanchard as the two significant women in Edward's life. Ms. Jolie becomes his wife after an aggressive courtship on her part results in pregnancy, making a hasty marriage imperative to preserve the honor of her high-society family. Ms. Blanchard is Laura, a deaf Yale undergraduate who is Edward's first love and later, mystifyingly, an instrument of his betrayal after an extramarital venture on his part.
I didn't think Ms. Jolie fell short in her thankless role as the neglected wife, as some reviewers have argued—particularly in this era when good parts for Hollywood actresses are in especially short supply. As it is, both women remain marginal and disposable figures in a predominantly male cosmos. The only other female character of any importance, Martina Gedeck's Hanna Schiller, is Edward's assistant (and one-night-stand bedmate) in Berlin, a double agent who gets rubbed out for her treachery—though not by Edward, who always remains immaculately above the fray.
It was only after I saw the film that I learned that Angleton was a close friend of William Empson, the literary critic who wrote The Seven Types of Ambiguity. Suddenly, the doppelgänger casting for both males and females, spies and moles, friends and foes in The Good Shepherd made a kind of convoluted sense. Yet I feel that the visual imperatives of a cinematic narrative with doppelgängers require the more expert hand of an Alfred Hitchcock, vide Anthony Perkins and John Gavin as the mirror images of each other in Psycho (1960), to make that point without ever confusing the audience. Hence, though I do concede that the director and his collaborators have fashioned an absorbingly uneasy entertainment very much in tune with the contemporary zeitgeist, I feel that Mr. De Niro pays a price for his otherwise admirable, philosophically pessimistic consistency.
It may be that my preference for Hitchcock (and Fritz Lang) over most of the modern practitioners of film noir reflects my taste for clarity over ambiguity. And The Good Shepherd is nothing if not ambiguous in its characterizations and its storytelling. Along the way, Alec Baldwin as Sam Murach, Edward's F.B.I. counterpart, and William Hurt as Philip Allen, Edward's C.I.A. superior, managed to entrance me with their deftly deceptive role-playing. Truth to tell, I sort of liked the movie, despite my being left in the dark about many of its more complicated operations.
Significantly, the most brutal act of torture is performed by John Turturro's Ray Brocco, a self-proclaimed Italian-American subordinate in Edward's unit. Edward himself goes so far as to acknowledge his own ruling-class ethnicity when challenged by Joe Pesci's Joseph Palmi, a deportable Italian mobster. For that matter, Mr. De Niro plays Bill Sullivan, a non-Italian character based on "Wild Bill" Donovan, the founder of the O.S.S. and Edward's recruiter into the world of espionage. One might note, if only in passing, that it is highly unusual for an American film to skirt the boundaries of political correctness by being so precise about people's ethnicities.
The most tantalizing performance in the film, however, is that of Michael Gambon as Dr. Fredericks, a gay academic who is expelled from the Yale faculty for his supposedly pro-German activities as a double agent in British intelligence after the outbreak of World War II. This occurs after he has promoted Edward to the editorship of Yale's literary magazine—ostensibly motivated by their mutual love of poetry, but actually as part of an unsuccessful attempt to seduce him. This gay subtext is extended by the curiously mannered performance of Billy Crudup as Arch Cummings, an affected operative based on the British double agent Kim Philby, who was eventually exposed as a mole in the employ of the Soviet Union.
These and other strands of Cold War double-agentry—on both sides—are scattered throughout the narrative, with melodramatic embellishments. Still, no previous American film has ventured into this still largely unknown territory with such authority and emotional detachment. For this reason alone, The Good Shepherd is must-see viewing.
The Older Man
Roger Michell's Venus, from a screenplay by Hanif Kureishi, would have served as a creaky vehicle for any aged actor less gifted and eternally luminous than the 74-year-old Peter O'Toole, he of the soft blue eyes that long ago glistened against the snow and ice of Nicholas Ray's The Savage Innocents (1960) and the desert sands of David Lean's Lawrence of Arabia (1962). As an added dividend, Mr. O'Toole briefly shares the screen with Vanessa Redgrave, one of the most charismatic stage and screen actresses I have ever seen, here cast as the lead character's amiably forgiving and long-ago-abandoned wife, Valerie.
Mr. O'Toole plays Maurice, a retired actor who still performs bit parts on television shows. His two closest, if often cranky, friends, Ian (Leslie Phillips) and Donald (Richard Griffiths), are, like Maurice, beyond-twilight thespians huddling together with their uppers and downers and much alcohol for chasers in one pub or another. Their ritualized routines are temporarily disrupted by the unexpected visit of Ian's grandniece Jessie (Jodie Whitaker), who has come to town from the provinces where she lives with her strict parents, supposedly to "look after" her aged granduncle.
Instead, Jessie spends her nights partying to all hours, sleeping late in the morning and completely ignoring her presumed household duties. Ian is quickly fed up with Jessie and her slovenly ways, but Maurice takes a less-than-platonic interest in the uneducated young girl, and soon we have the comic spectacle of a deviously lecherous Henry Higgins pretending to educate his (in this case, definitely not virginal) Eliza Doolittle by taking her to the art museum, where she can appreciate the finer points of a nude by Velázquez. Though Jessie accepts a job that Maurice gets her as an artist's model, she is adamant in her refusal to let him see her naked. What is acceptable for her callow boyfriend is verboten to a leering geezer like Maurice. This distinction is something that Jessie senses instinctually, but Maurice shamelessly perseveres in his pursuit—even after he has been diagnosed with prostate cancer, making his quest for Jessie's fair flesh more quixotic than ever.
When Ian finally realizes what Maurice is up to, he flies into a rage. Blows are struck, though without any lasting impact on the two men's friendship, which the inexorability of time threatens to make short-lived anyway. Mr. O'Toole's self-confessed excesses over the years have left him looking much older than his official 74 years, which lends an existential pathos to his stirringly gallant portrayal. No one knows how much longer we are going to continue to be blessed by this incandescent talent. If indeed Venus is his swan song, it resounds with a sweetly magnificent melody. Don't miss it.
Scary Tales
Guillermo del Toro's Pan's Labyrinth, from his own screenplay, is distinguished by another in a long line of recent child performances that are nothing short of astonishing in their accomplished matter-of-factness. The latest child virtuoso is 12-year-old Ivana Baquero, who plays Ofelia, the fairy-tale-fancying daughter of Ariadna Gil's Carmen, the pregnant wife of a Francoist general named Vidal who, in 1944, has taken his present and future family into a forested mountain-garrison headquarters somewhere in northern Spain, where the anti-fascist Loyalist guerrillas still operate. As Carmen's second husband, Vidal is actually Ofelia's frightening evil stepfather, who has driven the young girl, with her feelings of loneliness and dislocation, to seek refuge in her books of fairy tales. These ironically come to life for her in her forbiddingly isolated new surroundings.
The family's very competent housekeeper, Mercedes (Maribel Verdú), plays a pivotal role in establishing a connection between the fascist general's family and the anti-fascist partisans in the area. Mercedes' brother happens to be a leader of the partisans, and she and the garrison's doctor (Alex Angulo) arrange to bring much-needed medicines from the fascist pharmacy to the Loyalist guerrillas.
Meanwhile, Ofelia searches through magical caves and tunnels carved out of the mountainscape and encounters various manifestations of Pan (Doug Jones) and the King (Frederico Luppi), among other nocturnal creations of her fevered imagination. The two levels of reality are given equal weight in Mr. del Toro's inventive mise-en-scène. He has traversed this supernatural territory previously in The Devil's Backbone (2001), an anti-fascist ghost story set during the Spanish Civil War. He has long been an admirer and practitioner of the Gothic horror film, beginning with his first film, Cronos, in 1993, followed by Mimic (1997), a wild horror film about genetically engineered insects; Blade II (2002), a vampire-versus-mutant contest of good and evil; and Hellboy (2004), the well-regarded adaptation of the Dark Horse graphic novels by Mike Magnola, about a supernatural creature employed by the United States government as a "secret weapon" against its paranormal enemies.
Mr. del Toro is never without a certain degree of humor in his various ghoulish ventures. The problem is that his often-frightening depictions of evil—as with General Vidal in Pan's Labyrinth—tend to dehumanize his villains so completely that they become even less believable than the imaginary creatures in Ofelia's book of fairy tales.
I can understand the deeply entrenched hatred of Franco's fascist regime among Spanish-speaking artists like Mr. del Toro, but coupled with an addiction to the supernatural on a graphic level, the combination becomes too negatively spiritual for my taste. However, this is not to take anything away from the enormous talents of the director and his young star, Ms. Baquero, which make Pan's Labyrinth eminently worth seeing despite its Manichean excesses.