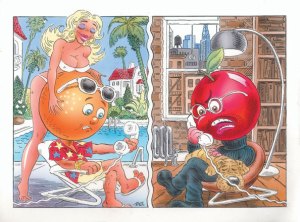 Dear Hollywood,
It's time to renew the memorandum of understanding between your town and ours. You remember us—New York, whence the books and plays come? The city with the whole bad-plane-incident thing? (You let Oliver Stone make a heinous movie about it.) The place where you keep Scott Rudin? On the last day of 2006, there were 2,078—give or take a couple—movie showings in the five boroughs of New York City. Just under half of those movies played in Manhattan. Our theaters range from the wee 67-seater at Cinema Village to the grand, if creaky, 1,162-seat Ziegfeld. If you have ever been to our little burg, you may know that we suddenly find ourselves paying an astounding 11 bucks a ticket. So let's say each theater—and we are also besieged with multiplexes here—sold an average of 200 tickets per show. That would make the haul $4.5 million that day. Let's say movies did that well the whole year. That'd make for 1.66 billion of our dollars. And movies come and go fast here! We like our movies new (which is why stupid Crash wasn't a sleeper here), and that gives your studios more percentage of take than the theater chains. We paid up, so listen up. Of course, theater income is just a quarter of your studio earnings. And we know we're no Asia. Still! You love the theatrical-release system! You crave the approval. You love our premieres, and the critics. You even love that Owen Gleiberman! But we're in a rut, pals. It's January, and if it had snowed in December, our gutters would be filled with the slush that's left over after you've released all of your Oscar contenders in December. Tim Allen's out on the curb with the Christmas trees. The next Harry Potter is months away. The Golden Age doesn't hit till October, Beowulf in November. Someday Francis Ford Coppola will return with Youth Without Youth, with the blessed Tim Roth. We'll be there. For now, we're stuck with all the movies that looked promising last summer but, upon completion, started to stink like the bathrooms at Newark Airport. Since we care about you, and even more so about ourselves, here's a little advice:
• Your feel-good flicks insult our souls. For example, Stomp the Yard, Jan. 12: A troubled L.A. teen attends Truth University in Atlanta. His super-cool dance moves are needed by two of the top fraternities, both of which need him to win the national step competition. Oof. Are we really supposed to believe Mandy Moore would need her neurotic mother, played by Diane Keaton—of course!—to place an online personal ad for her? Title: Because I Said So. Really? And Amazing Grace. Seriously? The howlingly bad, overscored, bowel-scraping preview has a blind man quoting the lyric, "I once was blind but now I can see."
• No more favor movies. No possible explanation—besides someone calling in a massive favor—exists for a movie about a female werewolf trying to protect her family's secret. Who greenlit the title Blood and Chocolate? The trailer caused mass sniggering before Rocky Balboa—an audience of, shall we say, low expectations. We don't know what conspired to bring Ghost Rider in February. Look, it's Oscar-winner Nicolas Cage—and his head is a skull and it's on fire!
• Yes, we love your franchises—but you're pushing it. We went to The Da Vinci Code—because we were bored. Bored by Superman Returns. In 2006, we could see you clutching your franchise films like a starving actress petting her grandma's real pearls. Everyone needs a retirement plan! X-Men, Mission Impossible III, Pirates of the Caribbean—we're holding out for the third installment, by the way, with Chow Yun-Fat. And Spider-Man, yes! More action this time, please. Fantastic Four, well … we'll see. Of course, we're all absolutely on board with AARP Indiana Jones in '08. After all, everything you know you learned from George Lucas.
• No more excuses on the romantic-comedy front. Come on, people. It'd be fairly easy to just crib off Adam's Rib or Holiday—and, no, The Holiday didn't cut it, despite Eli Wallach's impassioned cry for his lost Hollywood. How ironic, Nancy! And yet you disgracefully stick him on the same roll of film as Jude Law. New York women don't like men who cry—it isn't romantic or comedic. In 2006, good pseudo-comedies like The Break-Up were followed by worse and worsest: The Lake House, You, Me and Dupree and My Super Ex-Girlfriend. Movies easy on the eyes, and brain, so faint and ill-thought-out that their plot points fade away as the end credits roll.
• If you're going to obsess over Africa, remember this: It's a continent, and all the countries are different. We'll give you one: Forest Whitaker, current Oscar fave, was truly terrifying as Idi Amin. But you had a fine time conflating and distorting history anyway—just in case his slaughter of 300,000 to 500,000 people wasn't awful enough. Then there was Leonardo DiCaprio in a maybe-it's-good-but-who-the-heck-knows South African accent helping to educate about conflict diamonds. To quote Mr. DiCaprio's character: "You know, in America it's bling-bling, but over here it's bling-bang." But what about the conflict gasoline for your S.U.V.'s? "Fiddle-dee-dee. War, war, war," as your Scarlett O'Hara said.
• We're not stupid: No one in Hollywood actually loves Jesus. Things have gotten niche-ean now that the FoxFaith brand has launched. (Good job lifting the phrase "faith-based" from the Bush camp, News Corp.!) We suppose the Christians won't realize it was News Corp.'s Fox Searchlight that released Notes on a Scandal, with Cate Blanchett fornicating with a teen.
• Just because it has subtitles doesn't mean it's intellectual. Good gravy! We know you think it's what we want. Babel, whose title alone was enough to get the tweedy set aflutter, starred Brad Pitt's furrowed brow and nicely aging eyebags and reinforced such life lessons as "Maybe it is best to never leave the country." That we knew—it's why you guys got that big border wall down there! But we're not sure what all that babbling meant in the end.
• Good directors mean good movies. Is there no one who will wrangle a director? Bryan Singer is no Sydney Pollack. Brett Ratner isn't even a Joel Schumacher. (Not even a Michael Bay!) The age of the studio auteur is over. (They're out making craploads of actually independent films, one or two of which you may actually purchase at Sundance and yell at some assistant regarding why none of your people made it.) You employ some perfectly good craftspeople—well, craftsmen—without anyone to act as the artistic superego. You've lost sight of the days in which producers would flog their directors.
• Good producers mean good movies. Does no one remember when David O. Selznick ripped Alfred Hitchcock mercilessly over the first treatment of Rebecca? He got everything he wanted out of the script. Scott Rudin, the last throwback, does too. (And he's even right frequently!) Now producers throw up their hands and think our audience enthusiasms are schizophrenic
. But after that Big Serious Oscar-Grubbing Dump you took on us all fall and winter—Babel, Blood Diamond, Notes on a Scandal, Bobby, The Tiger and the Snow (blech!), The Queen and The Good German Shepherd—is it any wonder that glitzy Dreamgirls and Old Coke–formula Rocky Balboa were greeted with blissful relief? We're thrilled that Rocky did in fact find that he has a little stuff left in the basement. We're a little shocked that the boxing movie was the least violent movie of the season. And it had a better script. And a better premise. In fact, no one believes us when we say it—it didn't matter how hard 42 West waved its magic P.R. wand—but Rocky Balboa was a really good movie.
• Oh: Good scripts mean good movies, too. What frustrated us most was when you got up to your old stupid studio tricks. Someone—we're assuming Bond franchise queen Barbara Broccoli, God bless her—clearly sent a last-minute directive about the poker scene in Casino Royale, demanding game narration by poor Giancarlo Giannini of the most idiotic sort. It read like some P.A. had scribbled dialogue on a napkin and thrust it upon the actors in a last-minute reshoot. Did you hear the cackling in the theaters? We did! The result was that a script—better than it needed to be for a Bond movie, additionally sexed up by Paul Haggis—got kicked midway right in the balls.
• If you're actually going to give women work for a change, be careful. For starters: Julianne Moore? She'll just hop into bed with any old script (ahem, Freedomland) without love and care. Still, this is a year in which Crispin Bonham-Carter worked more than his cousin Helena. (And if you find her on the set of Tim Burton's Sweeney Todd, tell him not to screw it up. That one's ours.) We're pleased to see—we think!—the return of Marisa Tomei in '07, thanks to Sidney Lumet. Also: Is Juliette Lewis O.K.? And could you bring that little Scottish chick—Shirley Henderson, a.k.a. Moaning Myrtle—over for some proper work? We know you like the cheap U.K. actors. And don't worry—we won't be building a wall along the Atlantic coastline anytime soon.
• Please thwock David Lynch in the neck with a tranquilizer dart. He's off the rails, ladies and gentlemen. And if he's never shooting on film stock again, buy him a Viper or a Genesis. Whatever camera he's using sucks. Michael Mann could consult. (Yeah, Miami Vice ruled.) As we have made many demands, it's only fair that New York be big enough to admit that the problems aren't all West Coast. We must offer an apology from our people to yours. Like robots with water on the brain, the critics sparked and went haywire this year. They went nuts for Army of Shadows, an interesting and unintelligible French film from 1969 never before released in the United States. "Masterpiece"—Manohla Dargis. "A classic"—Michael Wilmington. "Masterfully made"—Kenneth Turan. But are we to believe that all of these smarty-pants actually understood it? Were we truly the only ones who had trouble even keeping the main characters straight? We appreciate the critics trying to issue a corrective to the film industry. But does it have to be this one? We know 1969 was a great year for movies—Midnight Cowboy, Butch Cassidy and the Sundance Kid, Bob & Carol & Ted & Alice, Z and They Shoot Horses, Don't They? But what about this year's Children of Men? Y'all went and slammed the year shut with this brilliantly dour movie somehow getting left off the critics' Top 10 lists—don't worry, Universal, we're investigating. We've got something else to feel bad about. Do you like Carina Chocano? (Do you like getting caught in the rain?) We sure do. But America's two best young film critics, the delightful Ms. Chocano and the more restrained Ms. Dargis, live out in Los Angeles. (Huh! People write out there!) Two more things, before we go back to writing our novels. (Gotta give you something to option in '09!) Whoever came up with the title Garfield: A Tail of Two Kitties deserves a raise. Everyone else involved deserves a beating. And this: Fuck up the Simpsons movie and it means war.