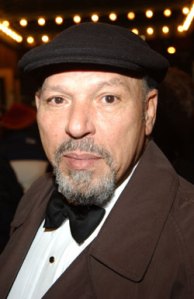 Seeing again August Wilson's compelling Two Trains Running (directed by Lou Bellamy, now in the last two weeks of its extended run at the Signature), I was struck by how badly our theater needs emotion—plain, simple, direct emotion.
It isn't just Wilson's widely admired musicality and unadorned poetry that touch us so deeply. It's the unaffected humaneness at his core that makes his stories complete and universal. August Wilson—who died in 2005—is surely one of our greatest playwrights. His plays aren't peopled by Stoppardian intellectuals and philosophers, however. Wilson speaks to us forcibly from the bruised hearts of so-called ordinary folk, and the songs they sing are devastatingly true.
God knows we need his big, generous dramas of consequence and compassion. The escapist, frivolous New York season has thus far been characterized by campy boulevard comedies about fashionable East Siders dealing with a gay strike (Paul Rudnick's Regrets Only), or a loud-mouthed lesbian super-agent and her gay client (Douglas Carter Beane's The Little Dog Laughed). It's a small relief to be offered Theresa Rebeck's The Scene, a straight showbiz comedy for a change. It just opened at the Second Stage with marginally serious undertones. But alas, it's unsurprising fare: a Manhattan marital comedy about a middle-aged, unemployed actor who abandons his longtime wife, a news producer, for a bimbo.
As usual, the serious stuff has been left to British playwrights (with the Irish about to arrive, also as usual). Between Sir Tom Stoppard and Sir David Hare, only Mr. Stoppard has been received with the customary Anglophile swoon. But neither of their prestigious contributions resonates with authentic emotion.
In spite of Bill Nighy's winning performance, Mr. Hare's poorly received The Vertical Hour doesn't have a backbone in its slender body. The playwright's political ideas are getting regrettably tired (a seesaw argument over the Iraq War, again). Nor is his shaky take on American university life grounded in any credible reality. We're unable to connect with a play that preaches to the choir and maps out battle zones of love that are schematic and unearned. Mr. Hare's safe, bourgeois metaphor of war fails to move or disturb us, but leaves us cold—whereas August Wilson's stunningly rich dramas go to the bluesy heart and soul of the black experience and leave us both exhilarated and heartbroken.
We're glad to be alive because of his plays, though they're as much about the shameful legacy of white American history. Listen to the playwright's vitality and voice in this fierce statement from Holloway, the resident philosopher in Two Trains Running: "A nigger with a gun is bad news. You say the word 'gun' in the same sentence with the word 'nigger' and you in trouble. The white man panic. Unless you say, 'The policeman shot the nigger with his gun.'"
It's that kind of vivid writing (and bitter humor) that hits us with natural force, and it's the essential note and heartbeat that's absent from The Coast of Utopia, Mr. Stoppard's grandiose three-part epic about 19th-century Russian intellectuals. It might make a great book, but theorizing doesn't make great drama.
The ambitious scope and sweep of history on the move in Mr. Stoppard's play are undeniably admirable, though there's a sense of him getting bogged down in the wealth of his own material. The word intelligentsia was coined to describe the class of revolutionary thinkers who are at the center of Part II, Shipwreck. But the precious world of the troubled idealist Alexander Herzen and his salon that Mr. Stoppard re-creates onstage doesn't strike me as made of real flesh and blood.
His Russian theorists and poseurs don't truly live so much as repeatedly make pronouncements. Every leading character introduces himself by pedantically stating his philosophical and political stance. The beautiful heroine's narcissistic concept of "free love"—what mere mortals usually understand as getting laid a lot pretentiously—is explained for us by Mr. Stoppard in a highfalutin speech. Even the tragic loss at sea of the Herzens' deaf child is ultimately reduced to a theory of premature death.
Nothing, it seems, is felt—only talked about and displayed. Mr. Stoppard bristles when criticized for failing to reveal a social conscience in his plays of ideas. He isn't a political playwright, but to show no living sense of serfdom in his Russian saga—the serfs are represented in the background by mannequins—is like creating an epic about the tumultuous events leading up to the American Civil War, minus slavery.
THERE CAN BE NO DOUBT that August Wilson's Two Trains Running—the seventh chapter of his magnificent 20th-century play cycle—was forged in chains. Wilson makes the mundane world—the everyday world of living and getting through—real and extraordinary. "In spite of all odds," says Lou Bellamy, who has been directing Wilson's plays since 1983, "these people draw on cultural expression and nuance that finds its definition in a people and a time that the characters in his play know only in their bones, not in their intellect. Wilson calls it the 'blood memory.'"
I prefer Wilson's people to Mr. Stoppard's yammering, privileged intellectuals. There's no neat, conventional narrative in any of Wilson's plays, only stories told by people trying to grasp the meaning of their lives. "He gonna give me ham!" goes the shout of the madman in Two Trains, a former housepainter known as Hambone. He was cheated by a white butcher who promised him a ham for painting a fence. "He gonna give me my ham!" Hambone may be crazy, but he, too, is screaming for justice.
Wilson can overwrite, as Eugene O'Neill did, and we must go with his drum roll. Solemnity is alien to him, however. His epic blues laments are always good-humored. "Dead folks don't know nothing," goes the line in Two Trains. "But the family knows …. "
The play takes place in a condemned Pittsburgh diner in 1969, and the undertaker West is its wealthiest customer. ("More people dying than getting saved.") There's Memphis, the furious owner of the diner; his waitress Risa, with self-inflicted wounds on her legs; the jailbird and black-power romantic Sterling; the old man Holloway; and Wolf, who runs the numbers—"They say I was born with luck. They didn't say what kind."
"How we gonna feel good about ourselves?" is the central question and tragedy of the piece. These are lives that count for nothing and everything. "Niggers is the most hardworking people in the world," Holloway argues when someone disputes it. "Worked three hundred years for free and didn't take no lunch hour."
This is the play that introduced the magical creation of the 322-year-old Aunt Ester, the wise woman, shaman and spiritual mother of August Wilson's entire decade-by-decade cycle of black America. He risks certain mad, mythic things that no strictly sane playwright would dare to risk. Yet I believe that the eternal Aunt Ester exists in his bones, and someone has to offer the desperate characters of his plays hope and salvation.