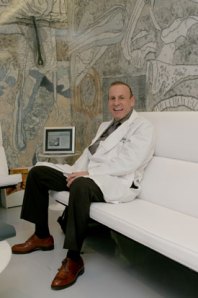 Remember the roaring 80's? That age of takeover titans and M&A gods, when excess blew into the city on the wings of leveraged buyouts and cocaine dust? It seemed, at the time, like an era of endless, priceless ostentation. Each day brought the announcement of a new merger, and each merger sparked a spree of chatter and spending: gaudy mansions in the Hamptons and Connecticut, slick Ferraris to commute back and forth in, chunky car phones inside those Ferraris, and an aerobicized wife waiting by the pool.
But oh, how quaint it all seems now.
On Dec. 13, in an Upper East Side apartment building miles from Wall Street, a clutch of doctors and lady patients gathered in the office of Dr. Neil Sadick for an event that would have made their 80's forbears quiver with awe: a celebration of the merger of doctors' practices. Dr. Sadick, a dermatologist renowned for his expertise in hair restoration and lasers, was absorbing the practices of plastic surgeon Theodore Diktaban and cosmetic dermatologist Cheryl Karcher.
As befits any party that was announced with a press release, this one featured waiters in discrete black-and-white mufti, a ready supply of flutes of champagne, and a constant stream of bite-sized hors d'oeuvres—including one that looked remarkably like a mole atop a potato chip. There were photographers from Patrick McMullan, and guests, like Miss Teen U.S.A., who were happy to be photographed. There was a general plastic surgeon, a facial plastic surgeon, a vein specialist, and there were women—lots of women—whose frozen foreheads and fiercely plucked brows testified to their familiarity with such services.
"It's a good sign that everybody here looks like they don't need to be here," said a guest of indeterminate age, race and even accent, whose lips had been pumped so full of something that they looked as if they might float, Hindenburg-style, from her face at any moment. "Their skin looks great."
The December merger soirée was the latest in a string of rollouts and announcements for Sadick Dermatology. Just six months earlier, Dr. Sadick had hosted a party to celebrate his move into his new Park Avenue office.
In this new space, Dr. Sadick had effectively face-lifted his practice from the standard fabric-draped doctor's lair to a 4,000-square-foot Jetsons set of an office with four exam rooms, a photography suite, an operating room, a research area and more than $2 million worth of laser equipment. But the move, like the merger, was also more than aesthetic: It was an attempt to torque his practice up a notch by transforming it to a center for "whole-body rejuvenation."
"It's been an idea of mine for the last five or six years to aggregate the best of various sub-specialties that are involved with whole-body rejuvenation," said Dr. Sadick, a wrinkle-free 55-year-old with bright white teeth. "This facility represents the first facility where one is able to have whole-body rejuvenation in a single clinical setting."
Dr. Sadick's anti-blemish mega-center most likely does represent some firsts: the first time a doctor celebrated both an office opening and a merger with a press release and party; the first time, perhaps, that a wrinkle warrior attempted to incorporate a teaching institute into his office (research and "patient and physician education" will apparently be a big part of the center's work).
More likely, the doctor's sleek rejuvenation emporium is merely a variation on the growing theme of dermatological empire-building.
Cosmetic dermatology has become big business in New York. While skin doctors used to occupy a relatively low rung on the medical ladder, these days it's all too common to find them enjoying life in sprawling, art-strewn dermo-lofts, a press flack at the ready. They have product lines (considered a must for those who want to be taken seriously in the business), and they have spa facilities. They have "research" labs, cosmetic-company consulting deals and branding strategies. They have all the components of multi-pronged mini-corporations—right down to the chief operating officer with the business plan.
"I am literally running three companies on a day-to-day basis," said Adam Dinkes, the 33-year-old C.O.O. in charge of Sadick Dermatology's research group, clinical practice and skin-care line.
"And this is just the beginning of what I'm going to be able to do with this," he said. "This is a real opportunity for me to literally create the future of an entire industry."
(So much for the old wife/office manager combo.)
Doctors and dermatology-watchers trace this trend to a small ganglion of recent influences—from aging baby boomers' quest for eternal youth to the competition induced by some dermatologists' decision to forgo insurance.
But most significant of all, perhaps, has been the Botox revolution, the explosion of age-defying injectables that have flowed into dermatology like pure Persian Gulf crude.
Or so one doctor explained it.
"You know how oil money just sort of changes a country? Well, all this oil money came into our profession," said David Colbert, a Flatiron-area dermatologist. "It's like plastic surgeons and dermatologists hit black gold, because suddenly they had Restylane coming up out of the ground, and Botox. So suddenly it's like being in the Middle East, like in Dubai, where there's all this oil money."
Or, at the very least, it's like being in the Amazon, Miami or wherever, depending on the doctor's branding strategy.
Down at Dr. Laurie Polis' Soho Skin and Laser Dermatology, for instance, the brand is all Zen, eco-beauty, with bamboo trimming and a slate waterfall to help get patients in the mood before they head for Botox, chin implants, or some time on the couch (yes, the center provides psychological services). For Dr. Frederic Brandt, the plump-lipped "dermatologist to the stars" (and author of his own beauty primer, Age-less), the brand might be summed up as simply fabulous.
As for Dr. Sadick, his brand smacks you right in the maxilla as soon as you walk through the glass-and-iron door, up the epoxy resin steps and into a space that is operating-room bright and eye-scorchingly white. ("It's white on white on white," Mr. Dinkes explained.) An illuminated alcove featuring Sadick skin-care products glows parallel to the entrance, and beyond that, the waiting room, spirited straight from Brazil, with its white retro couches, Saarinen coffee table and wrap-around wall mural. The mural, which is a blowup of a collage by the artist Pnina Gagnon, is a palimpsest of hair follicles, sweat glands and broken bits of text that "speaks to everything that we do here," Mr. Dinkes said.
"You know, it really was trying to … look into the future and say, 'What does the best doctor's office of the future look like?'" said Mr. Dinkes. "And I would argue that at this point we've certainly achieved our goal."
Mr. Dinkes was sitting in Sadick Dermatology's square, white (yes, white) conference room, outlining the philosophy behind the new mega-center. Slim and trendy, with a 5 o'clock shadow that wrapped all the way around his head, he looked like a younger, handsomer Stanley Tucci. He had brown eyes, an efficient stare and a penchant for delivering statements like "Our motto is: 'The beauty of science and the science of beauty.'"
Mr. Dinkes joined the Sadick operation three years ago with the mission of applying his business-school skills to "building the next generation of the business." Dr. Sadick's companies were booming at the time, Mr. Dinkes said, but, while the doctor had "an understanding" of where the industry was going and "where he needed to position himself," he needed someone to help him get there.
"The goal," said Mr. Dinkes, "was to move the company into this new direction to realize the vision of the future of dermatology."
And what does the "vision of the future of dermatology" look like? To begin, it doesn't have wall plaques, because Mr. Dinkes found the constant straightening they required irksome. So he replaced them with digitally scanned versions that now run across a flat panel in Dr. Sadick's personal office.
The future also relies a lot on instant-messaging, "so we can communicate without actually talking, which keeps the noise level down," Mr. Dinkes said. It features iPod stations in skin-care rooms so patients can "customize" their experience, as well as a tea bar with glassware—not Styrofoam!—because this is a Park Avenue establishment, after all. And because Sadick Dermatology is also an academic institution, the whole shebang can be transformed into a teaching facility for weekend workshops for doctors or Dior. (Dr. Sadick is Christian Dior's global medical advisor.)
"Everything is to another level," said Mr. Dinkes.
But beyond the surface changes, Mr. Dinkes' greatest achievement was, perhaps, changing the "way of thinking" that prevailed among some staffers from the old operation. That way of thinking was, quite simply, "small business."
"Everything from the phone system, the people at the front desk, the medical staff … everything needed to be re-evaluated to determine whether the way things were done would fit into the new picture," he said. "And in many cases, unfortunately, the staff had to be changed."
Now, many staffers and a new office later, Mr. Dinkes is confident that Sadick Dermatology is "on the right path." So is his boss, who took a brief break from his work to glow about the new digs, "making patients happy," and his current research into such far-out procedures as "non-invasive fat removal."
"We also plan on opening other centers using this as a model," he said, grinning.
Meanwhile, outside, roughly 1.5 million uninsured New Yorkers prayed the sudden winter weather wouldn't make them sick.