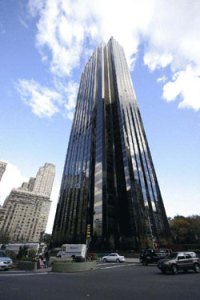 After a five-year wait, heiress Libet Johnson has finally sold off the brassiest penthouse in the brassiest tower in town. According to city records, she parted with Penthouse 51-B at Trump International on Central Park West for $18.5 million.
It was an enormous piece of the voluptuous 20,000-square-foot stretch that Ms. Johnson once owned in the building, which has been sold off piecemeal.
A listing with Corcoran senior vice president Carrie Chiang puts the L-shaped apartment at five bedrooms and 5,024 square feet, apparently making it the "largest penthouse" in the building. Ms. Chiang would not comment for this story.
According to city records, Ms. Johnson closed with her buyer—listed as North-51 L.L.C.—on Jan. 9. The same day, the buyer flipped the apartment for $21.25 million to Endicott Holdings L.L.C.
(It isn't clear who is behind these corporations, and co-broker Susan James at Trump didn't return a call to her office.)
Poor Ms. Johnson! She missed out on $2,750,000, which would probably sting if her forefathers hadn't founded Johnson & Johnson more than a century ago.
But she'll probably move on, unless there's gnawing nostalgia for the apartment's hefty panorama: the master suite and corner living room boast "postcard views of the park," says Ms. Chiang's listing.
Both midtown and the George Washington Bridge can be ogled through the 10-foot-high windows. In fact, the apartment has a total of 187 feet of windows. (At its higher side, the Leaning Tower of Pisa stretches 186 feet.)
There are other Trump-caliber perks here too, like a rotunda that leads to the library and dining room and two hallways and a bathroom (one of six and a half).
According to a database kept by a major local brokerage, the apartment was first listed in November 2001 for $25 million. The Observer reported that Hollywood producer Keith Barish sold Ms. Johnson the apartment for about $20 million (which means she would have recouped her investment had she sold to Endicott.)
Why did she want out in the first place? According to that article, her lover Frederic Fekkai—hairdresser to the stars and heiresses—preferred cozier, more modest housing.
Public records and published reports suggest that 51-B was her last apartment at uncozy Trump: Some of the other pieces went to two fashion barons, Elie Tahari and Andrew Rosen.
Andre to Wally: Comfort Can Be Dangerous!
Wallace Shawn and Deborah Eisenberg, the exceedingly literary local power couple, have bought the duplex penthouse in a West 23rd Street brownstone near 10th Avenue. According to city records, they paid $2,158,530.
The sellers were James Hoffman and Doron Sabag, who left Chelsea for Greenwich, Conn., where they run a fancy home-construction business.
So had Mr. Hoffman built the Chelsea townhouse?
"It's a brownstone from the 1850's," he said without amusement. Yet he did do construction: "We bought the top floor, which was originally two apartments, and combined them, and added a room and decks on what was the original roof of the building."
So Ms. Eisenberg, an award-winning short-story writer, and Mr. Shawn, whose range (and work ethic) has taken him from voice-overs in 2005's Chicken Little to erudite masterpieces like My Dinner With Andre, will have two top-floor terraces with bushes and flowers and views of weeping willows.
When Mr. Shawn returns home each night from performances of his one-man show The Fever, which according to its own promotions "examines the links between the affluence many Americans take for granted and the horrors of poverty and suffering," Mr. Shawn can practice his Shakespeare: The study and master bedroom, according to the listing, have French doors leading to "the Juliet balcony."
There are chic details, too. "We buy a lot of salvaged pieces," said Mr. Hoffman. "And then we build homes out here that incorporate that salvaged material."
So there's a vintage soapstone mantel in the master bedroom, a white marble mantel in the living room, a tumbled-marble steamshower-bath, a sink counter made from an old cash register, and pine-and-iron doors, "apparently from some old Dutch barn somewhere."
Perry Street Townhouse Sells For $9.1 Million
One good thing about being one of those artsy types who pioneer neighborhoods that later become impossibly chic is all of the real-estate wheeling and dealing you end up doing with New York celebrities.
Witness otherwise-ordinary New Yorkers Alan Adler and Thomas Frasca, a couple who work together at the ritzy Gerard Bollei Salon on East 57th Street.
They just sold their meticulously renovated townhouse with carefully tended garden at 32 Perry Street for $9.1 million.
Mr. Frasca described himself as a hair colorist.
"And Alan is a hairdresser—no, stylist, a hair stylist. He's screaming at me! He was trained by Vidal Sassoon."
Mr. Adler later said that he is also an aspiring screenwriter.
And while city records don't list a celebrity as their buyer—they wouldn't divulge the buyer's identity, either—they once rented an apartment to Page Six maestro Richard Johnson in the building.
It's a little ritzier now than it was back then.
"The sale price came to $2,275 per square foot," said the listing broker, Corcoran vice president Tatiana Cames. "And I think that's the highest downtown." (It's at least one of the highest.)
Why would the relatively petite (4,000-square-foot) brownstone sell for so much? It was built in 1845—the beginning of the James Polk administration!—so there are details like marble mantels and a Greek Revival Ogival Arch atop the front door. (There are also latter-day touches like heated limestone floors.)
The sellers, who celebrated their 36th anniversary last Sunday, didn't always live amid such luxury. "We were two guys and a cat," Mr. Adler said.
"Two guys with fur," Mr. Frasca said later.
They bought their first shared apartment in 1985, a loft at 426 West Broadway that had belonged to a member of the Cars.
"We pickled the floors," Mr. Adler said about that first renovation, adding: "We really made it hum."
Then they moved up in the real-estate world: Thanks to a chatty listing broker, the couple bought one of Martin Scorsese's apartments at 165 Duane Street, an old coconut-processing plant. "She was getting her hair done, looking at a floor plan. We said, 'What are you looking at?'"
But that apartment wasn't perfect. "Tribeca was a little too pregnant for us at the time," said Mr. Adler. "Pregnant, as in young couples." So they moved back to Soho, buying an apartment at 421 West Broadway from Talking Heads bandmates Tina Weymouth and Chris Frantz.
The couple finally saw the house at 32 Perry in 1997, listed for $1.8 million. "It was a dumpsite inside," said Mr. Adler.
They closed for less than the asking price, but there were snags: Three of the four floors had been rented out for the year, which meant the new homeowners became landlords.
"Who do you think my tenant was?" asked Mr. Frasca. "Richard and Nadine Johnson."
Later, as Mr. Adler tells it, the house's restoration hit money problems. "So we ended up selling the Richard Prince"—it was a print in the Marlboro Man series—"some wonderful Kilim rugs, and paid for the rest of the renovation."
The Prince-financed townhouse got a cook's kitchen, five bedrooms, a library for Mr. Frasca's autographed biographies, a third-floor porch, and a back garden that blooms with hydrangeas and rare white wisterias and others from March to November.
Will their next place be even statelier?
"For us, this is the first time we can sit back and wait," said Mr. Adler, "and look."