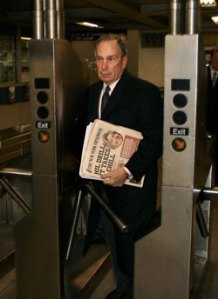 Welcome to The New York Observer. We are the paper with which you have had a relationship with for 19 years and five months. But like the partner with whom you've had the relationship for 19 years and five months, we may have slipped off to a New York cosmetic surgeon and had a few things moved around.
You are allowed to ask us what we've had done. A little work, as they say: We are now a tabloid on 11-by-15-inch 30-pound paper with a salmon-tint–it's called peach. Opened up, it is actually two inches longer than our old broadsheet paper. We have a 50-pound salmon vellum wraparound made especially for us; we have an inside cover from the same stock on The Culture, our new arts section. You can enter the paper from the front, but Location, our new Real Estate section, has a second front on the back page.
The redesign of the paper was supervised by Nancy Butkus, who, with the editors and our founding publisher Arthur L. Carter, was in charge of our last major redesign in 1995. We chose three display types. The big type on the wrap cover is Dispatch, a font created by Cyrus Highsmith in 2000, whose powerful slab-serif design is based on construction signage. Benton sans serif, our news display type, also designed by Mr. Highsmith, was named after Morris Benton, a turn-of-the-century type designer whose most famous creation was News Gothic, the 20th-century standard font for newspapers. Mercury, our feature display type, is another historic revival developed in 1997 by the font house of Jonathan Hoefler and Tobias Frere-Jones.
We commissioned a new front-page banner from Jim Parkinson of Oakland, Calif. The Observer man was cleaned up by his initial creator, Doug Smith of Peaks Island, Me.
We began this redesign to give New Yorkers a great paper that is fun to hold; to remind newspaper readers that print is a changing business, not a stagnant one.
We hope this paper is bigger and better than it was, but it has the same mission as before: to speak to the readers with stripped honesty, as reporters speak to each other. And to continue a New York newspaper tradition that began with Joseph Pulitzer's New York World and continued through the Herald Tribune and the New York Post of the 1960's. Newspapers ought to look beautiful, be real fun and have great writing. We'd be happy to achieve some of that going forward.
We hope the work we have had done is so good that you'll forget we're almost 20.