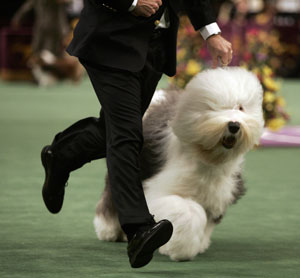 To all the snowbound hounds that received a few extra hours of pampering at the all-too-pooch-friendly Hotel Pennsylvania last week: Lap it up, bitches.
This year's Westminster Kennel Club Dog Show was likely your last chance to romp around the wood-chip-covered "Green Room." Or to leave your own personal mark on the bleach-stained carpets that line the loathsome two-star hotel's hallways—or, better yet, on hotel flack turned "doggie concierge" Jerry Grymek's pant leg.
The landmark hotel, which every year reserves its best service strictly for four-legged guests, may be history even before next year's show.
A report last month by brokerage Grubb & Ellis indicated that Vornado Realty Trust, which owns the longstanding hotel site, plans to demolish the swing-era monument and erect an enormous office tower in its place. No pets allowed!
Vornado has been unabashedly unimpressed by the dog show's unofficial host hotel for years, likening the building in a company report to "a placeholder, sort of like a parking lot"—which might help to explain the staff's longstanding no-fear policy when it comes to fur balls.
One senior researcher at Grubb & Ellis—who noted that the hotel scoop came straight from the mouths of boastful Vornado execs—told The Observer that demolition would probably begin within the next 12 months in order to meet the developer's stated goal of constructing the new office tower by 2011.
Dog-show spokesman David Frei downplayed the much-maligned hotel's demise as a subject of frequent speculation, but some pooch-pageant-goers who also heard the news were already making post–Hotel Penn–era preparations even before this year's dog show had ended.
Tara Williams, revenue manager at the nearby Radisson Martinique on Broadway, said the rival hotel's shuttering was on the lips of several guests with pets last week. The hubbub even stirred up some rather early room-booking buzz.
"A lot of our dog-show people were kind of panicking about making their reservations for next year," said Ms. Williams, whose own facility tried to lure dog-show-goers away from Hotel Penn with promises of a makeshift dog-run downstairs and a "barkfest breakfast buffet" for both pups and people.
"Usually, they start booking in the summertime," said Ms. Williams. "But a lot of them said they would be starting in the next month or so."
The rush to reserve is understandable. Shuttering the overly pet-friendly Hotel Penn will create a significant shortage in kennel-club-worthy rooms citywide, given the more than 1,000 dogs that reportedly roamed the 1,700-room venue this year.
"A lot of hotels in the area, they don't take dogs," Ms. Williams noted, "so it becomes a problem for people who come from out of town."
In fact, only 12 of the 19 hotels recommended on Westminster's Web site even allow dogs—make that 11 of 18 if you take away the Hotel Penn. (The other seven suggested are presumably for mere spectators.) And three of those so-called dog-friendly venues will only accept pooches up to a certain size. The Park Lane, for instance, won't shelter pets larger than 10 pounds; Springer spaniels like "Best in Show" winner Felicity's Diamond Jim would be left out in the cold.
None of the others are as big or as conveniently located as the Pennsylvania, which sits just across the street from the dog show's home for decades, Madison Square Garden.
Even doubling up, those 1,000 displaced dogs would utterly overwhelm the nearby 532-room Radisson, located a mere block away along West 34th Street; it hosted a comparatively minor 200 or so dogs last week.
"I'm assuming we'll have more groups next year," Ms. Williams said—and hopefully, a much larger dog-run.