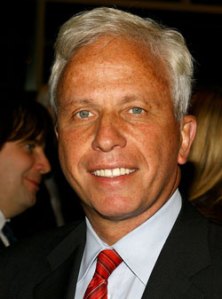 Ever since rumors began to swirl that Air America Radio might declare bankruptcy—a rumor that became real on Oct. 13, 2006—the network's Sixth Avenue headquarters have had the slow, deflated feel of a boomtown going bust.
The cluster of cubicles that were once occupied by a buzzy cadre of researchers sits partly empty—except for the bits that have been leased to a crew belonging to a new, unrelated radio venture by Jane Fonda and Gloria Steinem. And the humor around what had once been an almost perversely upbeat operation is now more often of the gallows variety. In a recent interview, Sam Seder—one of Air America's remaining stalwarts and the host of his own eponymous radio show—jokingly pointed to his newly functioning radiator as evidence that the place was still alive. "See?" he said. "Things are happening around here!"
But over the last couple of weeks, loyalists like Mr. Seder have become, at least, less pessimistic. The change in attitude stems from the announcement on Jan. 29 that a rescue team consisting of the publicity-shy real-estate mogul Stephen Green and his garrulous brother—former New York City Public Advocate, Nader's Raider and all-purpose liberal gadfly Mark Green—had signed a letter of intent to purchase the struggling network.
"I am—what is it?—I am cautiously optimistic," said Mr. Seder. "Certainly, the Greens seem very committed to this. And it seems to me they certainly have the ability to finance it."
According to a source familiar with the deal, the Greens will be able to make their commitment to Air America official on Friday, Feb. 16, when they are expected to bid $4.25 million in a Manhattan bankruptcy court to become the newest daddies of the three-year-old enterprise.
While the attraction of this kind of undertaking might seem hard to fathom—altruism? Vanity? Genuine hope of turning a profit?—the Greens have always been an ambitious twosome.
Stephen is the elder by seven years, and he has always been his brother's biggest booster, serving as cheerleader, advisor and financial enabler through the course of no fewer than five unsuccessful bids for public office as well as his victories. (Most recently, he contributed nearly $300,000 to Mark's failed campaign for State Attorney General.) Should his Air America bid win out, as is expected, the network could turn out to be his biggest act of brotherly devotion yet.
Stephen is expected to function as a relatively silent partner in the deal. Mark, judging from what he said during the announcement of their bid—and from the subsequent post on his still-functioning campaign Web site from the attorney-general race—will play a more active role in the creation of content. (Mr. Green has done guest-hosting duty on Air America before.)
The question is whether they can now do something to improve the fortunes of a serially dysfunctional radio network, or whether the takeover will become yet another high-decibel, career-puncturing defeat.
"Mark Green and Stephen Green, if they want to spend money on promoting liberal concepts in the media and they have the money to keep it going, that's fine. It just doesn't mean it's going to make money," said Michael Harrison, publisher of Talkers magazine. "All it means is the company will continue until the Greens lose all their money."
Certainly, Air America has proven to be a reliable destroyer of the fortunes of wealthy, well-meaning liberals. In less than three years of screeching truth to power with such truculent personalities as Randi Rhodes and Mike Malloy, the network has reportedly lost around $41 million. When the company filed for bankruptcy in October, it listed liabilities in excess of $20 million and assets of just $4 million.
None of the early apostles expected it to end this way. When the network launched on March 31, 2004—seven months before the Presidential election—it shuddered into existence like some computer-generated army, all swords, shields and booming footsteps. On his first day, host Al Franken vowed the defeat of George W. Bush with the words, "He is going down."
But the operation, heavy on enthusiasm but light on experience, quickly ran into some serious technical difficulties. "The problem with the place from the beginning was, there was not a lot of radio people," said Chris Rosen, a former engineer for The Al Franken Show. "There were so few radio people there that they didn't know how to accomplish making the jump from a good idea to executing it."
Within two months of launching, two radio stations had pulled the network's programming over financial disputes; paychecks arrived late; and its chief executive, chairman and vice chairman had all either quit or resigned.
It was soon discovered that the network's chairman, Evan Cohen, had overstated his financial situation and didn't have the cash to match his promises. (He later was found to have funneled $875,000 from the Bronx-based Gloria Wise Boys & Girls Club to the network.)
A group of investors stepped in to keep Air America running, but from that moment on, the grand experiment—the experiment that was supposed to save the country from the scourge of Rush Limbaugh, or at least offer an alternative—picked up a "troubled" descriptor that it never managed to shake.
"I think the trouble Air America has had was in its genes from the start," said Martin Kaplan, associate dean of the University of Southern California Annenberg School for Communication and the former host of Air America's So What Else Is News? "It was begun with the business plan of actually purchasing radio stations in big markets, which would then broadcast Air America programming 24/7. It might have been a decent strategy, but it turned out that the hundreds of millions of dollars it would have taken to do that existed only in Evan Cohen's imagination."
Going forward now with ostensibly secure financial backing, the challenge will be to convince a now-skeptical listening public that the same station that failed to attract them in significant numbers can actually be transformed. Whether they dress it up in new media drag or futuristic techie glitter—and whether they abandon Air America's increasingly anachronistic network model for a more stripped-down syndication approach—the Green brothers might find that the old image is hard to purge.
At the same time, they won't have the benefit of some of the elements that actually proved popular for the station. Janeane Garofalo, one of the station's marquee stars, left her show with Mr. Seder last year to concentrate on her acting career. And The Al Franken Show, which was the top-rated show on Air America, has come to an end as Mr. Franken leaves, it is rumored, to pursue a bid for a U.S. Senate seat in his home state of Minnesota.
Neither of the Greens has said much publicly about how they intend to solve Air America's woes beyond a few anodyne statements about building up talent and, in Stephen's words from a press release, partnering "with other platforms beyond radio." Mark has alluded to turning the network into "Air America 2.0." Both brothers declined to be interviewed before Friday's bankruptcy-court proceedings.
But, perhaps against all reason, hope persists. Danny Goldberg, the record producer who served in 2005 and part of 2006 as the C.E.O. of Air America, said he thought the Greens could be a different kind of owner.
"The advantage the Greens have is that it will be the first time that the people funding it will be running it. It was schizophrenic," said Mr. Goldberg. "I'm a big fan of Mark's, and if anyone can do it, he's about the best I've heard. He's got access to real money, he's got credibility, and he's got the time and the interest."