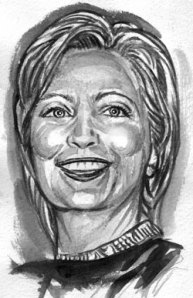 Go ahead and call Hillary Rodham Clinton the front-runner for the 2008 Democratic Presidential nomination. After all, she's running 20 points ahead of her nearest rival in the national polls, and she'll have lots and lots (and lots and lots) of cash.
Just don't get carried away.
There is a notion floating around that the former First Lady's candidacy represents some heretofore unseen convergence of might and inevitability.
But as early front-runners in the modern era of Democratic Presidential politics go, Mrs. Clinton looks almost average.
Start with her well-documented weaknesses: shifting rhetoric on Iraq that rankles her party's base, an unfavorable early primary and caucus calendar that could make her the underdog in three of the first four states to vote, and a pair of opponents—Barack Obama and John Edwards—who are publicly warm and sunny, whereas Mrs. Clinton comes across as cautious and scripted.
There's also the power of her celebrity, which hurts her as much as it helps. In that sense, Mrs. Clinton is a latter-day Howard Cosell, whose bombastic omnipresence once rendered him—simultaneously—the most revered and reviled man in America. (Mr. Cosell actually toyed with entering politics—in 1976, when the New York Senate seat now occupied by Mrs. Clinton came open—but backed out after deciding that he'd rubbed too many people the wrong way to garner 50-percent-plus-one in an election.)
This isn't to say that Mrs. Clinton is without impressive advantages in her quest for the nomination. She enjoys deep political and financial support from the party's establishment—she figures to raise more money than anyone who's ever sought the Presidency. And the history-making possibility th at she might become the first female President certainly stirs core Democratic voters.
But every Presidential election cycle produces an early front-runner. And while it's true that Democrats ultimately tend to nominate their early front-runner, these transactions never end up being smooth.
Take the example of Walter Mondale, who was heir apparent to the 1984 Democratic nomination from the moment he and Jimmy Carter won the White House in the 1976 election. The former Vice President spent years gathering stacks of establishment money, an alphabet soup of interest-group endorsements and the muscle of practically every labor union in the country. In late 1983, just a few months before the lead-off Iowa caucuses, Mr. Mondale led his nearest competitor, Ohio Senator John Glenn, by a staggering 28 points in a national poll—a margin that even Mrs. Clinton can't seem to match.
For all his inevitability, Mr. Mondale was truly lucky to win the nomination. The problem was his personality—bland, cautious and wholly uninspiring. The party's grass-roots voters, resentful that they were being force-fed by the establishment, finally rose up and rallied to Gary Hart, then an obscure Colorado Senator. Mr. Hart stunned Mr. Mondale in New Hampshire and then rattled off win after win, more than a dozen in all, losing the nomination only because of a pair of rhetorical snafus.
The case of Mr. Mondale demonstrated what Mrs. Clinton's camp likely fears the most: the possibility that a mighty machine can quickly and thoroughly collapse after one or two unexpected losses. If Mrs. Clinton's liabilities trip her up next year in Iowa, Nevada and South Carolina—three early states where her standing seems particularly shaky—will any amount of money be able to buy back the momentum that will have been lost?
Another instructive example is that of Ed Muskie, "the man from Maine," who was all but penciled in as the 1972 Democratic nominee before the race even started. Mr. Muskie gobbled up all of his party's big-name endorsements and—as Mrs. Clinton's campaign is now doing—sent out word that the train was leaving the station and that anyone wishing to board should do so promptly.
But "Big Ed," as Hunter S. Thompson called him, was hopelessly out of touch with the heart and soul of the Democratic Party, which yearned for a leader willing to speak clearly and unequivocally against the Vietnam War. Mr. Muskie instead embraced a risk-averse, November-minded approach, serving up intentionally mushy rhetoric designed not to offend Richard Nixon's "silent majority." Channeling the frustrations of any number of rank-and-file Democrats, Dr. Thompson dismissed Mr. Muskie as "a bonehead who steals his best lines from old Nixon speeches."
That left the door wide open for George McGovern, the gentle preacher's son from South Dakota, who derailed Mr. Muskie's mighty bandwagon with sincerity and moral purpose. Mr. Muskie was defeated, one of his aides later said, simply because he'd never given anyone a reason to vote for him.
Sure, there are also Democratic front-runners who have converted their establishment strength into dominating primary and caucus performances. Al Gore, for example, endured a shaky start before going on to sweep the primaries against Bill Bradley in 2000.
But for all her assets, Mrs. Clinton has yet to demonstrate that she's more Gore than Muskie.