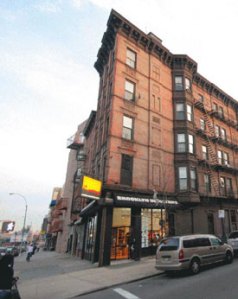 The last time local clothier Brooklyn Industries tried to make an ambitious artistic statement in its storefronts, the effort only inspired area graffiti artists.
"Bike Culture not 4 sale," vandals spray-painted across the retailer's windows at four different locations last February, denouncing the stores' displays of tricked-out bicycles and related sales items as an exploitation of an underground neighborhood subculture.
The vandalism was ironic, in a way: Brooklyn Industries, since its 1998 founding, has embodied a come-from-the-underground aesthetic that's powered the clothier to eight city locations and counting.
Now, one year after the vandals struck (and thousands of dollars in property damage later), the small-but-expanding chain's owners have come back with a plan to look a lot less like sellouts: In one location, they're not planning on selling anything—except their image.
In late January, the burgeoning brand abruptly shuttered its spacious outlet store, located at the corner of Broadway and Driggs Avenue in South Williamsburg.
On Feb. 23, the renovated venue will reopen, devoid of all merchandise, as the Brooklyn Industries Contemporary Art Center.
Ridding the place of racks upon racks of trendy T-shirts and hoodies—and, instead, relying on a cut of the occasional painting or sculpture sale—might seem like the wrong direction for a profitable retailer to go.
But the artsy couple that runs the business, married messenger-bag-makers extraordinaire Vahap Avsar and Lexy Funk, isn't worried about covering the rent.
"Conventionally, it is a crazy idea," said Mr. Avsar. "But it's not any crazier than, you know, sponsoring a concert."
Just like underwriting a rock show, in fact, the money to operate the couple's new art center will come out of their company's marketing budget—make that former marketing budget.
In a sort of executive New Year's resolution, the duo has sworn off many traditional advertising methods, including newspaper and magazine ads, in 2007.
"We have been flooded with inquiries from everybody in the community, every kind of organization: 'Can you sponsor this? Can you sponsor that?' It's always $1,000 here, $2,000 there," Mr. Avsar said. "With $1,000, we can do a whole show."
And with the "hundreds of thousands" they'll save, the couple can afford to go months without generating any interest from art buyers.
"We are able to do it comfortably this year—we don't have to sell anything," said Mr. Avsar, who added that the company hasn't even decided what percentage to charge artists for sold works. (This, just weeks before its first show.)
Despite the store's seemingly sudden Jan. 20 shuttering and rapid month-long revamp, the couple's gallery go-ahead wasn't decided on a whim.
Part longtime lovers' dream come true, part community-improvement project, part branding opportunity, the decision to convert the space for artistic purposes is also part commentary on the state of retail in South Williamsburg—or "Southburg," as the couple calls it.
The Broadway location was the company's most affordable yet most underperforming space, in terms of revenue, among its five sites in Brooklyn and three in Manhattan. "That neighborhood is still not a busy location; there is not much foot traffic," said Mr. Avsar. "It was definitely pulling our averages down."
In fact, the couple never intended to open a retail store in that part of town; they instead wanted a warehouse space.
The L-shaped corner store with big front windows offered adequate space for both. For nearly two years, the company maintained inventory for six stores out of the basement and deep back portion of the total 2,000-plus-square-foot space, while also offering overstock and discounted sales items in the front.
The size and the scope of the retail component often depended on how much stuff the company hoarded in the rear.
"We had these fixtures on wheels; we would push them forward and squeeze the store in the front and then expand the back of the room because we needed more storage," said Mr. Avsar. "We were quite creative with that space."
Further creativity was required following the company's relocation last summer to a sprawling, 22,000-square-foot industrial headquarters and warehouse on Hall Street with ample room for storage, shipping and receiving, plus room to grow. With more space for more stuff, the company was able to open new locations in more heavily trafficked shopping corridors, including Chelsea and the West Village.
The so-called "half-store" in Southburg, now half-empty, became obsolete as a retail space. With its 13-foot-high ceilings and proximity to hipster-populated Bedford Avenue, however, the space seemed ideal for a gallery.
And what better way to remind the masses of the increasingly ubiquitous brand's starving-artist roots?
"The association of a contemporary art gallery and Brooklyn Industries is very relevant," Mr. Avsar said. "We want that association. We want people to know how we're about art, how we're about being creative."
Not to mention ambitious. As the company eyes only Manhattan for future stores—Mr. Avsar named Union Square and the Upper West Side in particular—its plans for Brooklyn seem to rest squarely on fine arts alone.
"In a year, we want to establish a respectable, serious gallery," he said. "Eventually, we want to have a bigger location and become more of a contemporary museum. We think that would work in Brooklyn."