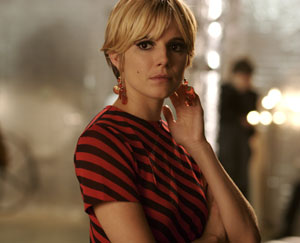 A frosty week in mid-winter when nothing of any major importance is opening may be the perfect in-between time to play catch-up. I wrote about the powerful German film The Lives of Others last week, so my excitement has dimmed momentarily. In the interim, the thin, superficial docudrama Factory Girl, about the five minutes of fame squandered by Andy Warhol superstar Edie Sedgwick in the 1960's, is making a brief, forgettable appearance. Clumsily directed by an ­amateur named George Hickenlooper, Microsoft Word–ed with five-and-dime psychology by three hack writers of no importance, and edited with a Cuisinart, I doubt if it would have been considered slick or glam-sham enough to hold even Warhol's interest in the days when he stuck the label of high art on everything that popped out of a Polaroid.
This is sad, because the Edie Sedgwick I remember hanging around the Warhol Factory was funny, pretty, vulnerable, smart, easily exploited and desperately lost—an all-American girl with a strong sense of personal fashion and no sense of personal self-value, who crashed and burned in the flames of pop fame like Jean Seberg. She was never, ever innocent. Still, 35 years after her death, I think her brief candle deserves a longer wick than this.
Factory Girl opened for a few days in Los Angeles before the end of last year to qualify for the 2006 Oscars, but when audiences ignored it and one critic called it "That Girl on speed," its hopes were dashed. No wonder: It has no plot, structure, rhythm or balance, so all you can do is comment on the film as a series of isolated moments, not as a coherent entity. The abandoned hat factory that served as Xanadu for the rotating freaks in Warhol's underground kingdom looks accurate enough in my memory, and Australian cham­eleon Guy Pearce, in the strangest role of a bizarre career, channels the memory of Androgynous Andy in a performance that is chilling.
Nevertheless, the only thing that Factory Girl will be remembered for is the threatened lawsuit launched by an infuriated Bob Dylan, whose real-life affair with the pathetic Edie is dramatized with such phony irrelevance that the funky rock singer's real-life protests necessitated a lot of changes in the release print. True, Dylan wrote "Leopard-Skin Pillbox Hat" and "Just Like a Woman" for his squeeze, but there is no evidence that his cruelty contributed to her self-destruction. He did not know Warhol. He was not a regular at the Factory. He never did a screen test. If anything, when he walked away from Edie's growing addiction to drugs, it proved that he was smarter than everyone else. Dylan, called simply "Musician" in the credits, is played by Hayden Christensen as someone whose brain seems alarmingly devoid of oxygen.
The poor attempts to re-create the filming of those cheap, now-forgotten, near-naked Warhol westerns and primping thug romances he turned out for a nickel apiece are dismally lackluster. Sienna Miller looks like Edie, but although she works hard to portray Edie's downward spiral, the framework that shows Edie narrating her life in retrospect in 1971, scrubbed and glowing with Ivory soap at the beginning and end of the movie, is a trick that is nothing short of laughable. She looks like one of those defendants in a murder trial dressed by a defense attorney to bring tears of doubt to the eyes of sympathetic jurors.
The truth is more tragic. This was a girl from sunny California whose family dated back to the signing of the Declaration of Independence. Her father, "Fuzzy" Sedgwick, is accused in the movie of sexually molesting her and sending her (and other siblings) to mental hospitals when they got out of line. Bigoted and homophobic, "Fuzzy" is powerfully played in one heated scene by James Naughton, who reduces Warhol to dog meat in an insulting public attack at the Harvard Club.
Edie landed in New York in 1964 as a bogus art student at Cambridge after flaunting a reputation as the biggest fag hag in Boston. Somehow, on the party circuit, she fell in with Warhol, who smelled opportunity in her social and financial connections, dressed her in bling and fun furs and motorcycle goggles, introduced her to people like Jasper Johns and Roy Lichtenstein, and promised her a movie career. In ­return, she dragged him to expensive restaurants, treated him to trips to Paris and picked up the tab. He did make her a superficial "Warhol superstar" with no talent—the new "It" Girl with no definable "It."
The movie has its own avant-garde ambitions, filmed as a collage of strobe lights, hypodermic needles and promiscuous sex against walls of Brillo boxes, soup cans and Polaroid blowups of Marilyn Monroe. After a year and a half, Edie has gone through her trust fund, "Fuzzy" has cut her off without a ­penny, and Andy has dropped her like a pig soaked in Vaseline. When the money stops, it comes as a shock to them all. "How could I possibly be bankrupt?" she demands of her financial advisor (Edward Herrmann). "My grandfather invented the elevator!" "Then," he replies, "you should be familiar with the concept of up and down." It's one of the film's few good exchanges; most of the dialogue sounds phoned in from another planet.
Edie's glory as a kind of underworld Holly Golightly lasted no longer than a New York minute. Words like "gamine" and "waif" were tossed around freely, but it didn't take long before she morphed into a depraved and battered addict, dying in 1970 at age 28 of a heroin overdose. Other aspects of the story can be found in the lurid 1972 docudrama, Ciao, Manhattan! But the more I see of Edie Sedgwick, the less of a story I think there is to tell.
The real saga is about Andy Warhol, and it's a mystery why nobody has ever bothered to tell it properly and accurately. He was an early postmodern pioneer—and illustrious purveyor—of pretentious porn, but his brain was an empty bedroom. "Sex is so abstract" was his favorite personal talisman to live by. You wouldn't call him effeminate; he was too zombified for that, looking like his veins throbbed with formaldehyde. He was a voyeur of life, not a participant in it. And Guy Pearce gets it totally, eerily right. You would not believe that this is the same actor who played the rugged cop in L.A. Confidential. With his white albino wig, blemished skin and protective sunglasses, speaking in a dead, moaning voice pitched so low it can only be heard by a garden slug, he is the real Andy Warhol—an anemic leg-puller of the art world, a cold, antiseptic user who exploited and discarded pitiful underdogs of both sexes, and a celebrated vampire celebrity of the eternal New York night, forever looking like he lived on nothing but raw oysters and embalming fluid.
Cowboy Javert
Seraphim Falls is an old-fashioned western, epic in visual grandeur but myopic in scope and dialogue, set in the aftermath of the Civil War, with Pierce Brosnan and Liam Neeson giving the saddle-sore revenge theme all they've got and then some. The two real stars are Conrad Buff, the gifted editor who won an Academy Award for Titanic, and two-time Academy Award–winning cinematographer John Toll (Braveheart, Legends of the Fall), who captures a full range of poetic resonance in the snowy Rockies and the parched deserts, lending the film an austere and beautiful portrait of the American West. Nothing else in the film quite matches the camerawork or the savage terrain, as penetrating as the brutal action sequences.
Five years after Lincoln won his struggle for the abolition of slavery, a lone figure—gaunt and thorny as mes­quite—sits before a fire in the snowy mountain peaks. He is Gideon (Pierce Brosnan), a bearded figure cloaked in fur, lost in thought. He is pitched from his reverie by the echo of a rifle and a bullet that cracks his shoulder blade. Leaving everything he owns behind, Gideon runs for cover in a nearby forest of fir trees, leaving a trail of blood in the snow. So begins the breathless opening act of Seraphim Falls, which also turns out to be the third act of a grim cycle of rage and revenge ­orchestrated by Col. Morsman Carver (Liam Neeson), who for reasons that are not immediately clear, has devoted his life to hunting and tracking his prey in a plot that can only end in murder. He has even hired a posse of outlaw trackers to help him. Gideon crawls away, bleeding profusely, removes the bullet from his arm, cauterizes the wound and then continues down the valley. The chase begins.
On the journey to the showdown, we encounter rapacious traders, vicious railway foremen and suspiciously over-friendly Christian missionaries, but the camera remains centered on the hunter and the hunted as they move from the order of civilized society to the raw and lawless wilderness. The emotional conclusion comes only after a violent climax in which both men light the darkest shadows of their souls. This debut feature by TV director David Von Ancken has awesome locations in Oregon and New Mexico so rugged that you think you are looking at a primal John Ford western, but the slow pursuit at the center of the plot is more like Les Misérables with cactus. The guys are charismatic even when they're encrusted with mud and dried plasma, but the writing is too sparse to give them much dramatic force as fully developed characters.
After 115 minutes of tedium, when the door to the mystery of their blood feud is finally unlocked by a pistol-packing mama in a red dress—Anjelica Huston, of all people—you may just wish she had thrown away the key. The technical revels are arresting, but Seraphim Falls is slow of motive and thin of plot—a western that dies with its boots on.
Needing Space
Real pleasure comes in small, refreshing doses in Puccini for Beginners, a witty rom-com au naturel about a group of Sex and the City–style New Yorkers who are intelligent, sophisticated and confused about the basic issues of genre role-playing, commitment and sexual identity.
Writer-director Maria Maggenti has a real talent for dialogue that sings and for choosing actors who are as human as they are attractive. Allegra (lovely Elizabeth Reaser) is a lesbian author who breaks up with her girlfriend Samantha (enchanting Julianne Nicholson) and branches out by making a pass at Philip, a sexy Columbia philosophy professor (the impossibly appealing Justin Kirk). Philip is already deeply devoted to his girlfriend Grace (versatile, surpris­ing Gretchen Mol), an investment banker who wants to be a glassblower. But after one passionate night of liberating sex with Allegra, Philip is obsessed. Alarmed, Allegra says: "I'm a lesbian. Can't you respect the inherent boundaries that sexual identity requires?"
As things move dangerously in the direction of dreaded confrontations over marriage and monogamy, Allegra meets Grace at a screwball-comedy festival in Greenwich Village, and they ­literally tremble with more confusion (and excitement). Now they're all secretly having sex with each other, with all of Allegra's ex-lovers along for the ride. Sometimes Grace and Philip are both calling on Allegra's cell phone at the same time. Sometimes Philip calls when Allegra is in bed with Grace, and vice versa. All of them declare sexual identity as a totally outmoded social concept with no relevance in the 21st century. Whatever. But when New Yorkers make a choice, why is it that what comes next is always the need for independence and space?
Stick around for the epilogue to find out who ends up where. None of this is as contrived as it sounds, and a lot of it hits nerves that require laughing gas. In the end, you get such a fresh new look at New York that you'll never want to leave. If sexuality is a gray area, it's grayer in Manhattan, where everyone has an unasked-for opinion and even the waiters get into the act.