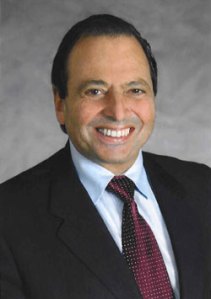 Macklowe Properties paid $1.73 billion for Worldwide Plaza at 825 Eighth Avenue, the second-largest sale price for an office building in U.S. history.
The Macklowes' purchase of the bulky West Side office tower was part of a $7 billion deal that the company made with Blackstone to secure eight New York office buildings that formerly belonged to Equity Office Properties.
The sale was recorded in public records late Monday afternoon.
"I think Worldwide Plaza is a part of New York history," said William Macklowe, the president of Macklowe Properties, in an interview on Tuesday. "There are great tenants in the building; it's a big building; it's a skyline building."
The 18-year-old, 1.7-million-square-foot tower is at the tip of Hell's Kitchen and Times Square, between 49th and 50th streets. The Macklowes paid more than $1,000 per square foot for the building—the new benchmark for Class A office space in the city. The largest tenants include the high-powered law firm Cravath, Swaine & Moore and the advertising company Ogilvy & Mather.
The Worldwide Plaza sale tops the previous second-largest deal ever, when Tishman Speyer bought the MetLife Building at 200 Park Avenue for $1.72 billion in 2005.
The largest-ever sale for a building, Kushner Companies' acquisition of 666 Fifth Avenue at $1.8 billion, closed in January. (The publisher of The New York Observer, Jared Kushner, is a principal at Kushner Companies.)
The Worldwide Plaza sale was the first of four buildings that the Macklowes purchased from the former EOP portfolio to appear in public records, as of press time on Tuesday afternoon. (Blackstone purchased EOP earlier this month.)
The other three include 1540 Broadway, which the Macklowes bought for $967 million; 527 Madison Avenue, which sold for $234 million; and Tower 56 at 126 East 56th Street, which sold for $178 million.
For the Macklowes, the records might keep coming.
Also included in the ex-EOP portfolio is 1301 Avenue of the Americas, a 1.7-million- square-foot tower at the corner of 52nd Street; that will likely sell for a price even higher than Worldwide Plaza—and should come close to toppling 666 Fifth Avenue as the biggest sale ever.
The other EOP buildings bought by the Macklowes but not included in city records as of press time include 717 Fifth Avenue, the Park Avenue Tower and 850 Third Avenue. Blackstone kept 1095 Avenue of the Americas for itself.
DOUGLAS DURST HAS FOUND A TENANT financially secure enough to afford two more floors in his new tower at One Bryant Park: himself!
The Durst Organization will take the entire 48th and 49th floors, for a total of 61,000 square feet at the Bank of America Tower, a spokesman confirmed.
The move means there are only two floors left for rent in the 54-story building, which opens next spring.
The only available floors left in the very green, LEED-certified budding building include the 40th floor, which has 36,000 square feet, and the 47th floor, with 32,000 square feet, the spokesman said. Asking rents are more than $100 per square foot, according to market reports.
But money isn't an issue.
Mr. Durst, if anything, has had too many eager tenants knocking at the door to get into Manhattan's most soaring tower to open next year. As The Observer reported in January, Marathon Asset Management, a hedge fund, and Elie Tahari, the women's fashion designer, will together take three floors for more than 100,000 square feet.
The building is at the corner of 42nd and Sixth. The leading tenant is Bank of America, which will take 1.6 million square feet
IT'S TIME TO MIX IN SOME IPODS and skinny jeans with those long-faced I-bankers on the morning PATH train to Jersey City.
In a move that represents entertainment's first step toward the Jersey waterfront, the record company EMI has a lease out in Jersey City, a source confirmed. The lease will be between 30,000 and 50,000 square feet, he said.
To EMI, the move means much-needed cheaper rents. To New York City, this means there's another scary smell coming from Jersey.
For years, there's been a nagging worry among New York's real-estate gatekeepers that rich tenants would flee Manhattan in favor of Jersey City's shinier buildings and cheaper rents.
But no major industries have made large moves to Jersey, other than finance (and even then, big business has been shelving back offices there, not top executives).
EMI, though, is about to ante up.
Consider the Jersey discount: The average office rent on the New Jersey waterfront is $30 per square foot, according to CB Richard Ellis. Rents in midtown south, where EMI has offices at both 150 Fifth Avenue in the Flatiron district and at 304 Park Avenue South, are at $52 per square foot, according to Cushman & Wakefield.
Could this be the start of a media exodus from Manhattan?
"I don't think anybody sees Jersey as a threat to the city's media industry," said Kathy Wylde, the head of Partnership for New York City. "Brooklyn competes harder.."
Companies like EMI might need to consider it, though. Despite a No. 1 record from Norah Jones this week, the company's sales numbers are sagging.
The source with knowledge of the deal didn't confirm which of its addresses EMI give up in Manhattan, but the record company's 50,000-square-foot lease at 304 Park Avenue South expires this year.
EMI has been reshuffling space lately. One of its subdivisions, EMI Music Publishing, is moving into a 65,000-square-foot space in Chelsea, away from two offices in midtown.
A group led by Mitch Konsker at Cushman & Wakefield represents EMI. He declined to comment.