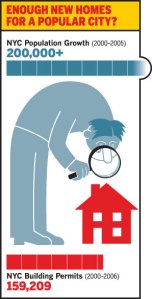 Pity popular New York City. Unlike many other American metropolises (Detroit, Philadelphia, even Cleveland), the city's population keeps growing steadily, so much so that not even record new-home construction numbers can keep up with the rising demand.
Politicians and the press made much in recent weeks of new census data that shows a lot of permits for building privately owned homes were issued in the five boroughs in 2006—just like in 2005!
"The data shows that the pace of housing construction remains strong in New York City," a City Hall press release crowed. "The years Mayor Michael R. Bloomberg has been in office saw the highest five-year total … since 1965."
These permit numbers at least look impressive. In 2006, 30,927 housing units were green-lighted; in 2005, 31,450. These were the busiest years since 1972—and that year, as City Hall points out, was busy only because of subsidized-housing construction.
But even the heartiest home-permit numbers pale against New York's population growth. So hold the champagne: The home-building boom isn't nearly loud enough.
In the six years from 2000 through 2005, the city added more than 205,000 New Yorkers, according to city estimates based on census data.
In the seven years from 2000 through 2006, 159,209 home-building permits were approved.
That leaves a deficit of more than 40,000 between the number of new residents and the number of home-building permits. (Bear in mind, too, that 10 to 12 percent of these permits to build homes for rent or for sale never lead to an actual building.)
In some areas of the city, the deficit between new homes and new residents looked especially acute.
Manhattan added 69,080 residents from 2000 through 2005, according to Department of City Planning estimates. From 2000 through 2006, the borough notched a building-permit number of 43,696.
Staten Island, New York State's fastest-growing county for much of the last 17 years, added 31,286 new residents from 2000 through 2005, but only 14,125 housing permits were approved for the borough.
Queens and Brooklyn, the two most populous boroughs (now and seemingly forever, according to 25-year projections by the city), showed less-stark deficits between building permits and fresh residents—but both had deficits nonetheless.
Brooklyn's population increased 1.9 percent from 2000 through 2005, adding 46,082 residents; about 42,000 building permits were O.K.'d from 2000 through 2006.
It's an obvious math problem, one that city officials, affordable-housing advocates and luxury condo developers alike all recognize—and tout to their own advantages.
"We still have a vacancy rate of somewhere between 3 and 5 percent in the residential rental-apartment market, which says clearly that we don't have enough apartments," said Steven Spinola, president of the Real Estate Board of New York, the city's leading trade group for the industry.
The Bloomberg administration has made the development of 165,000 middle-class and affordable-housing units a cornerstone of its second term.
At the same time, the administration has rezoned huge swaths of the city—the Greenpoint and Williamsburg waterfront, downtown Brooklyn, West Chelsea—to encourage residential development.
This government gung-ho, coupled with market forces like lower construction costs (until Hurricane Katrina, at least) and an influx of foreign buyers, spurred brisk residential development in this decade, even in neighborhoods hitherto anathema to homebuilders (luxury condos in Long Island City, anyone?).
But it's not enough—not so long as New York City grapples with the enviable curse of steady population growth that even a cataclysm like terrorism can't staunch.
Plus, the Bloomberg administration—while encouraging development through rezoning and subsidies tied to affordable housing—has put curbs on two of the most popular development incentives in modern New York history: the 421-a and the 421-b tax abatements. The city now ties the 421-a, which gives developers tax breaks that often translate into savings for apartment buyers, more to affordable housing. The 421-b, eliminated last summer, gave similar breaks for single-family homes, mostly in Staten Island.
Couple these curbs on development tax breaks with the general costs of buying whatever land's not already bought in New York, and the cards are decidedly stacked against homebuilding that keeps even relative pace with population growth.
The Bloomberg administration famously projects that the city will add at least one million New Yorkers by 2030, roughly a generation away, bringing the population from about 8.2 million to more than 9.1 million.
The discrepancy between the population growth and the relatively slow creation of new housing spawns many economic ills for New Yorkers. Chief among these? Those nagging realities of very expensive sales prices and monthly rents. It's simple supply and demand, and barring some sort of amplified home-construction boom—the sort that would make 30,000 building permits in a year feel paltry—the scales will only tip more toward imbalance.