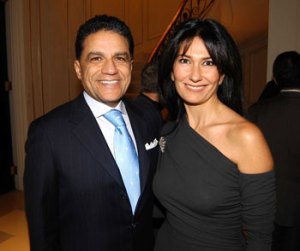 The developer who is building the new downtown W Hotel is spreading his empire to Fifth Avenue.
After buying four buildings on Fifth in the last two years, Joseph Moinian is buying two more for $440 million. He is in contract to buy 417 Fifth for $250 million and 245 Fifth for $190 million, two sources close to the deals said.
All of his Fifth Avenue buys have a common thread: They're all old buildings that need a little fixing up. They're also near Doug Durst's budding 54-story One Bryant Park and Axel Stawski's 27-story glass tower going up at 505 Fifth.
Mr. Moinian, no doubt, has residual foot traffic in mind.
417 Fifth Avenue is an 11-story, 392,000- square-foot building at the corner of 38th Street and across the street from the Lord & Taylor. It's a building that was constructed in 1912, and includes Atari and Marvel Entertainment as its main tenants.
The building also has 80,000 square feet of air rights available, which was included in the deal, a source said.
One of the first things that Mr. Moinian may want to do is push up rents, since they're far below market now. The asking rent for the only available floor is $32 per square foot, according to CoStar (whereas average rents for class-B midtown south buildings are $40 per square foot, according to Cushman & Wakefield).
The building, owned by Murray Properties and General Electric, has also been a tough sell. The building was reportedly on the block as early as January 2005, but a deal never materialized.
So the natural thing to do: Call Mr. Moinian, who has been hot for SoFi property.
Meanwhile, Mr. Moinian's other buy is farther south at 245 Fifth, which is at the corner of 28th Street. It's two blocks north of Madison Square Park and neighbors the Prince George Hotel and the Gershwin Hotel.
The 24-story, 287,000-square-foot Art Deco building includes the private-equity arm of BISYS and Sony BMG Publishing among its tenants. The building was constructed in 1927, and there is only one floor available for sublease.
Mr. Moinian paid $190 million for the building to KBS Realty Advisors. That's the same KBS that is in heated negotiations to pay more than $1 billion at 60 Wall Street, according to an article in Real Estate Weekly.
For the Iranian-born Mr. Moinian, his move to the area is consistent with his trend of recent buys. Sure, he owns 10.5 million square feet of office space, much of it located downtown with buildings like 180 Maiden Lane, 95 Wall Street and the prospective 53-story W Hotel at 123 Washington Street. But he also seems to have an eye for emerging submarkets in Manhattan real estate: the Far West Side, the garment district, and now the part of Fifth Avenue that is closer to Madison Square and Bryant parks than to Central Park.
Then again, when he started buying in downtown, that was just heating up, too.
His first buy on Fifth was in 2004 for 530 Fifth Avenue, a 500,000-square-foot building that he bought for $210 million (which is where he also placed the Moinian Group headquarters). In April 2006, he bought three prewar buildings at 509, 535 and 545 Fifth Avenue, in a packaged portfolio, for $270 million.
Cushman & Wakefield's Richard Baxter, Scott Latham, Jon Caplan and Ron Cohen advised on the 417 and 245 Fifth deals. They declined to comment.
IT'S NOT TIME TO RING THE ALARM, but what's up with the leasing market?
As brokers return to work after the long weekend, they're taking notice that their dependably endless stream of intel has been running dry lately.
That's because leasing activity has scaled down in the last four months and dropped significantly since October.
A sampling of what's happening: Leasing in November was down from October (1.9 million square feet of office space leased versus 2.1 million the month before); leasing in December was down from November (1.4 million versus 1.9 million); and leasing in January was down significantly from the average (1.5 million feet leased versus a two-million-foot average in January over the last three years), according to research provided by Cushman & Wakefield.
Now, plenty of this has to do with the fact that there is, well, not much more open space left. But it's definitely something to note.
"I think there's a pause in the market," said Josh Kuriloff, an executive vice chairman at Cushman & Wakefield. "There's been some price shock or sticker shock to pricing for the office user."
The novice tenant, Mr. Kuriloff said, is the cause of that pause. He said tenants need a "cerebral perspective" in order to "come to grips that this is a $100 [a foot] market." Only then will they comprehend the vagaries of Manhattan real estate.
"Let me give you a simple analogy," he said. "If all of a sudden you wanted to enter the residential market, or you wanted to go buy a car and the prices are way up, and you're like, 'Damn it, maybe I'll wait till they go down'—that's an uneducated consumer. That's psychology; that's emotion.
"A car, you can produce," Mr. Kuriloff continued. "You can't produce new office stock overnight. So that supply isn't coming to the market until 2010 through 2012, because you can't get a building out of the ground."
Panic? Might there be panic?
"There is zero panic," he said.