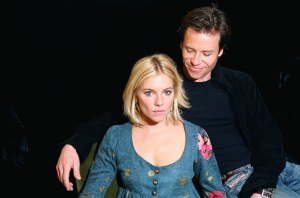 It Takes a Pillage, Part 3
The scene: A cozy den with heavy drapes covering the windows, a large desk, bookshelves, a fire lit in the fireplace. At the center of the room is an overstuffed, somewhat garish sofa in the style of Kaki Hockersmith ….
THE AIDE: Senator, I'm afraid I have another name for the list … David Geffen. You saw he told an audience at the 92nd Street Y that there's no way you can win, and that—I quote—"ambition is just not a good enough reason." And they all applauded.
THE SENATOR: Well, we'll just see how that creepy little catamite feels when I'm President and he finds himself audited every April—haw, haw, haw! Cough …. And that goes double for his pal Spielberg. Haw, haw, haw, haw—cough-cough-cough …. Shit, I almost coughed up a ball …. Anyhoo, I was pleased as punch to see myself on the cover of the Post nuzzling that black baby—loved it, L-O-V-E-D loved it! Remind me to send Rupert a little something. And they ran a good one of me with that Spanish kid at Ground Zero—I am the fucking rainbow candidate, let me tell you. Have Gerri make sure there are some black babies in the front rows at all my upcoming events. Maybe some Hispanic and Asian ones. Fuck, throw in an Eskimo too. Haw, haw, haw, haw, haw … !
THE AIDE: Isn't that asking a lot? I mean ….
THE SENATOR: Oh, get over it, nellie—I haven't asked you to do any wet work yet, have I? So count yourself lucky. Now it's a crying shame the Obama-as-terrorist-tyke rumor didn't stick—maybe we pushed it too early?
THE AIDE: Errr …. Senator, if you have just one more moment, I needed to check a payment I saw on the January balance sheet: $50,000 to "M.L." Who—or what?—is M.L.?
THE SENATOR: Duh? Monica.
THE AIDE: Umm, I don't get it. Why would we be making payments to Monica Lewinsky?
THE SENATOR: Christ, do I have to spell everything out for you, Harvard boy? Who the fuck do you think it was who sent her into Bill's office carrying a pizza? You think that a 21-year-old bimbo thought that up all on her own? Had the guts to barge in on the President of the United States without a little push? Puh-lease. And sure, I also had to throw some cash Linda Tripp's way. It's the cost of doing business. And it worked! Once it all came out and all hell broke loose—well, remember the polls? I went from America seeing me as a cold, conniving bitch to being seen as a strong, wounded but loyal spouse. My favorability rating skyrocketed. That little tramp won me my Senate seat. That blowjob is going to get me elected President. Now get over here and rub Big Mama's tootsies—my dogs is tired!
The Future of Shopping
Dot's, the First Walk-In Virtual Store, quietly opened on Greene Street in Soho three months ago. On the surface, it appears like any boutique: a selection of dishes, glassware, a rack of clothes, several chic books. But nothing is for sale at Dot's—and, simultaneously, everything is!
"If you see something you like, you buy it, and we send you its photograph by e-mail," store manager Ariel Johnston explained. "Also, every item is available as a ringtone for a cell phone. For example, there's the sound of a wine glass being tapped by a chopstick—a delicate, Zen-like tone."
Since you're only purchasing images, everything is for sale. You can buy the west wall of the store, the light fixtures, the chairs that the clerks sit in—even the clerks themselves! Furthermore, a surveillance camera records each customer's entrance, and that video is also for sale. "Many customers like to buy footage of themselves walking through the store," Mr. Johnston remarked. "They're a little bit like Andy Warhol's 'screen tests.'"
What's more, the store clerks keep a running blog about each person who visits Dot's, and for a fee you can read their descriptions. "Everyone wonders what store workers think of them," Mr. Johnston noted. "Now they can know for sure."
Does Dot's ever change its merchandise, since none of it leaves the store? I wondered.
"Of course. Every boutique needs new items," revealed Mr. Johnston.
And what happens to the old stuff?
"We take it home, or gift it to friends."
The name of the store, as I suspected, derived from computer terminology.
"It's a subtle joke—being here is like stepping inside the 'dot' in 'dot-com,'" the genial Mr. Johnston explained.
—Sparrow
Keep on Rockin' in The Free World
"I've got to stop worrying about my voice," said Rick Dunn, following his tense-yet-impassioned debut as lead singer for local rockers Atom Strange on Jan. 27 at the Delancey.
Albeit a bit rusty, Mr. Dunn at least remembered his lyrics—a marked improvement over the group's last vocalist.
The hard-rock quartet's Saturday-night show was its first public performance since its former front man, Paul Cortez, brought the fledgling band some dubious publicity with his arrest on second-degree murder charges in 2005.
As the 26-year-old Mr. Cortez faces a possible life sentence—opening arguments in his trial began this week in State Supreme Court in Manhattan, Justice Carol Berkman presiding—his former band mates are moving on with their rock 'n' roll dreams, scheduling gigs and self-producing a CD.
Far from embracing rock 'n' roll's outlaw pose, the guys have all but erased any connection to their embattled ex-singer, changing their name (formerly Monolith) and the lyrics to many of their songs.
For Mr. Dunn, joining the group has had its prickly moments. "At first, I was kind of nervous that people would think I was that guy," he said.
According to band members, the desire for a fresh start stems more from Mr. Cortez's erratic stage presence than his status as an accused murderer. Guitarist Alex Rude said that after several shows, he'd heard comments along the lines of "The band sounds great, but what the fuck is wrong with Paul?"
During Monolith's last show, in November 2005, Mr. Cortez spaced out onstage, blanking on the words to his songs and even his fellow rockers' names. "I think he called me Dave," recalled bass player Steve Logan.
The flaky performance took place mere days before Mr. Cortez's 21-year-old ex-girlfriend, Catherine Woods, was savagely slashed to death in her East 86th Street apartment. Prosecutors are expected to argue that Mr. Cortez obsessively stalked Ms. Woods after she rejected him. (Mr. Cortez has long maintained his innocence, and several friends and acquaintances have raised money for his defense.)
The case became an immediate tabloid sensation. Ms. Woods, an aspiring Broadway dancer from Ohio, had worked as a topless dancer. And Mr. Cortez, too, made a compelling news subject: a poor kid who'd attended the private Buckley School on a scholarship, then Brooklyn Poly Prep and Boston University, he supported his singing and acting aspirations by working as a yoga teacher and trainer at a New York Sports Club on the Upper East Side, where he met Ms. Woods.
Although Mr. Cortez failed to show up for band practice on Nov. 27, the night of the murder, his bandmates said they wanted to believe his plea of not guilty. Ironically, they say, they were planning to ask him to leave the band anyway because of his onstage antics. At the time of Ms. Wood's killing, he had fronted the group for about a year—15 shows, only two of which rose above forgettable or embarrassing—and they were in the process of recording their first CD.
Shortly after Mr. Cortez was taken into custody in December 2005, the band posted a message on its MySpace page: "MONOLITH SEEKS NEW SINGER!!!"
In the months that followed, the group auditioned potential replacements for the incarcerated crooner, eventually deciding on Mr. Dunn, a muscular, 33-year-old manager for a wireless-phone service with a shaved head and eyebrow ring. "He's got a much higher voice," said Mr. Rude.
Whereas Mr. Cortez's baritone vocals might best be described as a half-decent Jim Morrison impersonation, Mr. Dunn's tenor owes more to the late grunge star Layne Staley, with touches of hair-band icon Sebastian Bach.
Mr. Dunn was strongly encouraged to rewrite the former singer's lyrics. And so, while the instrumental parts remain largely unchanged, Mr. Cortez's song "Hero's Deed"—"Lost between a broken seam / That men ordained with worldly pain / Will speak the truth, yet seem insane"—is now titled "More or Less," with Mr. Dunn singing about relationships ("Think I'm losin' you / But I can't tell / If the feelin' is true / But I don't want to / Mess this up so much / That I can't come back").
"I've brought it to a different level," Mr. Dunn said of the revised material, which also includes songs about addiction and vampires.
"It's just a different animal," added Mr. Rude, who suggested that the group's name change was more about standing out from the "fucking 40,000 other bands with the name Monolith" than avoiding any tabloid-footnote notoriety.
Yet Mr. Cortez won't get a mention in the liner notes of Atom Strange's forthcoming CD, despite his pre-arrest studio work. "He's not involved in it anymore," said Mr. Rude.
But the guys aren't quite free of Monolith's shadow. Mr. Rude, for one, may be called to the witness stand. "I got subpoenaed," he said.
Lawyers have also requested copies of the group's original songs, and press reports have cited a diary taken from Mr. Cortez's apartment, which police sources described as containing possible meditations on murder. Band members have called it a lyric book, full of fictions. According to court records, police also confiscated Mr. Cortez's guitar.
—Chris Shott