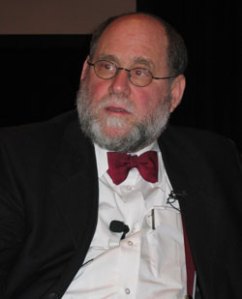 The diamond mines of Sierra Leone are a long way from the Hilton New York, the gaudy midtown tourist trap where a one-night romp costs almost as much as a diamond digger's annual salary. But on Monday, Feb. 5, the organizers of the Rapaport International Diamond Conference were doing their best to bring the woes of deepest Africa to the hotel's Versailles-themed Trianon Room.
It's true that these organizers had neglected to actually invite many Africans to attend the event. But there was a photo exhibit of some of the men, women and children of postwar Sierra Leone. There was Edward Zwick, the Hollywood eminence whose new Africa epic, Blood Diamond, made him, by some metonymic law of celluloid, an authority on the subject. There were diamond buyers, diamond sellers, World Bank suits and NGO scruffs—and in the center of it all, Martin Rapaport, one of the grand titans of the diamond trade, railing at his guests to embrace their inner altruism.
"Who is representing the diggers?" he asked, wagging his index finger at the audience, his face red beneath its trim gray beard. "Today I ask that we think of those diggers, and that for one day, for six or eight hours, we set aside our business interests … and put ourselves in their shoes."
Phrases like "put ourselves in their shoes" don't often pop up in diamond-industry discussions, certainly not at day-long confabs, where the theme tends to be color, clarity, cut and carat—and conscience is as rare as a two-inch, rose-colored diamond. But Mr. Rapaport, the 55-year-old chairman and C.E.O. of the influential Rapaport Group, is not your average 47th Street diamantaire. And his conference was not your typical rubber-chicken macher-fest.
For one thing, the spread was kosher. For another, Mr. Rapaport had billed the event as nothing short of the "beginning of a new Kimberley Process."
The Kimberley Process is the famed, if flawed, international diamond-certification scheme that was designed to stop the trade in conflict diamonds. Ratified in 2002, it emerged out of the bloody wars in Angola, the Democratic Republic of Congo and Sierra Leone, where diamonds became the currency in which arms were traded. Mr. Rapaport played a big part in the process, and remains a vocal believer.
But now, four years and one Hollywood blockbuster later, he wants to go "transcend" it, to go beyond blocking blood diamonds from reaching the market to creating a "fair trade" diamond—or, in Rapaport-speak, a "glatt kosher" diamond—that would be ethically sourced, environmentally friendly and generally better. Part of the reason, he has said, is that he can't sleep at night when he sees "people in Africa who are totally screwed." But he has also smelled the zeitgeist.
"The diamond industry is confronting the greatest challenge to its existence," he warned in an open letter announcing the conference. "If we do not honestly address the needs of the diggers, we will not only lose our business, we will lose our humanity."
MR. RAPAPORT IS, AT FIRST GLANCE, an unlikely conscience for the diamond industry. A small tornado of a man with a penchant for bowties and black, knit yarmulkes, he is one of the ultimate insiders of the rock trade—a presence of such bluster and ubiquity that he is known among his diamond-dealing brethren quite simply as Rap.
"Rapaport is one of the most pivotal figures in the diamond business of the last half century," said Tom Zoellner, author of The Heartless Stone, a vivid study of the global diamond trade. "No one does quite what he does."
Mr. Rapaport hurled himself from the schleppy ranks of diamond salesman to serious industry force in 1978, when he created the first diamond-price list—a daily must-read that, some critics say, not merely supplies information about prices but effectively sets them. He called it the Rapaport Diamond Report, and from there, he proceeded to spawn a seemingly endless supply of eponymous spin-off businesses, including one of the world's largest diamond exchanges. (Incidentally, during the same time, he also spawned 10 children.) At least one of his critics, a price-list competitor named Charles Wyndham, refers to him as Napoleon.
Still, for a man whose name is synonymous with the diamond trade, Rap is also what might be called a multi-carat industry agitator, the diamond world's own Annoying Man. It began, paradoxically, with the Rap Report, which both established his influence and earned him accusations of heresy (it was seen as exposing secret industry information to the public). Mr. Rapaport found that he liked playing the rabble-rouser, and since then, he has consistently flouted, scolded, scorned and even sued his fellow gem traders. His discovery of the plight of Sierra Leone's diamond diggers—if Hollywood can do it, why not a bling king?—is perhaps the ultimate kick in the family jewels.
"I don't care if the diamond industry gets kicked in the balls by [the NGO's]," Mr. Rapaport said during a break in the conference. "I care if the black guys in Africa get kicked in the balls. That bothers me."
Happily for Mr. Rapaport, his $495-a-head conference featured plenty of industry ball-kicking—most dramatically when Mr. Zwick, whose movie sparked a multimillion-dollar counter-P.R. campaign from the industry, delivered a 20-minute verbal flogging that peaked with a demand for restitution for the people of Sierra Leone.
"The diamond industry has been in West Africa for almost 75 years, and as best as I can tell, relative to the bounty it has taken, it has done next to nothing at all," said Mr. Zwick. "The fact is that every single member of the diamond industry, consciously or not, benefited from the very stones that ruined Sierra Leone. That is the simple fact."
Mr. Rapaport listened with a certain rapt thrill, and later, after it was all done, he privately described Mr. Zwick's "atom bomb" of a speech as "great." ("He's a mensch," he said.) But while he seemed to relish the spectacle of such pummeling, he also didn't hesitate to throw jabs the other way, at the NGO's, whom he accused of everything from "playing God" to harming Sierra Leoneans by fomenting a new, de facto diamond boycott.
"It doesn't take much to kill a starving man," he said. (The NGO's denied they were plotting a boycott.)
All of which has prompted some skeptics to ask: Whose side is Rap on? Is he an industry defender, or a pro-digger warrior? Or, as he himself might say, does it simply "cut both ways"?
EARLY IN THE MORNING AFTER THE BIG blowout, Mr. Rapaport blustered into the conference room of his diamond-district office, alert and chirpy as a chickadee. His son Mordechai, a 24-year-old mini-Martin who is being groomed in the business, hovered on the periphery, while Rapa-père launched into a 70-minute monologue on the origins of his maverick streak (his parents' survival of Auschwitz), his early business exploits, and the way it all came together in his Africa advocacy. Throughout, two security cameras, hidden behind mirrored crescents, sucked in the scene.
By Mr. Rapaport's telling, he was converted to the Sierra Leone cause in 1999 by Charmian Gooch, one of the founders of Global Witness, the organization that helped turn conflict diamonds into a global cause. "My initial reaction was a little bit … it was kind of like, 'What's it our business? Africans have been killing each other for centuries. White people came in and drew lines. King Leopold was hacking off people's hands—what does that have to do with us?'" he said, recalling their first conversation. "So then she explained it. She said, 'Look, you guys are buying these diamonds.'
"And I pretty much instantly became an advocate of that cause," he said.
As one of the industry's lone Africa "advocates," Mr. Rapaport became an odd ally of the NGO's. He traveled to Sierra Leone in a World Food Program helicopter that was "very much like what they had in [Blood Diamond]." He visited amputee camps. He met with rebel leader Foday Sankoh, whom he "tried to convince" to "pull his rebels out of the Kono district" (one of the country's richest diamond-digging areas).
Along the way, he came up with an idea for "kosher diamonds," a rough-stone monitoring scheme that, he claimed, laid the terrain for the Kimberley Process. Also, he said, he negotiated a deal between Global Witness and De Beers that led to the diamond giant pulling out of West Africa.
Alex Yearsley, a Global Witness senior staffer who worked closely with Mr. Rapaport while heading his organization's conflict-diamond campaign, was skeptical. "Absolutely no way," he said. "He came to a meeting and was very useful"—but he did not get Big Brother to shut down its West Africa operations.
Still, Mr. Yearsley gave the man his props. "I doubt we would have achieved half the things we have without him," he said. "He's one of the only people in the industry goading it on to be better."
But even Mr. Rapaport has his work cut out for him as he tries to push his peers to put themselves in the diggers' shoes. While some industry "delegates" used their platform at the conference to urge the moral as well as business value of, say, paying fair prices for diggers' diamonds, quite a few spent the day sounding stony and defensive.
"I do feel we have often received the short end of the stick," said Ernest Blom, the South African president of the World Federation of Diamond Bourses, launching into a defense of his industry that featured a list some of his organization's alms efforts. "In South Africa, we donated to children's homes. We've given wheel chairs to the cripples."
These are not the kind of words that inspire great faith in man's progress. But Mr. Rapaport seemed nonetheless sanguine, almost buoyant, as he sat in his office the morning after the conference.
"I think this meeting was a milestone in the effort to transcend Kimberley," he said, leaning back in his chair. "Let's call it the New York Process."