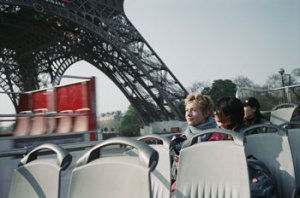 Danièle Thompson's Avenue Montaigne (Fauteuils d'Orchestre), from a screenplay by Ms. Thompson and her son, Christopher Thompson (in French with English subtitles), plays out as a perky Parisian Right Bank boulevard comedy with more than the usual traumatically life-altering situations among the self-consciously arty types who frequent the tony neighborhood. Ms. Thompson has said that she was inspired to co-write the screenplay with her son, who is also an actor in the film, while she was standing on the sidewalk of the real-life Avenue Montaigne as crowds spilled out of the Comédie des Champs-Elysées theater, and from the nearby concert hall, luxury hotels, auction houses and elegant shops. If one could imagine a combination of the Broadway theater district, the art galleries along 57th Street and the Fifth Avenue shops, but with nothing in between, one could approximate the touristy purity of Avenue Montaigne.
Into this cauldron of artistic activity and pretense bursts Jessica (Cécile De France), a star-struck provincial ingénue who bluffs her way into a waitress position at an Avenue Montaigne café after having been brought up on her grandmother's tales of Parisian high life, though she herself had never risen above the level of a chambermaid at the Ritz Hotel.
With Jessica, it is another story entirely, as her guileless charm and good looks enable her to serve as the unwitting poltergeist for a variety of troubled personages. These include a tempestuously nervy television actress, Catherine Versen (Valérie Lemercier), who is hilariously trying to persuade a Hollywood movie director, Brian Sobinski (Sydney Pollack), to cast her as Simone de Beauvoir in his highly unlikely biopic of Jean-Paul Sartre; this will allow her to walk out on the bothersome theatrical producers of a Feydeau farce, for which she is currently rehearsing with great difficulty.
Jessica stumbles into the stormy lives of renowned concert pianist Jean-François Lefort (Albert Dupontel) and his bossy, managerial wife, Valentine (Laura Morante). The problem with Jean-François is that he has begun to lose patience with himself, his métier and the harried life he is forced to lead.
Meanwhile, Jacques Grumberg (Claude Brasseur), a wealthy art collector, enters Jessica's congested orbit when he painfully divests himself of part of his collection. At the same time, he is trying to cope with his alienation from his disaffected son, Frédéric (played by the film's co-writer, Christopher Thompson).
Ms. Thompson has previously displayed her directorial dexterity with such intensely serio-comic romances as La Bûche (1999) and Jet Lag (2002). Some reviewers seem unhappy with the fact that Avenue Montaigne fails to reflect the class and ethnic tensions to be found just outside Paris in its banlieus, which have recently made headlines in the world media, and thus is too complacently bourgeois for their tastes. My own view is that, at a time when Hollywood is evading our actual problems with darker and ever darker excursions into violence, horror and otherworldly paranoia, it is refreshing to encounter an example of escapism with a smile on its face.
This is not to say that Avenue Montaigne is completely successful with its stylistic legerdemain, and aside from Ms. Lemercier's canny projection of a vulgar narcissist, there aren't many laughs in the film. Still, the film serves as a timely reminder of the tastefully sybaritic terrain that our own mainstream moviemakers have largely ignored in the commercially driven thirst for blood and gore. And, anyway, when viewed through the prism of such exalted ideological standards, how much of the world's great art and literature is not inescapably bourgeois—though seldom, if ever, complacently so?
In the Army Now
Dalia Hagar and Vardit Bilu's Close to Home (Karov la Bayit), from their own screenplay, describes the day-to-day experiences of two Israeli women soldiers of contrasting personalities: outgoing and rebellious Smadar (Smadar Sayar), and the more conformist and inhibited Mirit (Neama Shendar). The two women are arbitrarily teamed as Jerusalem border guards as part of their compulsory two-year military service (Israeli men must serve three years). Both 18-year-olds are just starting their service, and both are uncomfortable with their onerous duties of searching and registering Palestinian men, women and children, most of whom are merely commuting to their daily jobs.
Smadar and Mirit are constantly monitored by their supervisors, who are also women. The title refers to the fact that some of these women soldiers are stationed near their homes and can spend their nights there, while others are stationed far from home and must sleep in the barracks with their comrades. Ironically, Mirit, who lives at home with her parents (and whose father is a military officer), yearns to be stationed far away so that she can escape from their oppressive influence. Mirit has already made an unfavorable impression on the other soldiers as a snitch, in her eagerness to avoid complications with her superiors. But the irrepressible Smadar merely shrugs her shoulders over the incident.
One day, the dull routine is explosively enlivened by a bomb going off on the Israeli side of the Jerusalem border, and Mirit lies dazed but unhurt by the concussion. When a young Israeli civilian named Dubek assists her, Mirit is immediately smitten—but, as it turns out, he is otherwise engaged. After many clashes between Smadar and Mirit, the two women are finally reconciled as they take part in an unpleasant collision between Palestinian intransigence and Israeli civilian reprisals.
Like many Israeli films, Close to Home is strikingly sympathetic to the plight of the Palestinians and, as such, qualifies as exemplary humanism under the most extreme pressure.
RK-Whoa!
Six newly unearthed RKO feature films from the 1930's, dating both before and after the imposition of the Production Code, are being exhibited at Film Forum from Friday, Feb. 23, to Thursday, March 1, under the joint auspices of Bruce Goldstein, Film Forum's repertory-program director, and Turner Classic Movies. I would hesitate to characterize all of these films as classics, but for anyone with the slightest feeling for the cinematic past, the series is highly recommended—particularly A Man to Remember, which received a rave review from Frank Nugent of The New York Times and made his 10-best list for 1938. I hadn't seen the film until recently, and my only prior familiarity with it arose from an amazingly sympathetic Meyer Levin review in a 1938 Esquire. It was the first film directed by Garson Kanin, from a screenplay by the long-blacklisted Dalton Trumbo, and it's based on the same novel from which the 1933 movie One Man's Journey was adapted. (Lionel Barrymore, Joel McCrea and his subsequent 57-year marital partner, Frances Dee, appeared in the latter film.)
A Man to Remember will appear on a double bill with William A. Wellman's 1934 Stingaree, about which I will say only that it contains the most preposterous musical "Down Under western" plot it has ever been my misfortune to witness, despite the presence in the film of the ever-incandescent (for me) Irene Dunne. The male lead in A Man to Remember is played by the sterling character actor Edward Ellis, with Anne Shirley and Lee Bowman in support. It was discovered in a Dutch archive and has Dutch subtitles, much like the surviving print of Ernst Lubitsch's The Smiling Lieutenant (1931) several years ago.
After almost 70 years, A Man to Remember is strangely timely as an attack on the medical establishment in a small American town. Ellis plays a free-thinking doctor who believes that saving human lives takes precedence over every cold-hearted calculation of financial gain in the supposedly sacred capitalist system (not in those "subversive" words, of course—but close enough to still cause discomfort in some circles).
The Film Forum series kicks off with John Cromwell's Double Harness (1933), starring Ann Harding, William Powell and Henry Stephenson, and William Seiter's Rafter Romance (1933), with Norman Foster and Ginger Rogers (on Feb. 23, 24 and 25.)
These are followed by John Robertson's aforementioned One Man's Journey (1933) and Lew Landers' Living on Love (1937), with James Dunn and Whitney Bourne (on Feb. 26). A Man to Remember and Stingaree (Feb. 27, 28 and March 1) complete the series.