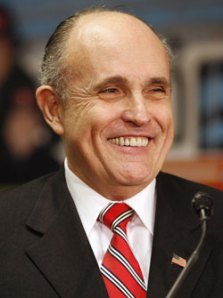 On Feb. 1, Houston's Republican political elite will gather at the Houstonian, the city's stateliest hotel, for a fund-raiser for former New York City Mayor Rudolph Giuliani, the Yankee-loving, gay-friendly, Italian-American Presidential aspirant.
It's an odd setting for him. The hotel's lobby is decorated in the style of a Texan hunting lodge, with wooden beams, taxidermy and elk paintings. Guests have spotted armadillos, rabbits and raccoons on the woodsy grounds. A suite at the hotel long served as the first President Bush's official residence (for tax and voting purposes).
But these days, Mr. Giuliani has been getting comfortable with Lone Star heavies like Thomas Hicks, the billionaire owner of the Texas Rangers; Philip Burguieres, an executive with the Houston Texans football team; and Roy Bailey, the former finance chairman of the Texas Republican Party. These and many others will all be there to cheer Mr. Giuliani on for his presumptive Presidential bid Thursday night.
And part of the bargain: The next day, Mr. Giuliani, Esq., will pad down the hall to join up to 175 lawyers for the annual partners' meeting of Bracewell & Giuliani, the Houston-based law firm where he serves as senior partner.
"His name recognition is off the charts," said Jim Lee, a private investor who is co-hosting the cocktail reception.
In the mad scramble among Republican Presidential candidates to secure the financial support of the Bush bundlers, at a minimum, Mr. Giuliani's firm serves as a foothold for him in Texas.
"Is it good for him in Houston, Tex., for one of the most prominent law firms to have his name associated with it? Absolutely," said Allen Blakemore, a Houston-based Republican political consultant who isn't working for any of the Presidential candidates. "Does it give him contacts and entrees into business in Houston and in Texas that he did not have here before? Yes, absolutely."
Rudy, Esquire
It's been almost two years since Rudolph Giuliani forged a partnership with the law firm Bracewell & Patterson. In the spring of 2005, the firm, a Texas-centered regional player known for its oil, energy and banking clients, announced that Mr. Giuliani would not only be joining the firm, but renaming it.
Immediately, a flurry of speculation followed about the benefits that would accrue to Mr. Giuliani's embryonic political campaign. The firm would give Mr. Giuliani access to the Republican heartland, and its managing partner, Patrick Oxford, has fund-raising chops and deep Bush connections that could serve Mr. Giuliani's political ambitions.
"I think people saw that as Pat making a very smart strategic move," said one Texas fund-raiser. "It was two things: good for the firm and Pat, and good for Giuliani."
But as Mr. Giuliani faces criticism for waffling about a possible Presidential run, the Thursday evening fund-raiser in Houston may be a test of whether Texas money will be a significant factor in his campaign. That puts a lot of pressure on Mr. Oxford, an über-connected Bush pioneer, whom Mr. Giuliani has since appointed chairman of his exploratory committee.
"The firm worked on this a long time with Rudy, and of course we talked with him about his plans about running for President," said Mr. Oxford in an interview. "The issue of our political clout or lack thereof … it had not a damn thing to do with it.
"I'm not trying to pull the old 'aw, shucks,' country-boy thing, but the reality is, Texas is a very big state—and the thought that our law firm could so clearly deliver the state that Rudy wanted? No. 1, that's not the way Rudy's mind works, and secondly, it doesn't really add up, when you kind of think it through.
"If Rudy wanted this firm to deliver Texas, he made a big mistake," Mr. Oxford said with a deep laugh.
How modest is Mr. Oxford being? One test will be Mr. Oxford's sway with his close friends, platinum Republican donors Nancy and Rich Kinder. Mr. Kinder, a former Enron executive, now runs the major gas pipeline company Kinder Morgan, a longtime client of Bracewell. But while the couple has given the maximum amount to Mr. Giuliani's exploratory effort, according to the documents leaked to the Daily News, the campaign had hoped that Ms. Kinder would take a leadership role, something Mr. Lee still hopes will happen. (Mr. Oxford says he hasn't asked.)
Another major bundler targeted in those documents, Fred Zeidman, a lobbyist for Greenberg Traurig, is the former C.E.O. and chairman of the board of Seitel Inc., a seismic-data company that has also given the firm business. While Mr. Zeidman donated to Mr. Giuliani's political-action committee, the McCain camp is due to announce his official role in the coming days.
So far, of the state's most powerful players, Mr. Hicks and oil baron T. Boone Pickens are Mr. Giuliani's biggest gets.
"He's chipping away at core Bush supporters from Texas," said Craig McDonald, the executive director of Texans for Public Justice, a group that tracks money in politics. "Tom Hicks is a big player. Boone Pickens is a money mover. Those are good apples to put in your basket."
But for Mr. Pickens and Mr. Hicks, Senator John McCain has plenty of answers: Austin lobbyist and Bush ranger Tom Loeffler, Dallas banker James Huffines, and Houston energy mogul and Bush 41 cabinet member Bob Mosbacher Sr., among others. And former Massachusetts Governor Mitt Romney has the support of Houston energy investment banker L.E. Simmons.
On a lower profile, the Giuliani campaign has added 24 bundlers who have agreed to raise at least $100,000 and possibly more than $1 million, including Mr. Burguieres, lawyer Kent Adams, Sugar Land mayor David Wallace and investment banker Titus Harris III.
Others who have shelled out for the $2,300 full cover price include billionaire energy tycoon Dan Duncan; John Blocker, whose family founded drilling company Pride International (a client of the firm); and a range of lawyers and corporate executives. Over 200 attendees are expected for the event, which Mr. Lee said would feature "light hors d'oeuvres and a minimal bar setup."
"The Mayor and the campaign is very frugal with his contribution dollars," he said proudly.
"Everybody's paying to show up and take a harder look," said one well-known Republican fund-raiser working for a Giuliani competitor. "Everything is wide open in Texas."
Then there are the dozens of Bush Rangers and Pioneers whose loyalties have not yet been ascertained, but whose wallets and Rolodexes are being eyed, including Lee Bass of Fort Worth (his brother and sister-in-law are hosting a Giuliani event in March) and Dallas oil-and-gasman Louis Beecherl Jr.
Mr. Giuliani has been affiliated with several law firms in the past. In the late 1970's, after serving as an associate deputy attorney general in the Justice Department, he followed mentor Harold Tyler to the old-line law firm of Patterson, Belknap, Webb & Tyler. He spent about four years there, until he returned to Washington to serve in the Reagan Justice Department. As U.S. Attorney for the Southern District of New York, he made few friends in the white-collar bar when he started staging flashy, Law & Order–style perp walks for their affluent clients.
When he left, several law firms vied for his services, but more were turned off by the idea of their firm as a political launching pad, and Mr. Giuliani's insistence that an aide also join as a full partner. When it was reported that White & Case was paying the pair about $1 million together for a year, Steve Brill savaged the establishment firm in The American Lawyer for lavishing such salaries on "two strangers who basically intend to use the place as a meal ticket and a mail drop." When he ran for Mayor, political opponents called on Mr. Giuliani to account for the firm's client list—which included the government of Panamanian dictator Manuel Noriega—and commitment to diversity and public service. As David Margolick wrote in The New York Times: "As far as White & Case's public image is concerned, Mr. Giuliani has produced far more hail than rain."
After losing that first bid to David Dinkins, Mr. Giuliani and his aide moved on to the firm now known as Anderson, Kill & Olick. But as Mr. Margolick also reported in The New York Times, Mr. Giuliani's lawyerly productivity hit a standstill when his second Mayoral bid heated up.
"Projected to bill 1,900 hours in 1992, he billed less than 178."
While there's probably no Manuel Noriega on the Bracewell & Giuliani client list, the affiliation could come to have its own political baggage: While there over the summer, Mr. Giuliani drew attention for his position that the United States should build more nuclear-power plants to meet its energy demands.
Bracewell has represented many of the biggest names in big oil, refinery, natural-gas and power production, including ChevronTexaco, Reliant Energy and Dynegy. In addition to its four Texas branches, the firm has offices in oil-rich Almaty, Kazakhstan and London.
And in Washington, D.C., an arm of the firm lobbies on behalf of energy clients. That has made it a favored refuge of Bush administration environmental officials, including Lisa Jaeger, former acting general counsel and deputy general counsel of the Environmental Protection Agency, and Jeffrey Holmstead, the air-quality official that environmentalists blame for scuttling the effort to limit mercury polluting by utility companies.
Of course, Mr. Giuliani will be lucky if he gets to a stage where any of this matters.
"The places where energy is a negative are not places where Republican primary voters are," said Mr. Blakemore, the political consultant. "Giuliani has a Republican primary that he's facing, not a general election."
The Rainmaker Came to Texas
A report in Newsday last year said that Mr. Giuliani and his consulting firm, Giuliani Partners, received $10 million for joining Bracewell & Giuliani, netting between $1 and $1.5 million for Mr. Giuliani.
By some measures, it seemed like a puzzling move. Mr. Giuliani was a litigator, so it was a stretch to imagine him building the corporate practice that the firm wanted to create in New York, and he wasn't particularly known for his ties to Wall Street. Bracewell, meanwhile, was only Houston's fifth-largest firm, more of a regional player whose profits per partner ($595,000 that year) would appear to present hurdles in recruiting talent from New York's top firms.
Mr. Oxford said that in adding Mr. Giuliani, the firm hoped to build on his connections and name to raise the firm's profile, and that the success has exceeded his expectations. Peter Zeughauser, a Newport Beach, Calif.–based legal consultant, agreed that by at least one measure, the effort had paid off: What was largely a medium-profile regional firm is now "much higher-profile …. Everybody knows their name," he said.
When asked how often Mr. Giuliani was in the office, several partners noted his busy travel schedule.
But the firm heavily touted his involvement in compliance review on behalf of Banco Santander, Spain's largest bank.
Mr. Oxford conceded that while he only expected Mr. Giuliani to be helpful "on certain high-profile legal work," his greatest contributions were expected to be, and have been, in recruiting and bringing in business.
But given the confidential nature of the firm's work, Mr. Oxford and other Bracewell partners struggled to name specific representations that Mr. Giuliani has brought in.
The firm's most heavily publicized New York representations—for Banco Santander, and an internal investigation for Dallas-based Affiliated Computer Services that featured in a page-one story in The Wall Street Journal—did not originate with Mr. Giuliani.
Partners at the firm insisted that Mr. Giuliani had made introductions that they wouldn't have gotten otherwise. The head of the firm's New York corporate practice, Mark Palmer, for one, said he could count two clients—whose names he couldn't reveal—that the firm had nabbed thanks to Mr. Giuliani's introductions.
"The way our deal with Rudy would work is that he provides the introductions, and the call may come to the lawyer because of that," Mr. Oxford said. "People know that Rudy's not going to necessarily do the work, so they might just be prepared to call the people in his firm knowing that because they're friends of Rudy, they'll get a good job done for them."
Mr. Palmer said Mr. Giuliani was extremely helpful in the way of business development, sitting for meetings with his top six or eight clients. He spent the time "talking about the firm, talking about himself," he said.
When the new firm was announced, Mr. Oxford said he expected the New York office to grow to 100 lawyers. A report in The New York Times said they were beginning with 20 lawyers. They now number 37, and the firm is expanding to a second floor at their Sixth Avenue offices.
Initially, the partners who came on with the firm had personal Giuliani connections, but in the past year, the firm has succeeded in luring several partners from the New York branches of other successful out-of-town firms, like McDermott, Will & Emery and Winston & Strawn.
"I attribute a huge degree of the success of our New York office generally to him, and there are a lot of clients involved with that. You get momentum going," said Mr. Oxford. He said the office lost $3 million less than the firm expected it would last year, and this year will turn a profit.
"It's exciting. People want to be associated with it just because it's interesting, and it could be historic over the next couple of years, depending on what happens," said Mr. Palmer, who left the top-flight British firm Linklaters for Bracewell last year. "It's supporting, you know, a good cause. You want to work with people who are doing things that are exciting to you."