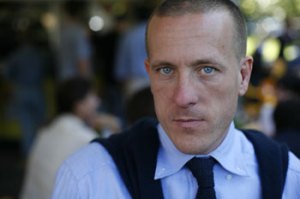 When Scott Schuman, the amateur photographer who runs the fashion blog The Sartorialist, first attempted to take a photograph of Carine Roitfeld, editor in chief of French Vogue and mom to New York "It" fille Julia Restoin-Roitfeld, at the spring 2007 Burberry show in Milan, she had no idea who he was. "I was trying to take a picture of her, and I don't use flash," Mr. Schuman said the other day, "so I was having a hard time focusing, and I could tell she was getting a little frustrated." Luckily, Fabien Baron, the former creative director of Harper's Bazaar and one of the industry's foremost photographers, was also on the scene. "He leaned over and he said, 'Give him a chance; I've seen his work and he's really good.' So, for the whole rest of that trip, she was very nice and very calm."
Things were even better in Paris, after Ms. Roitfeld had had a chance to view some of Mr. Schuman's work. "She literally stopped her car on Rue St. Honoré," he said with satisfaction, "and said, 'Oh, come here! I really like your photographs! Take more of me.'" An upcoming issue of French Vogue is slated to feature that photograph, along with ones of others by Mr. Schuman, including mega-stylists Emmanuelle Alt and Anastasia Barbieri.
C'est incroyable! Since it began in September 2005, The Sartorialist (thesartorialist.blogspot.com) has become a heavily frequented pit stop along the information superhighway for style watchers in and out of the fashion business. "It is sort of a mini–Who's Who of the fashion industry," said Nick Sullivan, the fashion director of Esquire magazine, the first traditional print outlet to publish shots by Mr. Schuman (in its August 2006 issue). "Real people. Ordinary guys on the street, like bankers trying to get it right."
Thanks to photos such as these—mostly of men expressing a plurality of dress sense—Mr. Schuman came to the style establishment's attention. "We were just fans of his blog," said Dirk Standen, editor in chief of Style.com, the online home of Vogue and W. "We were sitting around one day planning our coverage of the Milan and Paris shows: 'Instead of scratching around for a photographer,' we thought, 'why not send Scott?' That was the eureka moment."
And, suddenly, the Sartorialist was transformed from dilettante to demographer. Now under contract to Style.com, he jets from collection to collection—on Saturday, Feb. 17, it was back to Milan—documenting the comings and goings of the fashion flock. Like his biggest influence, gray eminence Bill Cunningham of The New York Times (Mr. Cunningham was traveling and unavailable for comment on his young upstart counterpart), Mr. Schuman rarely captions his subjects' identities: It's primarily about how clothes are worn, not by whom. But for those fascinated by the demimonde of editors, stylists, etc., there is much to gawk at—Wait, isn't that guy in the beige trench coat and stovepipe jeans Jefferson Hack?
At 39, Mr. Schuman stands just over 5-foot-6, with a compact frame and steel blue eyes. Originally from Indiana, he worked in women's fashion sales and marketing in New York for 15 years before starting his own showroom to promote emerging designers like Peter Som. The fallout of the Sept. 11 terrorist attacks killed that venture, and Mr. Schuman, whose wife of 18 years, Christa, is a design director at the retail conglomerate the Limited, decided to stay home and raise their two little girls, Isabel, now 8, and Claudia, 4. Without formal training in photography—he still knows very little about the technical end of things, he said—he began snapping shots of his tots on the go, modeling outfits that he himself had put together, before turning to the public at large. Mr. Cunningham was not his inspiration, he said. "My major influence is Bruce Weber."
"He's the elegant voyeur of just people on the street," said Michael Hainey, deputy editor of GQ, which has signed Mr. Schuman as a contributing editor with a monthly photo-essay page entitled, naturally, "The Sartorialist." The Condé Nast takeover is complete this week with the debut of Mr. Schuman's new page, "The Sartorialist Jr.," in Cookie, Condé Nast's "kid culture" magazine.
"It's not just the people he chooses; it's also the backgrounds he uses," Mr. Hainey said. "He can take a gray, cold, grimy Milanese street, and all of a sudden it looks warm and lush and intriguing."
In one of Mr. Schuman's recent shots—of an Audrey Hepburn look-alike descending a flight of stairs—Mr. Cunningham, camera in hand, is caught in the background, casting a kind of curious glance. "Bill, everyone tells me, doesn't have a computer," said Mr. Schuman, himself clad in floodwater pants and brown suede desert boots under a navy DKNY parka. "He recognizes me now. I don't know if he really knows what I do or where my photos are going—but he sees me."