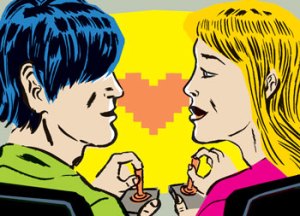 Halo'd Ground!
So, you're a geek. So, you'd rather spend your hours rocking Gears of War in your Superman Underoos than painting the city pink in your Jimmy Choos (or whatever the kept ladies are wearing these days). That doesn't mean you don't deserve a date from time to time. And for that occasion, there is NYCLAN, the new, subterranean video-game Oz that has been luring gamers out of their bedrooms and into the half-light since last Nov. 1.
NYCLAN is the brainchild of Brian Tang and Kia Song—a.k.a. the Overlord and the Orchestrator—a married twentysomething couple that gave up the security of their corporate-drone jobs for the pixilated thrill of running their own 21st-century arcade. Nestled in a basement lair on West Fourth Street, just West of Seventh Avenue, it offers everything from the latest Xbox inventions to "old-school" systems like Super Nintendo and Sega Genesis—all in a comfy, if not cozy, rec-room space. "The idea was, how can we turn games into something that's social and fun?" said Mr. Tang as he battled his way through a game of Smash Brothers.
There is no alcohol on the premises, but by the time you get through your fifth round of Halo, you won't need it.
—Lizzy Ratner
All-American: Warhol, Lynch and Abu Ghraib
Fifteen minutes be damned! Andy Warhol is once again hogging the spotlight, what with a surfeit of recent books, films and even makeup lines all inspired by the posthumous Prince of Pop. On Feb. 22, fans will celebrate the 20th anniversary of the artist's death with a fashion show at the Gershwin Hotel, titled "Warhol & Fashion," commemorating his love of … shopping. The show follows a 24-hour-long Warholian film festival on Feb. 21.
Keeping the serotonin flow on high is an operatic version of David Lynch's Lost Highway. Olga Neuwirth's production—featuring a mixed-media powerhouse of musicians, actors, electronics and video—will open on Feb. 23 at Columbia's Miller Theater. Using the surrealist filmmaker's 1997 noir masterpiece as her muse, Ms. Neuwirth ushers the audience through a whirlwind of thrills and chills. This opera makes Madama Butterfly look something like a Lifetime Original, so good luck avoiding smoky philosophy majors waxing on the nuances of the adaptation.
And if you'd rather stay home with HBO (wouldn't we all?): Rory Kennedy's documentary Ghosts of Abu Ghraib investigates the maelstrom of events surrounding the 2003 abuse scandals at the Iraqi prison. A favorite at Sundance this year, the documentary premieres Feb. 22. Passive looky-loos beware: Expect to question what it means to be an American.
—David Foxley
Lounge Wizard ofThe Lower East Side
If a 1920's jazzman were reincarnated as a 1960's folkie and then again as a winking lounge lizard and stand-up comic, the ultimate mind-bending effect might be something close to today's earnest-ironic troubadour, Ethan Lipton. Big of schnozz, thick of moustache and dulcet of voice, Mr. Lipton is a one-man variety show (don't be fooled by his band name, Ethan Lipton and His Orchestra), crooning out unlikely urban haikus and wry ballads.
His uniform is a natty three-piece getup; his accompaniment a man on a simple ukulele, or sometimes a jazz combo; and, always, there's the kooky cast of characters that populate his songs: the software salesman who loved and lost his girl at the Renaissance Faire; the Whitney-hating Bobby Brown fan; the peeping Tom who loves nothing so much as his lady neighbor's thighs "in the fatty position."
This Thursday, Feb. 22, Mr. Lipton will be stepping out with some of these oddballs, as well as a whole new menagerie of characters, when he performs at the Lower East Side's Rockwood Music Hall. Expect to see plenty of hipsters, yipsters and even, perhaps, David Lee Roth, the retired hair-band god, who happened to stumble into one of Mr. Lipton's shows several years ago. Apparently, he stayed until the very end.
—Lizzy Ratner
The Other Side of the Mechitza …. Green & Ackerman Is Babka Paradise
How far will you go for a hunk of fresh chocolate babka? What dangers will you brave for a slice of that exquisite bread? Will you risk dirt? Germs? The evil eye? Because you will have to endure them all if you want your own piece of Green & Ackerman's babka heaven.
Located in the Hasidic stronghold of Williamsburg (on the corner of Ross Street and Williamsburg Street West), far from where many of today's ersatz hipsters dare to tread, Green & Ackerman is a dingy, kosher dairy restaurant that offers some of the most transporting babka this side of the 19th century. The dough is dense, the chocolate goopy and nostalgic, and the whole two-foot confection must weigh nearly as much as the Talmud. (You can technically buy Green & Ackerman's babka at places like Zabar's, but it's not nearly as yummy or fresh.)
For those who dare stay for lunch, there's also pizza, kugel and a salad bar offering everything from egg salad to gefilte fish—though the latter looks as if it had been hanging around since the early days of Rabbi Teitelbaum (of blessed memory). The locals aren't always friendly, but they will rarely do more than mumble Yiddishisms if you happen to plop down on the wrong side of the mechitza (the wall separating male from female diners). Friday is the best day for babka, but get there early, because Green & Ackerman closes for Shabbos. And don't even bother trying on Saturday, you shanda!
—Lizzy Ratner