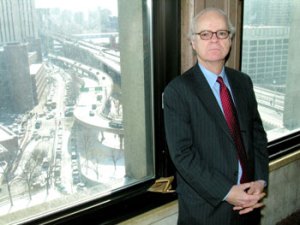 LOCATION: The controversy over 980 Madison Avenue has yet to be resolved, but the Landmarks Preservation Commission made it clear in late January that developer Aby Rosen will have to change the scope of his planned 30-story condo tower atop the historic building. What has been the commission's thinking on 980 Madison?
TIERNEY: It's the process that we go through on any major proposed change in the historic district, whether it be a proposed change in the form of a new building or an alteration to an older building or whatever. This happened to have obviously a prominent architect [Lord Norman Foster], and to be large in scope. It attracted a lot of attention because of all those issues. We have those kinds of issues all the time.
So it was put through the normal process—which is to say, you propose a change to the historic district, to a building, then you come to the landmarks commission and say, "Is it appropriate? Is it not? Here's what we're thinking; what do you guys think?" And then it goes through our process, and that's what happened here.
It was done exactly the same way that we do everything else.
What's going to happen to 980 Madison?
The bottom line among the commissioners was that this particular application was, as presented, inappropriate for this site, for this historic district [the Upper East Side Historic District].
So are Mr. Rosen and Mr. Foster going to come back with a different design?
I don't know; you have to ask them. They certainly have the opportunity to do that, the right to do that. And then the process that I just described to you—public hearing, public community board, public opportunity to be heard—this will all come into play.
Mr. Rosen didn't seem too upset by the commissioners' comments, some of which were very critical of his plans.
It wasn't personal. These are comments on the nature of the building, the architecture, and I think we strive to be, as always—and I think we succeed—very civil and very precise and limited to the nature of the application before us.
How do you decide, as chairman, which potential landmarks go before public hearings?
The general rule is, the more complex and complicated the changes proposed, the more likely it is to go to a public hearing. The more legal answer is that if a change is covered by the rules and regulations of the commission, and it meets those rules on its face, then the change can be approved by our staff and it doesn't need to go to a public hearing.
But when you start doing something that varies from that—that is more significant, if you will—then it usually passes over into the realm of going before the full commission. Once that happens, it entails a public hearing and a public process.
A lot of different people have a lot of different opinions on the landmarks commission: It's unresponsive, it's a pawn of politicians and developers (an accusation that Tom Wolfe, using 980 Madison as an example, made in The New York Times last year), it's stuffy. What do you think is the biggest misperception about the commission and its landmarking process?
I don't know whether there is a misperception about the commission and the process. Most people that I come into contact with are generally aware of how it works, and are aware that it entails participation by the community boards.
There just seems to be some harsh criticism—Mr. Wolfe especially, with his assertion that the commission doesn't do enough to curb development in favor of preservation. Why would that perception be out there?
I don't know, because the record totally belies that—not only the record on this one case [980 Madison], but I believe we conduct business that way all the time.
And the record is, I think, very clear on the activity of this commission. We've been very active in terms of, first of all, being a rigorous protector of historic preservation, but also of being open to appropriate changes, even if they are contemporary or, as some in that [980 Madison] hearing said, "radical."
Can you describe how closely the commission now works with the current City Council?
We work very closely and very well with the Council. I have an excellent professional and personal relationship with all the Council members that I have come into contact with having to do with this job. And that starts with the Speaker, Christine Quinn, and with Jessica Lappin, who is a superb chair of the landmarks subcommittee. Melinda Katz, the chair of the land-use committee—she is a superb chair.
And how about the Mayor? You were appointed by Bloomberg.
We obviously keep City Hall aware of what we are doing. He is committed to preservation. He is committed to great architecture and design, not only here but in other realms of city government. That is an overall approach that he has, and that Patty Harris, as the first deputy mayor, has—to good architecture, good design, preservation. And, therefore, we have the support and the independence to do our job.