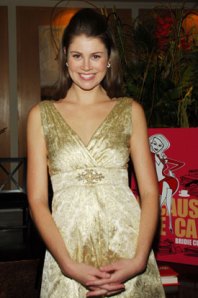 Judith Regan Nemesis Transcends Family Scandal
On Monday, Feb. 12, friends and family of first-time author Bridie Clark, whose novel Because She Can was inspired by her experiences working for fallen publishing mogul Judith Regan, gathered at a private Soho penthouse to celebrate the book's publication. Expected guests Graydon Carter, the editor of Vanity Fair (which bought first-serial rights), and Jane Friedman, the chief executive of HarperCollins (and Ms. Regan's triumphant adversary), were not in attendance, but Ms. Clark appeared to be enjoying her moment in the spotlight nonetheless. Wearing a silk gold-brocade dress, her dark hair up in a dramatic, Jacqueline Susann–esque pouf, she thanked her parents and grandparents from atop a staircase in the apartment, then descended to speak with The Transom.
"I think boss-from-hell stories really resonate today," said Ms. Clark, 29, adding that she loved the comparisons being made between Because She Can and The Devil Wears Prada. (Of course she does! As of this writing, though, Because She Can has not yet hit best-seller lists, nor been optioned for a big Hollywood movie starring a Meryl Streep equivalent.) "There's so many women that are so heavily invested in their careers now and dealing with nightmare bosses that it's become such a universal experience. I think there's room for a few books on the same theme."
Ms. Clark's editor on Because She Can, Karen Kosztolnyik, said: "A lot of people have been construing that the book was about Judith Regan. But it's really a compilation of all of her experiences, as well as friends of hers who've worked for overly demanding bosses."
The author, whose résumé includes brief stints at Simon & Schuster as well as Vanity Fair and New York magazine, said that her decision to quit ReganBooks had little to do with anything other than her wanting to pursue her lifelong ambition to be a writer. "I really left because I wanted to write a book," she said. "Any bad experience is material. There's humor in the tough things, and there's humor in difficult work situations and in life—everything."
The morning after the party, a breathy, anonymous male tipster alerted The Transom to one particularly tough thing in Ms. Clark's life: the indictment of her younger brother, Holy Cross graduate Daniel Clark, on charges of manslaughter and assault and battery in the death of Jonathan R. Duchatellier after a May 2002 brawl in Worcester, Mass. In a scandal that might have been plucked from the pages of—well, a ReganBook, Mr. Clark pleaded guilty to the lesser charge of misdemeanor assault and battery in October of 2004, right about the time that Ms. Clark decided to quit and write Because She Can, a task she accomplished between the months of November 2004 and April 2005. What a feat of compartmentalization, the tipster tartly hissed.
"I think this probably had a tremendous impact on the Clark family, because he didn't do it," said Michael C. Wilcox, whose law firm, Aloise & Wilcox, represented Mr. Clark in the criminal case and in the ongoing civil suit against him. "He was pretty much an all-American boy—captain of the football team, exemplary student—who went to break up a fight. The only reason he pleaded to battery was because I think he felt a responsibility to his family to get beyond this. It was tearing them apart."
Ms. Clark, meanwhile, issued a statement via her publicist at Ken Sunshine Consultants. "My family was going through a difficult and very personal period, but it had absolutely no bearing on my decision to leave Regan," it read. "I left ReganBooks simply because I wanted to write my own book. There were no other factors contributing to my decision—except, of course, the added benefit of not having to work there anymore."
Swell Deflates: Rowley vs. Rosenzweig, Round 1
At the dawn of the millennium, designer Cynthia Rowley and editor-writer Ilene Rosenzweig had what seemed to be the quintessential New York City female friendship. They went to lots of parties, they gave lots of parties, and in 2003 they started their own line of budget lifestyle accoutrements for Target, called Swell. The sad dregs of this collaboration, which also produced two books, are now being remaindered on the chain store's Web site, under "Clearance": a square, geometrically patterned accent pillow, marked down from $19.99 to $4.99, and some sheer white drapes, down to $7.49 from $29.99.
In the immortal words of Fred Willard from Best in Show: "Wha' happened?"
"That was a, that was just a, uh, you know, a one-off kind of thing," said Ms. Rowley on the phone on Feb. 12, a few days after her retro-futuristic fall 2007 collection was unveiled at Gotham Hall before an audience that included Ms. Rowley's famous friends Alan Cumming, Tatum O'Neal and Molly Shannon. It was inspired by a Chinese movie released last year called Curse of the Golden Flower. "The gold army and the silver army get into this huge battle and fight it out," the designer explained, "and I thought that that was a really cool thing, having gold fight silver, and this mix or clash of all the metals."
What about her clash with Ms. Rosenzweig, alluded to in Page Six last September? "I definitely wouldn't comment on that, and, you know, she moved to L.A. and has her own career—so that's all I'll say," Ms. Rowley said. She wouldn't completely slam the door on Swell, shrugging, "I guess you never know."
Reached in Los Angeles, where she lives with her husband, Rick Marin, and their two young sons, Diego and Kingsley, Ms. Rosenzweig, a former editor at The New York Times' Sunday Styles section, said: "Well, I don't really want to get into it." She said she and Mr. Marin are working on a feature-length romantic comedy set in Manhattan's financial district, and a similarly themed television series for Lifetime. "I don't dream of being a designer," she said. "I dream of being a great, you know, a screenwriter, TV writer, novelist—that kind of stuff."
A Target spokeswoman, meanwhile, said the line's demise was "purely intentional."
—Nicole Brydson
Halle Berry's Glistening Slice of Canadian Bacon
Montreal-born male model Gabriel Aubry, one of the stars of the upcoming VH1 reality show The Agency, was at the premiere party on Wednesday, Feb. 7, at the Bryant Park Hotel. "It's about what goes on behind the scenes in the making of a model," said Mr. Aubry, 29, who is 6-foot-2 and 180 pounds, with a 38-inch chest. "Which is a lot of screaming, a lot of hustling, a lot of mind games …. "
Mr. Aubry's angular profile has been raised since he began dating Oscar-winning actress Halle Berry over a year ago. "I was already doing pretty well before that, so it didn't really change anything," Mr. Aubry protested. "It's like two normal people meeting each other—it wasn't really that vanity thing.
"And I'm not engaged," he added emphatically.
Mr. Aubry's agent, Sean Patterson, the president of Wihelmina and also a star of the show, described how he met his client at a hotel in Milan. "He sat down. I was with three of my biggest stars at the time," Mr. Patterson said. "He said when he saw who I was with—Mark Vanderloo, Jason Lewis, who is also an actor, and Alex Lundqvist; and he knew he wanted to be with Wilhelmina—but the No. 1 thing on his mind was that he wanted a glass of fresh orange juice. He was struggling so much that he didn't have the money to buy orange juice."
"I only had concentrate before that," Mr. Aubry explained. "But this was the real thing."
Factory Girl Director Gets the Boot from the Four Seasons
On Feb. 1, George Hickenlooper, the director of Factory Girl, was forcibly ejected from a party in oil heir and Mischa Barton–ex Brandon Davis' suite at the Four Seasons hotel in Manhattan.
"He had a whole posse of French sycophants hanging all over him," Mr. Hickenlooper said of Mr. Davis, who spent part of last year at the $75,000-per-month Passages Malibu rehab center. "Maybe they had something to do with Brandon's dealing in the art world, because he kept going on about art."
Mr. Hickenlooper said one of the Frenchmen took an interest in a female friend and began "aggressively hitting on her." When the director asked the Frog to "back off," a battle of nations ensued.
"He starts insulting my American-ness," Mr. Hickenlooper recalled, "saying all kinds of crap, calling me a Bush warmonger. I said, 'What, are you joking? France hasn't contributed anything to the last 100 years except to give us the French New Wave! And you're hitting on this girl with as much enthusiasm as the French collaborated with the Nazis!"
He added: "Brandon was just sitting there with a very medicated look on his face."
Another source suggested that the heightened belligerence in the room could be attributable to Mr. Davis' literally throwing around handfuls of cocaine for his guests' consumption à la Jack Nicholson in The Departed. ("I don't even know what you're talking about, bro," Mr. Davis told The Transom.)
In any event, tempers flared and security was called.
The following night, Mr. Hickenlooper once again encountered Mr. Davis and his French entourage at Bungalow 8.
"This French guy was in the same drunken stupor, and again he tried to pick a fight with me," the director said. "Little did he know, he was on my territory. I had Disco, the bouncer, calmly escort him out."
Cumming Attraction: Gadabout Actor Finds Domestic Bliss
Speaking of Alan Cumming, what is the puckish actor doing for Valentine's Day?
"You know, I think I'll take my boyfriend out—I mean my husband out—for dinner and then shag him," said Mr. Cumming, 42, who married longtime partner Grant Shaffer, an illustrator, in a ceremony outside London in January. But he was flying solo at a West Village fête for Yoko Devereaux designer Andy Salzer on Sunday, Feb. 11.
Mr. Cumming, who will be featured in Gray Matters, a romantic comedy out later this month, said married life was "fine, thank you." And then, with a sly grin, chirped: "Married, not buried!"
He reminisced a bit about an early, gloomy V-Day on the east coast of Scotland, where he grew up. "When I was 13, I got chucked by my girlfriend on Valentine's Day. It was because my dad wouldn't give me a lift to the dance in my local town." Young Master Cumming couldn't ride his bike, either, because there was a thunderstorm. "So she was like at the dance with all these boys paying attention to her, and she's all 'Fuck you!' and dumped me on the phone. I was heartbroken."