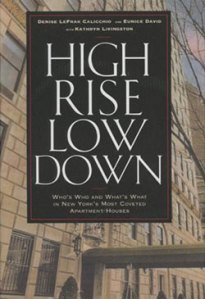 High Rise Low Down is a love letter to Manhattan's better buildings, and, like most love letters, it's sappy in parts, repetitive, and ends with rosy hopes for the future.
It dishes, though, and that's what New York real-estate voyeurs crave. Forget the architecture; tell us who did what with whom in which addresses that few on Earth could afford. Drama! Money! Power! Money! Now!
Others have trodden this ground (The Sky's the Limit, by Steven Gaines, and Michael Gross' 740 Park just in the last two years), but it's voluminous human detail that Denise LeFrak Calicchio, Eunice David and Kathryn Livingston swing for—and they deliver, to the point that 720 Park runs into 770 Park into 778 Park into 820 Fifth into 820 Park, and so on, the buildings merely interchangeable backdrops for the drama.
The reader is inundated with more than he would ever care to know about the inhabitants of these landmarks and others, including 10 Gracie Square, the San Remo, the Time Warner Center, the River House and (oddly enough) the Chelsea Hotel, the city's first co-op and a circus, apparently, from the day it opened in 1884.
We visit the Dakota in the early days, with Peter Ilyich Tchaikovsky on its roof, looking out over a nascent nighttime Central Park with his U.S. publisher, an early Dakota resident. The composer mistakenly assumed that his host owned the entire building—his diary entry seethes with class envy.
Tchaikovsky can be forgiven. Apartment living among the wealthy was just catching on, and it took Sicilian immigrant Rosario Candela to spark an obsession with it. Candela's creations—One Sutton Place South; 740, 770 and 778 Park; and 1040 Fifth Avenue, among others—refined the sort of floor-plan intricacies that enticed the wealthy into apartments: boxes among boxes, yes, and within a bigger box, sure, but the layouts (and the views) reassured residents that they wouldn't feel boxed in.
And what residents!
There's supermarket heir Huntington Hartford getting the boot from the fretful co-op board at One Beekman Place in 1982 for committing the unpardonable sin of going broke and handling ruination poorly.
There's Richard and Pat Nixon trying for an apartment in 19 East 72nd Street. A residents' revolt led by Jane Maynard nixed Tricky Dick's plans and sent him out of the city forever.
There's the doomed von Bülow duo, Claus and Sunny, in a 14-room spread in 960 Fifth that residents remembered as being full of museum-quality art, including a portrait of Danish King Christian VII hanging in the sprawling drawing room. Claus couldn't shut up about that one. He sold the place, before the board could heave him, after the … unpleasantness. He fled to London.
And then there's the warren of alliances forged through marriage (and otherwise), played out on the stage of Manhattan's most fantastic realty, the world watching to see who falls—and into whose arms.
Here's a typical pedigree (at stake is the 834 Fifth Avenue triplex owned by the late Laurance Rockefeller—and eventually snagged by Rupert Murdoch for $44 million): "[Wilbur] Ross, the ex-husband of Lieutenant Governor Betsey McCaughey … had recently married a leggy, blond, socially prominent columnist for Quest magazine, Hilary Geary, whose mother, Pat Wood, is part of Southampton's Murray-McDonnell clan. Pat's sister Catherine is the Marchesa Alessandro di Montezemolo, and her other sister, Jeanne, was married to Alfred G. Vanderbilt."
For all the detail and intricacy of the apartment buildings created by Candela and others, they remain ornate boxes—but ones inhabited by the people who chose, starting about 90 years ago, to forgo city mansions and start living amongst themselves, behind iron gates and even tougher co-op boards. Ms. Calicchio, Ms. David and Ms. Livingston capture the battles that these people have been willing to wage just so they might live among their own kind—and have other people damn well know it:
"Some buildings have an unspoken quota on, say, how many Jewish families they want in their building," the authors write. They tell of a Park Avenue building that "turned down a young couple with all the right credentials because they were Catholic and 'will probably have lots of children.'"
The authors sign off on their love letter with an ode to the newer condos—many of them downtown—that they say represent the nesting nexus of a newer breed of younger rich, a breed less concerned with the cachet afforded (sometimes) by the prewar co-ops: "Let the light in! Raise the glass high! Forward-looking towers of slick minimalism and architectural bravado are breaking ground all over Manhattan."
The Urban Glass House, 20 Pine, 165 Charles, 173 and 176 Perry, Astor Place—one assumes we will some day, probably soon, get the lowdown on these, too.

Tom Acitelli is a senior editor at The Observer.