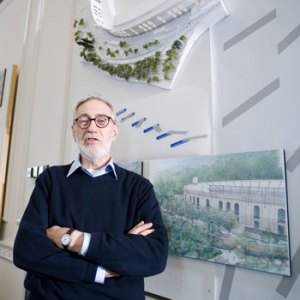 "Americans are frightened of density. Europe is not."
Laurie Olin, one of the most noted landscape architects in the country, was holding forth in his firm's library in central Philadelphia. He wants to help us get over our obsession with personal space.
So Mr. Olin took on the task of designing the Atlantic Yards project in Brooklyn. If built out to the developer's present specifications, the five-block site at Atlantic and Flatbush avenues will become twice as dense as any census tract in the country.
"It's the future: how to live wisely and well in close quarters with good spaces and environmental conditions and with the highest qualities. What a project!" Mr. Olin exclaimed. "Holy smokes! That many thousands of people in such a tight space, and to try to give them something wonderful that they'll love. That's fun. It's hard, too."
A tall, lanky 69-year-old with the beard and glasses of a high-school math teacher, Mr. Olin has been showing New Yorkers how to live for almost 30 years now. He helped create the master plan for Battery Park City, restored Bryant Park and turned Columbus Circle into a destination. Mr. Olin reintroduced Manhattan to Frederick Law Olmsted's hexagonal paving stones and to the park bench from the 1939 World's Fair, both of which have been included in the required vocabulary of New York City park design ever since.
"I could be overreaching or fooling myself, but I think I know how public space works and, especially in New York, what will or will not work," he said.
And so, even if he is less well known than Frank Gehry, the principal Atlantic Yards architect, his work is ubiquitous. Mr. Olin is also the more verbal of the two. When they appear in public to hawk the project, it is Mr. Olin who talks about the site planning, and it is the Olin Partnership's name that can be seen at the foot of the master-plan slides. An audience member might even think that Mr. Olin was brought in to compensate for Mr. Gehry's reputed lack of urban-planning skills. (Both Mr. Olin and the development company, Forest City Ratner, deny that Mr. Gehry lacks anything.)
In any case, Mr. Olin's role in the project is far more than figuring out what trees to plant, and it cuts to the very heart of the controversy: the placement of the buildings that enclose eight acres of open space, the closure of city streets, and accommodating 16,000 residents on 22 acres of land. Battery Park City is expected to have between 12,000 and 14,000 residents once it is completed, and it encompasses 92 acres—less than one-quarter as dense as Atlantic Yards.
"When I was asked to work on Battery Park City, everybody said: 'It's a terrible job, and it won't work.' And I thought, 'No, I don't think so. I think I could do something pretty good there.' They said, 'It's going to be hopeless—this landfill next to Wall Street. Nobody will go there.' I go and see the people there now and say, 'Well, it certainly works for some.'"
But would it work if it had the same number of people and only one-quarter of the land? Would it work if there were no river in sight—in fact, if it was in the heart of brownstone Brooklyn? Would it work if it were Atlantic Yards?
MR. OLIN'S 60-MEMBER FIRM, WHICH WON the firm-of-the-year award last year from the American Society of Landscape Architects, overlooks Independence Park, which is being redeveloped according to a plan that Mr. Olin began about 10 years ago, and which is far from finished.
His walls are littered with watercolors of his various projects, a few of which have stalled because of lawsuits or the developer's financial troubles. Rather than worry about whether Atlantic Yards will work once it is finished, Mr. Olin is worried about it getting finished.
"It's a great project, if it all happens," he said. "The time calendar we are talking about is probably 20 years. People say 10 to 15, but take a look. How long does it take the market to absorb that much stuff?"
He also doubted that all 16 buildings, which include a basketball arena and a 511-foot tower called Miss Brooklyn (sometimes called "Ms. Brooklyn"), would be designed by Frank Gehry—which was one of the selling points to get the project through the state approval process last year. Forest City began preliminary site work this week, but three lawsuits have been filed against the project.
"Various architects who have specialized in doing residential towers will probably be brought in to be the architect of record anyway, even if design architects like Frank Gehry or other personalities give image and shape to them," Mr. Olin told The Observer.
Both statements diverge from the official line taken by Mr. Ratner's firm.
"Laurie has his views," countered Jim Stuckey, executive vice president of Forest City Ratner. "We don't believe it is going to take 20 years. We expect that it will take 10."
He added, "Frank Gehry will be the architect on every one of them."
Mr. Olin, who is also a professor of landscape architecture and regional planning at the University of Pennsylvania, was brought onto the Atlantic Yards project by Mr. Gehry about four or five months into the design process. (The two had worked together in Los Angeles and London.) By that point, Mr. Olin said, the design already called for demapping a one-block length of Pacific Street and melting the two adjoining blocks together into a "superblock"—the type of mid-20th-century urban planning widely used in housing projects, but since discredited by Jane Jacobs and a whole school of so-called urbanists. They have argued that superblocks discourage the type of street life that makes places like the West Village so successful.
Mr. Ratner, however, needs that street bed in order to increase the open space on the project. Along with streets that will be demapped to make way for the arena, he will gain about 2.7 acres, according to The Observer's calculations based on the environmental-impact statement.
And that is important: Right now, the site's immediate neighborhood has 0.36 acres of parkland for every 1,000 people. Once Atlantic Yards gets built, that ratio will increase to 0.39 acres—but only after those street beds are included, according to calculations based on the final environmental-impact statement. Battery Park City has 2.5 acres per 1,000 residents, while the overall city ratio is 1.5 acres per 1,000 residents.
"I am not in a position to say how much quantum is needed to pay for the project or give a reasonable return to investors," Mr. Olin said. But he did toy at one point with reinstating the street. He also considered turning the street into a circular drive, like the roads in Stuyvesant Town. Neither worked. As for the taboos against superblocks and the tower-in-park design: "I think those are both clichés, and I think that we are using 1960's language," Mr. Olin told The Observer.
"If I put a street through here, I have less space for people and I have more cars," he continued. "When people say 'superblock'— what's wrong with what this is? Because I don't see how adding one car in here is going to make it a better space. I think space on streets is actually useless space."
Mr. Olin said that Forest City will put restaurants, cafes, a daycare center and a community center on the ground floors of buildings that will face the central mall that runs through the development. And all those residents that opponents are worried about moving in? Well, they'll just make the whole place livelier.
IN EARLY 2005, A YEAR AFTER ATLANTIC YARDS was announced, a group of neighborhood residents came up with a master plan called "the Unity Plan" that did away with the more controversial aspects of the project. Instead of joining two blocks together to form a superblock, it actually added streets, cutting one of the long east-west blocks along Atlantic Avenue into thirds.
"Atlantic Yards, as it exists now, has an open rail yard that is currently creating a barrier or a moat between Prospect Heights and Fort Greene," said Marshall Brown, an architecture professor and the lead designer for the Unity Plan. "What we have to be careful of is replacing the moat with a wall or a series of walls."
"If it was a real pedestrian street, why must it be a superblock?" said Ron Shiffman, the former director of the Pratt Institute Center for Community Development. "Why must it be owned by the developer? A superblock is not something that allows the dynamic of multiple ownership. It isn't soothing. It will be a street where you will find a series of different chain stores. You will see another Starbucks; you will see another Baskin-Robbins."
Kent Barwick, the president of the Municipal Art Society, remarked: "There will be some nice spaces, but will this be something that, if you are a resident from Fort Greene, you would feel comfortable walking into?"
Mr. Olin has introduced design features to draw outsiders through the complex: the spaces between the buildings along Atlantic Avenue and Dean Street are wider than normal city streets and lead to paths that can bring pedestrians over to the other side. He also labored to maximize the amount of sun that would shine down on that privately owned public space by shaping the buildings into what he calls "catcher mitts."
"People say, 'Well, it's too private in there.' And I say, 'No, there's lots of space for people to come in.' And then they say, 'Well, there's no street wall.'" He leaned back, having made his point. "What do you want? Do you want people to get in, or do you want it to be closed up? And then they don't know what to say."
Mr. Olin speaks with the caffeinated jangle of a man who has been right so much of his life that he can afford to be wrong, and even candid, once in a while. "One of the things that is hard for us to get across is that everything is an experiment," he said. "We know a lot about how people live and sit and eat, but have never actually dealt with this here before in the year that it gets built."
The design is far from finished, and the east end, where the superblock lies, is particularly rough. Mr. Olin admits that the site plan was put together to establish the parameters of the project—the ratio of open to built space—to go through the approval process. Now he and Mr. Gehry are focusing on just one building: the basketball arena on the far western edge of the site, which will be surrounded by skyscrapers. (It needs to be open to host the first game of the 2009-10 Nets basketball season.) The arena's roof will be an oval of about five acres.
At one time, the roof was also supposed to be publicly accessible open space, but that would have required greater egress to meet the building code. Now it will be reserved for people who live or work in the buildings around it: balconies, a jogging track, a restaurant terrace, all ringing a raised central green that will be covered with vegetation.
"Since it is in the northeast flyway, it is going to be full of birds; it will be bird habitat," Mr. Olin said. "We have to do something with the roof anyway, because it's a big roof and there is a big watershed, because all of the rain that falls on it is clean water. So we can catch that, filter it with the plants a bit, and then we can reuse it for toilets in the buildings. We can reuse it for irrigation."
As for the rest of the project, that can wait. Even the three towers that directly ring the arena are not on Mr. Olin's immediate radar. The developers, he said, would "love to see one of these going, but I haven't heard them saying that there is this market crying out for condos at Atlantic and Flatbush."
The opponents, then, have that much to hope for, at least: that Atlantic Yards gets stuck in the bureaucratic, regulatory or economic jungle that has slowed too many of Mr. Olin's projects before.