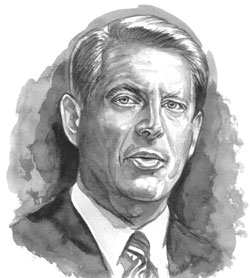 It's too much to say that Al Gore has decided to run for President in 2008.
But it does seem that he wants to preserve the option.
Certainly, the recent buzz about a possible Gore campaign in 2008 doesn't seem to be spontaneously generated. According to one influential Democratic insider, close associates of the former Vice President have communicated to him and other prominent fund-raisers who are uncommitted to the other '08 candidates that Mr. Gore will consider entering the race—if an opening presents itself—in September.
Ask Mr. Gore's spokesperson about the rumors, and the response is the same sort of mushy non-denial that Mr. Gore himself has become expert at serving up. "Obviously," said Kalee Kreider, "he appreciates the sentiment from folks who are interested in this, but really, his efforts are focused on global warming."
But let's just look at the merits of the hypothetical Gore candidacy that the former Vice President's supporters seem to be proposing.
The timing would certainly make sense, since Mr. Gore, unlike other candidates who have made late entries into recent Presidential campaigns, can afford to wait. He already has enviable name recognition, a reliable financial network and a groundswell of loyalty among the Democratic grassroots—activists who won't forget that he stood against the Iraq War from the beginning, back when the Bush G.O.P. was so successfully making support for an invasion a litmus test of patriotism.
And a dramatic, last-minute entrance, after months of prodding and begging from grassroots activists, would stamp any Gore '08 effort as something more than just another campaign by another politician.
With his Oscar and Nobel Prize nominations, upcoming Congressional testimony on global warming, and an international day of concerts to promote climate-change awareness that he's organizing for early July, Mr. Gore figures to receive more prominent news coverage in the months ahead than many of the announced candidates.
By delaying, Mr. Gore will also be able to steer clear of any early skirmishes between Hillary Clinton, Barack Obama and John Edwards, instead allowing the three front-runners to drive each other's negatives up—which will only feed the rank-and-file hankering for Mr. Gore to play the white knight.
There's the aesthetic consideration: Mr. Gore would be able to use the time to hit the gym and sweat off some of the weight he piled on the months after he conceded the 2000 race to President Bush.
And there's an argument to be made that Mr. Gore's campaign skills, only adequate to begin with, are best served by a shortened campaign—as proved by his last effort, when he foundered through most of 1999 and fell behind Bill Bradley in Democratic polls, only to save his campaign with a furious and focused push that produced a decisive, come-from-behind win in New Hampshire.
Mr. Gore will simply have to decide by the time September comes around whether the stars are aligned for him—as they seem to be now. At the moment, Messrs. Obama and Edwards are locked in the political equivalent of an NCAA Tournament play-in game, each pushing to advance to a one-on-one showdown with Mrs. Clinton. To enter the race, Mr. Gore will have to be convinced that he could quickly and bloodlessly push both of them aside, setting up a Hillary-versus-Al contest for the nomination.
What is giving Mr. Gore pause—other than the public-relations imperative that he appear reluctant to run—is the matter of legacy. Any decision to run for President must be balanced with the risk of being branded, for all of history, as a two-time loser. Adding to the potential for indignity, it's entirely possible that defeat for Mr. Gore could come in his own party's primaries—and not the general election. If Mr. Edwards and, in particular, Mr. Obama make significant headway in the months ahead, Mr. Gore, for all his desire to run, could just as easily balk at the idea of jumping into a crowded and muddled Democratic field.
But as Mr. Gore surely realizes, 2008 represents his last, best chance at the Presidency. If history is any guide, it's likely to be a good year for the Democratic nominee, whoever it is: With one exception since World War II, neither party has controlled the White House for more than two consecutive terms.
And beyond that, Mr. Gore—once ridiculed by his own party for blowing a slam-dunk election in 2000—has finally arrived at the culmination of a long political rehabilitation that began with his early opposition to the Iraq War build-up, continued through his decision not to seek out a rematch with Mr. Bush in 2004, and climaxed with his widely celebrated role as a prophet of global warming.
Mr. Gore truly has wanted to be President since his youth.
Now he has a reason. Can he resist?