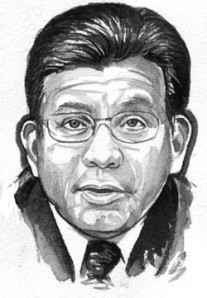 When Attorney General Alberto Gonzales insists that his firing of several United States Attorneys last December wasn't a political purge but merely a normal bureaucratic decision, many thousands of lawyers, judges, officers and officials surely wish to believe him. Anyone who has taken an oath to uphold the law and the Constitution in good faith—indeed, anyone who cares about the rule of law—can only contemplate the apparent vandalism inflicted on our law-enforcement system by Mr. Gonzales and his deputies with foreboding.
Unfortunately, the credibility of Mr. Gonzales—which was never very great—is diminishing further as the facts behind the controversial round of firings continue to emerge. As his excuses and explanations for those dismissals evaporate under scrutiny, what can be seen instead is a familiar pattern of dubious ethics and partisan misconduct.
This story can be traced to the strange firing of Carol Lam, the United States Attorney in San Diego, who had successfully prosecuted former Representative Randy (Duke) Cunningham, the ultra-right Republican and powerful defense-subcommittee chairman whose incessant flag-waving concealed brazen larceny on an unprecedented scale. Ms. Lam deserved praise from every honest conservative for sending Mr. Cunningham to prison, and she deserved their support for her ongoing probe of his confederates on Capitol Hill, on K Street and in the federal bureaucracy. Instead, she felt the wrath of Mr. Cunningham's Republican colleagues, some of whom sought her dismissal—supposedly because she wasn't sufficiently zealous in curbing illegal immigration.
But the Justice Department's last performance evaluation of Ms. Lam, completed in February 2005, described her as "an effective manager and respected leader in the district." That was typical of the department's official assessments of the fired prosecutors, despite the public insistence by top Justice officials that the dismissals were related to "performance."
At the same time last December, highly regarded prosecutors in other districts were dumped under equally suspicious circumstances. Paul Charlton, the U.S. Attorney in Arizona, was let go while investigating corruption allegations against Representative Rick Renzi (R-Ariz.), despite sterling evaluations of his integrity and competence. H.E. (Bud) Cummins III, the U.S. Attorney in Arkansas, was thrown out to make room for a crony of Karl Rove who specializes in opposition research. (Could that possibly be related to the Presidential candidacy of a certain former Arkansas resident?)
And David Iglesias, the U.S. Attorney in New Mexico, was forced to resign after complaints from the state's most powerful Republican politicians that he had not yet completed a corruption probe of a local Democrat. Both Senator Pete Domenici and Representative Heather Wilson called Mr. Iglesias before last November's midterm election to talk about that case, although both insist that they meant to impose no "pressure" on him.
According to Mr. Iglesias, however, Mr. Domenici contacted him at home to ask whether he would issue the desired indictment of the Democratic official before November. When he said no, the Senator hung up angrily. Testifying before the Senate Judiciary Committee, Mr. Iglesias said that the obnoxious phone call caused him such revulsion that he felt "sick."
Mr. Domenici, who also brought pressure on the Justice Department to fire Mr. Iglesias, claims to have been dissatisfied with his "inability" to expedite criminal cases. But Justice Department statistics show that Mr. Iglesias improved the speed of prosecutions in his office, and former Deputy Attorney General James Comey has told reporters that he regarded Mr. Iglesias as one of the best prosecutors in the country.
Meanwhile, the Justice Department official who actually executed the firings of the eight U.S. Attorneys has since quit himself. Michael Battle, former director of the Executive Office for U.S. Attorneys at Justice Department headquarters in Washington, resigned last month amid reports that he had been "unhappy" in carrying out the hatchet work for Mr. Gonzales.
News of Mr. Battle's resignation was followed by an allegation of a threat by a top Justice official to the fired U.S. Attorneys, warning that if they didn't stop talking about their dismissals, the consequences could be unpleasant. The McClatchy newspapers reported that two of the fired U.S. Attorneys, speaking on condition that they remained unnamed, said they had heard from a top Gonzales aide that "if any of them continued to criticize the administration for their ousters, previously undisclosed details about the reasons they were fired might be released." The Justice Department's press office denied, of course, that any such threats had been delivered.
The U.S. Attorney purge is important because federal prosecutors are supposed to be nonpartisan and free from political meddling. Their highly sensitive and powerful positions include responsibility for policing the politicians, and their independence distinguishes American law enforcement from the disreputable charades of banana republics and authoritarian regimes.
It is troubling, but not surprising, that the Bush administration and its political allies have violated those traditional protections for partisan advantage. Now, the appropriate Senate and House committees should not rest until those machinations are fully exposed—and all of the players involved, including their colleagues from New Mexico, are held accountable.