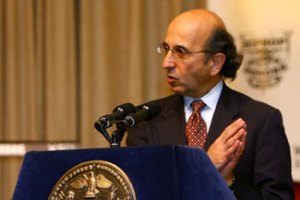 Rarely has such a diverse and passionate coalition come together in opposition to a less imposing figure than Schools Chancellor Joel Klein.
In the time since a school-bus rerouting in late January left thousands of young public-school students shivering in the snow, the diminutive former antitrust chief for the U.S. Justice Department has been transformed into a bald, bespectacled piñata. He has absorbed blows from frustrated officials and school advocates outside the administration stemming from frustration not only over the bus misstep, but also what they complain is his unilateral and distant style in implementing the Bloomberg administration's structural education reforms.
As class-size-reduction advocate Leonie Haimson put it with evident satisfaction, "The bus-route fiasco pierced the bubble of publicity."
On Feb. 8, State Senator Ruben Diaz of the Bronx called for Mr. Klein to be fired. On Feb. 12, a candidate in a special City Council election in Brooklyn depicted Mr. Klein as a comic-book villain in his campaign literature. Later that week, Public Advocate Betsy Gotbaum introduced a school-bus "bill of rights." The City Council, which has maintained unusually harmonious institutional relations with Mayor Michael Bloomberg's administration, held emotional hearings on the school-bus affair; Manhattan Borough President Scott Stringer led a protest of the Department of Education; and State Senator John Sabini and 22 other legislators submitted a letter "demanding answers about [the] school bus fiasco."
Another protest scheduled for Feb. 28 was pre-empted by Mr. Bloomberg's announcement that he had hired a new chief family-engagement officer to get parents more involved in public schools. The protests continued, prompting the Mayor to go to two black churches to plead his case.
On March 11, former Mayor Ed Koch, who endorsed Mr. Bloomberg for re-election, trashed Mr. Klein for his "terrible blunder."
By March 13, City Comptroller Bill Thompson slammed the Department of Education for spending millions on outside consultants who devised the bus rerouting, and accused those consultants of recycling education plans from New Orleans. At an education forum at Fordham University—with Mr. Klein in the audience—Mr. Thompson called the department a "high-risk investment" because of the way it is run.
By March 15, Mr. Klein's approval rating among city voters stood at 33 percent, according to a Quinnipiac poll.
Meanwhile, as he has weathered the attacks of politicians, Mr. Klein has been a walking target at a series of meetings with public-school parents, forced into defending the most basic principles of public education nearly five years after taking control of the schools.
At a meeting last week with parents at I.S. 109 in Queens Village, Mr. Klein told a parent at one point, "No, it's not illegal to teach multiplication tables."
Shortly afterward, he found himself assuring another parent that "public schools will remain public as long as I'm chancellor."
Mr. Klein nodded politely and said he'd consider a suggestion from one attendee who wanted the city to invest "one thousand million dollars" in an education plan of his own devising.
When the meeting was over, Mr. Klein stood up from the center of a long dais in the school's auditorium where he had sat absorbing slings and arrows for two hours. He exited the building by a side door (the same one by which he'd entered), allowing him to avoid any potential critics looking for remedial discussion with him—and causing him to miss out entirely on a number of giant, handmade "Welcome Joel Klein" signs hanging in the main hall.
In an interview, Deputy Mayor Dennis Walcott warned against reading too much into Mr. Klein's recent run of ill treatment.
"I think, one, criticism is always in cycles," he said. "Right now, we are enacting a number of changes to put more money in schools and to give principals more control. And there are a variety of people who have a different viewpoint that are either supportive of what we proposed, are opposed, or want to hear more information. And so we're going through that cycle."
Mr. Walcott also said that Mr. Klein's visits to the schools had been scheduled before the bus-route fiasco, in order to push the education agenda that the Mayor outlined in mid-January. But, he said, "a lot of this coincided with the changes with the bus route—so you had all that playing out at the same time. So I think the further you move into the remainder of the school year, as we get ready for the next school year, you'll probably hear fewer critics. But there will always be critics."
Or maybe not. A protest planned for March 16 on the steps of City Hall with the Reverend Al Sharpton and other elected officials wound up being cancelled. Because of snow.