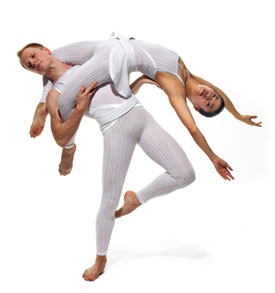 Recently, over at B.A.M., William Forsythe in his new piece, Three Atmospheric Studies, made his position clear: He's anti-war. Study I involves 15 or so dancers in street clothes, brawling. They brawl and brawl (very effectively) until one of them is hauled away—you see, this isn't just street gangs doing their West Side Story thing, this is political. In Study II, the desperate mother of the arrested boy is dictating her account of what happened to a not-very-patient scribe and/or interrogator, who's translating her heavily accented English into Arabic. Growing more and more distraught (and hard to follow), writhing, screeching, grimacing, she comes to realize that her son is actually dead. I gather from colleagues with greater staying power than mine that Study III was even more strident, violent and anti-American than its predecessors. Sorry I missed it.
This slice of agitprop was on my mind when the Paul Taylor season—still going strong—opened at the City Center, presenting three very different works that could all be labeled "anti-war" if Paul Taylor were an agitpropper instead of an artist.
First came Company B, in which the relentless cheer of the Andrews Sisters is front and center while, behind, the anguish of World War II's dying soldiers and grieving sweethearts undercuts the upbeat charm of "Rum and Coca-Cola" and "Pennsylvania Polka." Taylor sneaks up on you here.
In Sunset, that masterpiece with its plangent Elgar music and recorded loon cries, Taylor gives us six soldiers—on leave?—and four girls in ravishing summer dresses. Here is the sadness, the futility of war, yet with no war in sight—only the suggestion that these young men are going off to battle. It's the other side of Robbins' Fancy Free; the boys are haunted by the girls, or visions of the girls, not in hot chase of them. It's a dirge, not a romp.
And then there's Banquet of Vultures, a brutal fantasia of war and destruction. The figure of Death, in business suit and red tie, stalks what's left of mankind, extinguishing life and putting out the light. It clearly nods to the famous The Green Table, but Kurt Jooss was making a political statement about the vileness of capitalist greed, while Taylor is showing us the way the world ends.
As it happens, these three war-inflected works reflect what one could broadly categorize as the three essential Taylor strains: the antic, the tender, the bleak.
His tenderness is on view this season in the blessed return of Roses (mostly to Wagner's "Siegfried Idyll"), perhaps his most lyrical piece—gentle, ecstatic, rhapsodic—and in his responses to Baroque music: Bach in Esplanade, Boyce in Arden Court, and most of all Handel in Aureole and Airs. (It's the serene rather than the virile side of Handel that attracts Taylor.)
His major new piece, Lines of Loss, is devotional, ceremonial. The curtain goes up on 11 dancers, all in white, with Lisa Viola at the apex of a V. Santo Loquasto's sky, striated with blackish, wavy horizontal lines, adds to the general sense of foreboding. This is after the battle, after the loss. Using seamlessly integrated music from six composers ranging from Guillaume de Machaut to Cage, Pärt and Schnittke, Taylor takes us through a process of healing and acceptance, its high point a solemn duet between Viola and Michael Trusnovec. At the end, the group, now cloaked in long red robes, has collapsed to the ground, leaving only Viola able to move on, while bells toll.
The other new piece is Troilus and Cressida (reduced). Reduced? I'd say slapsticked—or should it be slapstuck? Set to Ponchielli's "Dance of the Hours," it's a madcap parody of high Belle Epoque style, with over-the-top costumes and sets by Loquasto, and Viola in her silliest mode—how Taylor loves to show off her range! She and Troilus are asleep at the start, but Cupid (he's played by three dancers, all girls) gets them going, and three brawny, invading Greeks in operetta drag keep them going. It's all pratfalls and people crashing into each other. For me, the hero of this adorable piece of goofiness is Robert Kleinendorst as poor hapless, feckless Troilus—almost as scared of the Greeks as he is of Cressida—whose purple pants keep falling down. He's wildly, adorably funny—all the more so because he never indulges, as Viola occasionally does, in more mugging than is strictly called for.
If Troilus is Taylor's latest exercise in the antic, one of his earliest—the 1962 Piece Period—is back after an abscence of almost 30 years, and it's fun from the first moment: Richard Chen See gleefully hoofing in a jester outfit. By the time it's over, we've run the gamut from Vivaldi to Beethoven, and from ladies in Elizabethan gowns and ruffs to a chandelier apparently constructed out of ping-pong balls. It's parody—but of what? No specific target I can think of. It's more like an olde-timey skit from some sharp Broadway revue of 50 years ago.
For ultra-antic, we were treated to a revival of Book of Beasts (1971)—yet more lunatic parody. A standout was Trusnovec (in glittery gold, with vermillion accessories) as the immortal Phoenix. Funniest of all was the music, a medley of classical chestnuts performed by "E. Power Biggs and his pedal harpsichord." It's enough to turn you off music forever.
In Polaris (1976), "the choreography for Part II is an exact repeat of Part I," but performed by a different cast to different music and lighting. Well, yes. But the same steps performed with different intention and urgency are also different steps. Polaris Part I is in the lyric-ecstatic mode; Part II is dark and intense. We go from day to night; from blue to black; from—for instance—the lovely placidity of Amy Young to the explosion of Annmaria Mazzini. In other words, here we have, in one work, Taylor presenting both his tender and his bleak sides. It's fascinating, but at times you get so caught up in the concept that the actual dance can slip away from you.
Even more compelling is the 1979 Profiles: two couples in tight, clinging throat-to-toe pointillist body stockings by Gene Moore—and yes, the dancers are often in profile (with a nod to Nijinsky's Afternoon of a Faun). This is the most sculptural of Taylor's dances, reminding us of how profoundly sculptural (though never static) his own brilliant dancing was. With its intensity and charge, this is a key Taylor work.
As for the company, it's performing with all its radiant full-outness, its thrilling joy in what it's doing. Perhaps it's the gorgeous Parisa Khobdeh who's made the greatest strides this season. In Roses, Arden Court, Airs, Dante Variations—another version of Taylor-bleak—she's significantly extended her dynamic range. The newest company member is a calm, slender beauty named Laura Halzack, whose composed lyricism is a harbinger of happy things to come. Taylor must think so too, since he's singled her out in Airs.
A cavil: In Esplanade, the Bettie de Jong quiet-dominatrix role has for the first time been given to a guy—Orion Duckstein. It doesn't work. Not because Duckstein isn't up to it, but because the mystery and edge of this unsettling passage partly stem from the visual shock of this woman being dressed exactly like the men rather than the other women. As it is now, Duckstein is just like all the other guys, blending in instead of standing out.
And finally: Please, Mr. Taylor, give us the dates of your pieces in the program notes. Critics and laymen alike will thank you.