By MAX PIZARRO
PoliticsNJ.com
NEWARK – Sen. Frank Lautenberg slammed the Bush Administration on Monday for what he described as an administration effort to weaken state homeland security regulations governing chemical plants, by essentially allowing chemical companies to override strict New Jersey regs.
At a public hearing he chaired in Newark, Lautenberg repeatedly asked Lawrence Stanton, a spokesman for the federal Department of Homeland Security, why the administration's new homeland security proposals preempt state laws €" notably the state's 1984 Toxic Catastrophe Prevention Act – with federal guidelines that weaken regulations and make chemical plants less safe.
Stanton said in order to effectively reduce chemical risks, the federal government must forge partnerships in the public and private sector.
In response, a visibly irritated Lautenberg asked Stanton, "Do private partners recommend preemption for the Department of Homeland Security?"
"It's my understanding preemption is a preferred outcome," Stanton told Lautenberg.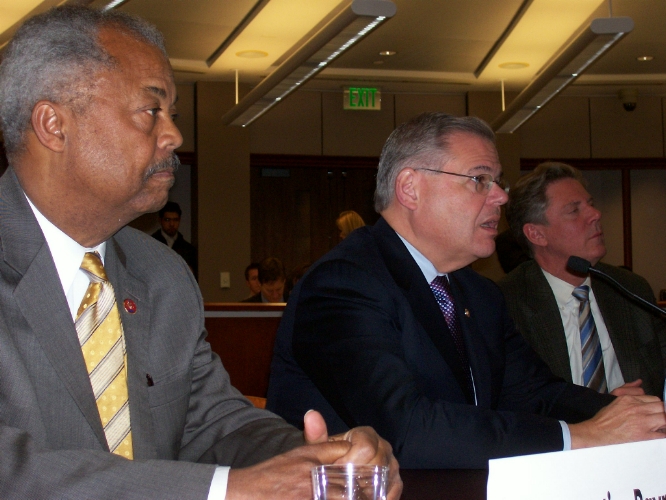 Asked after the hearing if he believes the chemical industry has had undue influence in shaping the administration's security policy as it pertains to chemical plants, Stanton told PoliticsNJ.com, "I don't have an opinion on that."
But Lautenberg does.
Following the hearing, the senator said he believes chemical industry lobbyists are creating homeland security laws the same way energy companies are writing energy policy. Throughout the public hearing and afterwards, Lautenberg reiterated his disgust.
"I think they're hearing voices," he said of the Bush administration, "and they're not the voices they should be listening to. …It's the old case of the fox guarding the chicken coop. They're not protecting the public. They're protecting their business obligations."
Lautenberg said his office asked the New Jersey Energy Chemical Council to participate in the hearing, but the company declined.
Presenting a united front of outrage, Gov. Jon Corzine, Sen. Robert Menendez, Rep. Frank Pallone and Rep. Donald Payne all testified in agreement with Lautenberg, calling on the department to resist watering down existing state laws.
"I would have hoped the federal government would have used New Jersey's high standards as an example," said Menendez. "I'm going to go back [to Washington, D.C.] to remind all of my Republican colleagues who say that the states, and not the federal government, know best."
In his testimony before Lautenberg, Dr. Stephen E. Flynn of the Council on Foreign Relations, a retired commander with the U.S. Coast Guard, said in his view the war in Iraq represents misspent government priorities. He pointed out that this country has spent, on average, $250 million each day in Iraq since 2003, while it spends $25 million each year to fund the federal Department of Homeland Security.
"The total expenditure for safeguarding some of the nation's most hazardous facilities amounts to what we spend every 150 minutes in Iraq," said Flynn, who described Stanton as a "selfless" public servant who is working "without resources and without the authority."
The dust-up comes less than a year after Menendez pumped up his senate campaign by taking the Bush administration to task over its proposed Dubai port deal, another Bush administration blunder, in his view, which Menendez said would have put New Jersey ports at risk.