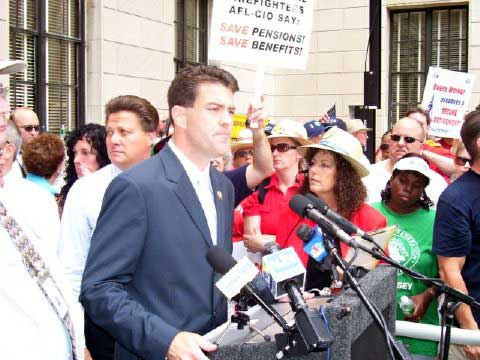 By MAX PIZARRO
PoliticsNJ.com
It's an old dichotomy in New Jersey.
Republicans lay their election year battle plans in country clubs, while Democrats build their campaign bunkers out of union halls. But in Hamilton Township, home to the highest number of public employees in the state, politicians of both parties go through the unions.
You want to run for office in that gritty blue collar town that sprawls between highways east of Trenton, you do business with the workers.
That's what Republican Assemblyman Bill Baroni's done ever since he knocked off his Democratic opponent in 2003 to earn a seat in the Legislature. After the election he went to the Central Labor Council — which had supported the other guy — and told them he wanted to work with them, asked them what he could do to help. It wasn't an unnatural gesture for the longtime Hamiltonian.
"I don't think people can live on $5.15 an hour," he says. "People need to collectively bargain. That's what I come from. I come from a neighborhood where there are public employees, iron workers, laborers, with a capital €˜L,' and I am proud to represent them."
The fact that Republican President George W. Bush has threatened to veto the Employee Free Choice Act, arguably the most significant pro union legislation since the 1930's, doesn't diminish Baroni's party loyalty.
"I believe in cutting taxes, and creating jobs through tax cuts," says Baroni. "But I think the people of Hamilton know the differences between George Bush and Bill Baroni."
Moving quickly to secure no fewer than three key union endorsements in his bid to succeed State Sen. Peter A. Inverso — one on the very day Inverso announced his retirement — Baroni this week took advantage of the confusion created by the sudden departure of a 16-year legend. Working the phones, he blocked out the Democrats' ability to counter attack. with their own harvest of union endorsements for the same district 14 seat in the upper house.
It's been two days since he says he started making calls, soliciting support for a State Senate run, and Baroni already has the backing of some of the monster locals in his district: CWA Local 1039, CWA Local 1033, and CWA Local 1034.
"I'm proud to have them with me," he says. "I'm proud I'm with them, and there will continue to be a steady number of folks coming out with endorsements."
Notwithstanding the Assemblyman's prior history with Labor, Baroni pounced on some of those calls at a time when the unions believed his opponent would assuredly be state Rate Counsel Seema Singh of South Brunswick, chosen by the Democrats two days before Inverso's bombshell, and a newcomer to the scene who hasn't yet worked the union halls like Baroni.
Or like Hamilton Township Mayor Glen Gilmore.
Gilmore might have been Baroni's opponent had the State Democratic Party had its way — and had the Democrats had that critical union building block at the ready.
Backing the unions comes naturally to Gilmore, too.
The mayor grew up in Manville, the one-time factory town where his father worked for the Johns Manville Company and contracted asbestosis and died the year Gilmore took office in Hamilton.
But Gilmore, who's had the sturdy support of the unions in his time in the trenches of municipal government, didn't have that option after Baroni went on his calling jag this week.
Whatever his intentions regarding a Senate run this time around might have been, Gilmore today announced his re-election bid to a third mayoral term on the front lawn of retired Army Col. Norman Matthews, ending speculation he might challenge Baroni.
"I love being mayor," said Gilmore. "That's the bottom line."
He said he was proud of what he has accomplished in his eight years as the township's chief executive, but said many challenges remain. Property taxes are lower in Hamilton than in most New Jersey municipalities, he noted. The township is one of the safest in the country.
Hamilton opened a senior citizen center that is the best in New Jersey, Gilmore said.
But people are still struggling to put food on the table.
Gilmore said he wants to be there.
"He's a good mayor," said resident Diana Bradley. "He's done a lot for Hamilton, and I'm going to really campaign for him. He's always there to lend a helping hand."
Matthews agreed. One of the stalwarts of the town's Patriotic Committee, which is planning to situate a Vietnam-era F-4 Phantom Jet at the north entrance of Veterans Park, the veteran is an enthusiastic backer of the mayor's.
"He's served the township well, and we want to see him continue to do a good job," said Matthews.
Working the crowd, kissing the ladies and shaking hands, the youthful Gilmore was at home in Hamilton.
And as for that other office just beyond the town?
"I support Seema Singh for State Senate," the Gilmore said. "She's my candidate."
But with labor throwing its shoulder behind Baroni, it's hard to see Hamilton going for her, or for anyone else.