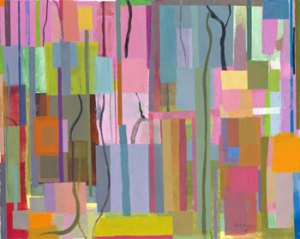 Bill Scott is a radical artist, but not in the sense to which we've become accustomed.
Mr. Scott, whose abstract paintings and prints are on display at Hollis Taggart Galleries, doesn't rely on slick theatrics, obtuse theorizing or technological appropriation. He has the temerity to plumb something deeper than his navel or the superficialities of pop culture. In an era dominated by secondhand conceptualism, he wrestles with firsthand experience. The confrontational act that Mr. Scott engages in? He looks out the window and likes what he sees.
Looking Through is, in fact, the title of Mr. Scott's exhibition, calling forth questions of viewpoint, transparency, distance, detachment and, in the end, joyous connection with the world. The paintings demonstrate that what's out there is worthy of our time, attention and, in this artist's hands, unalloyed pleasure.
The pictures invite the eye to travel along shifting, bumping, stuttering and flowing byways. They evoke the natural world less through representation than sensation, channeling its luxuriance and snaking rhythms. Unmistakable suggestions of greenery—Mr. Scott's garden, perhaps—provide a loose-limbed structure. An embracing light dapples the paintings.
Trailing through the pictures are tendril-like marks that only rarely coalesce into solid or recognizable shapes. Mr. Scott snugly knits this unfurling calligraphy within fluctuating fields of geometry: fractured accumulations of rectangles, squares, vertical stripes (horizontals can be picked out here and there) and the occasional circle.
The paintings are complicated, at times somewhat Byzantine, but they remain fluid and open. Their gently layered surfaces and airy spaces connote nature's breadth and fecundity. Mr. Scott uses a brush exclusively for line-work; otherwise, he wields a palette knife with fetching nonchalance. As a paint-handler, Mr. Scott is appealingly casual, free and unfeigned as doodling.
Pungent purples, pinks, yellows, oranges and greens provide intervals and accents in intriguing counterpoint. Mr. Scott borrows from the whimsical rigor of Paul Klee and derives chromatic inspiration from Matisse; Wassily Kandinsky, more aesthetically than formally, is in the mix as well. Joan Mitchell is cited as a pivotal influence, but Mr. Scott is a more nuanced and less codified painter.
A sunny consistency is his liability. There are constant variations within each single canvas, but overall the work shimmies into a blur. Changes in scale help to provide some differentiation. Within large formats, Mr. Scott coasts on his unassuming virtuosity. The smaller paintings allow for some clumsiness, and they're better for it: less stately, more emphatic and, at times, winningly off-kilter. Idiosyncrasy steals into Mr. Scott's nimble hands when he has less surface area to cover.
Still, the charms of all the paintings in this exhibition are hard to resist—beguiling enough to allay criticism. In simply looking through, Mr. Scott is doing something right and then some.
Bill Scott: Looking Through is at the Hollis Taggart Gallery, 958 Madison Avenue, until March 31.
Brooklyn in Ruins
Greg Lindquist, whose paintings are on display at the McCaig & Welles Gallery in Williamsburg, is today's equivalent to Hubert Robert—kind of.
Robert (1733–1808) was a French painter who specialized in depicting ruins. Inspired by the remnants of ancient Rome, he created his most memorable canvas from the imagination: a Louvre devastated by time. The museum, rendered as an accumulation of rubble, is dotted by vagrants grilling food, Michelangelo's Dying Slave lying in pieces and, as a droll aside, an artist drawing from the few surviving classical sculptures.
Mr. Lindquist doesn't trade in the picturesque, and he's in no mood to crack jokes. Still, a dry romanticism runs through his art. Drawn to the ruins of present-day Brooklyn, Mr. Lindquist depicts the industrial quarters of Williamsburg and Greenpoint, areas marked by anonymous structures in disrepair, graffiti-strewn walls, mounds of debris and, looming over them with a stark sense of purpose, construction cranes. Awash in a wan and even light, the paintings are elegies for a city lost in transformation.
Attentive to the expansive sweep of space more typical of the outer boroughs, Mr. Lindquist is less interested in awe than in history come and gone—or, rather, going. A social subtext runs quietly through the paintings. Mr. Lindquist taps into an artist's particular anxiety: a sensitivity to the loss of the blighted areas nearby their relatively inexpensive studio spaces, a fear of gentrification.
Meditations on the artist's lot in life are subsumed by the demands of painting. Mr. Lindquist makes the most of a tawny range of ochres, grays and mild browns. His brushwork is blunt, scrubby and increasingly graphic. His compositions, with their distant and sometimes barely perceptible vistas, suggest isolation and remove. Mr. Lindquist's New York City is a ghost town.
Mr. Lindquist's scenes bring to mind Giorgio Morandi's quietude, Fairfield Porter's facture and, buried under the junk, Giorgio de Chirico's creeping sense of anomie. Even if he doesn't achieve those heights, his art doesn't suffer from the comparisons. If anything, they're powered by them. This is a deeply felt and promising debut.
Greg Lindquist is at the McCaig & Welles Gallery, 129 Roebling Street, Suite B, until March 31.