By MAX PIZARRO
PoliticsNJ.com
Coming off last year's losing mayoral campaign, State Sen. Ronald L. Rice must now confront a candidate endorsed by the man who just beat him.
It wouldn't be that bad, says Rice, if he didn't feel so neglected.
Since Mayor Cory Booker vanquished him at the ballot box with 72% of the vote, Rice claims Booker hasn't had time for him. They'll bump into each other at a ribbon cutting or a political rally. Rice will approach Booker and tell the mayor he needs to talk to him. The mayor will agree.
"Then he'll never call," Rice complains. "He never calls."
Booker's man, Bilal Beasley, laughs that off.
"What the residents have been exposed to in terms of Ronald Rice, is how he has been adversarial, demonizing and critical of Cory Booker," says the Essex County Freeholder and Irvington Councilman, who's challenging Rice to represent Essex's district 28, which includes parts of Newark; and Bloomfield, Irvington and Belleville townships.
A product of Newark's Central Ward and a 28-year resident of neighboring Irvington, Beasley has known Newark's new mayor for roughly a decade, and worked with Booker when the latter was a city councilman on the rise.
He's also known Rice for years, and considers him a friend. His wife and the Senator both attended Southside High School. Rice was a Newark cop. Beasley worked for the Newark Housing Authority.
The Freeholder says he has moved with the times.
Meanwhile, Rice in the new era feels as though he's been told to go clean out his desk.
"If you want to spend the time to run me out of office, that's fine," Rice says of Booker.
"But while your troops are out there running around, can we at least meet and talk about the people's business? Property taxes are going up. We got problems with the criminal justice system."
Beasley says it's the cry of a man who can't see that Newark has moved on.
"Cory Booker getting elected has changed the whole dynamics of politics in the district," he said. "As the mayor of Newark, he probably desires representation in Trenton that is not adversarial."
But being contrary isn't necessarily a bad thing when the contrarian's a seasoned veteran, Rice argues.
"Cory Booker's mission should not be to run government in Trenton," he says.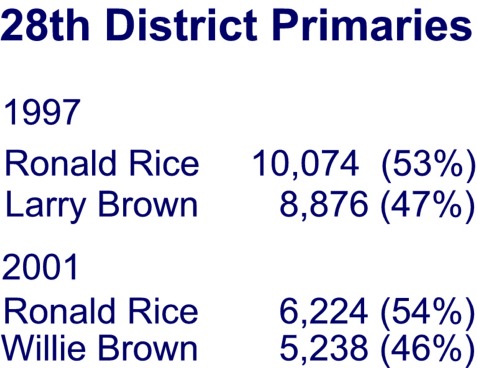 A former Newark City Councilman, and a state senator since 1986, Rice says he has experience with the issues confronting an urban district like the 28th: housing and eminent domain, health and human services; a knowledge of process and connections at all levels of government.
Rice is running on a ticket that includes incumbent Assemblyman Craig A Stanley and Assemblywoman Oadline D. Truitt. Beasley is joined by Cleopatra Tucker, widow of former Assemblyman (and Newark City Councilman) Donald Tucker, and
Essex County Freeholder (and former Assemblyman) Ralph Caputo.
Stanley is the nephew of Assemblyman William D. Payne, who is challenging Booker's candidate for State Senate in the neighboring 29th district.
Though the range of characters is greater now than the head-to-head face off in the mayoral race, it comes down to Booker versus Rice all over again.
Rice won't predict the outcome. He'll fight the fight, he says, just as he did in Vietnam.
"Elections do come around and we do get opposed," says the senator. "I put my fate in the hands of the goodwill of the people. I walk among the people. I hear the human cry."
Beasley agrees the voters will decide, but points out that redistricting in the 28th has opened Newark to neighborhoods populated with more than simply a core of old-time Newarkers.
"They desire to have representation that reflects the whole district," the Freeholder says of Democratic Primary voters. "And the current leadership elected by the people dictates change."