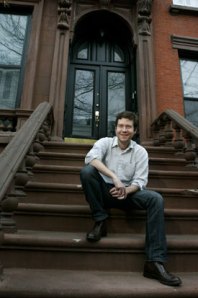 Jonathan Butler, a 37-year-old Upper East Side native and Princeton graduate, has been blogging about Brooklyn real estate under the moniker Brownstoner for more than two years. He has, until now, kept his identity a secret, except to a tiny handful, including his wife Kira.
In mid-February, Mr. Butler quit his mid-level job at a large Wall Street brokerage and started working full-time on the site, at brownstoner.com, from a desk that he subleases from an architect in Dumbo.
He is uncertain of the blog's future, and of his own. The two are now inextricably linked, with an audience of thousands waiting to see what happens.
"One of the fun things about the blog, especially in the beginning, was the fact that it was a way for me to live out my discovery of the borough online and to share it with people," Mr. Butler said. He wore a pale green scarf draped over an orange V-neck sweater as he sipped chamomile tea in a Village coffee shop last Friday.
A choppy mantle of dark blond hair swathes his slender face—he calls it his "freedom beard," and he began growing it after his trips to Manhattan ceased as a daily proposition.
"Most people," he said, "reacted well to that level of earnestness, where I'm saying, 'Here's this wonderful, amazing thing I'm discovering, and you're kind of along for the ride.'"
The ride, as many things in New York City do, began with a home hunt.
Mr. Butler and his wife of now nearly 10 years—they met through a Columbia classmate of hers—were hunting in Brooklyn, a borough they'd moved to in late 2003, settling initially in Williamsburg with the first of their two children, now ages 2 and 4. Mr. Butler had spent his entire adult life below 23rd Street in Manhattan (except for one ill-fated year, he said, back on the Upper East Side).
Through a Corcoran Group listing, the couple found a Clinton Hill brownstone for under $1 million. It has five floors, 14-foot ceilings in the parlor and nine fireplaces, none of which work. Mr. Butler explained that the brownstone, at least 130 years old, needed a lot of renovations—it had been an S.R.O. before they bought it—and the fireplace repairs fell beyond their budget.
His early online musings about the project planted the seeds of Brownstoner.
Mr. Butler was an associate editor at Worth magazine in the mid-1990's, writing about stocks. He'd also dabbled in real estate, working on a deal involving 125 Maiden Lane in lower Manhattan in the late 1990's. And, while earning an M.B.A. from N.Y.U., he raised $250,000 in capital to become a partner in Totem Design in Tribeca. (It has since closed.)
As the great-grandson, grandson and son of architects, Mr. Butler found that the journalism stint didn't quite match up with his natural entrepreneurial leanings. And as he began to dig into the renovation project between daily C-train commutes to Wall Street, he began to think.
"I realized I had all this excess knowledge and nowhere to put it," Mr. Butler said, "and I was also anticipating a significant renovation. I was also reading a couple of blogs, one of which was Apartment Therapy and one was Curbed, both of which had started six months before or so. I thought, 'I can do this.' I spent a couple of hours one afternoon setting it up."
He blogged mostly about the brownstone renovations, then embarked on forging Brownstoner's identity as an arbiter of development and real-estate deal-making in Brooklyn. It was largely virgin territory in the housing boom's salad days of 2004.
"I look at my role more as someone starting a conversation as opposed to handing down the word from on high," said Mr. Butler, who starts his days on Brownstoner by 8:30 and blogs one item every half-hour each weekday until noon; thereafter, he blogs sporadically as the spirit moves him.
"I'm going to pick a topic that I think is important and give my opinion on it as a way to start a conversation that 40, 50, 60 other people are going to jump into."
People do jump. More than 38 percent of the 883 respondents to a recent online survey by Mr. Butler said they read the blog at least once a day, and one in 10 said they read it "obsessively." The New York Times, New York magazine and The Observer, among other mainstream publications, have cited the blog's commentary—and, occasionally, Mr. Butler's reporting.
The typical Brownstoner reader, according to the survey, is likely a male college graduate in his early 30's who lives in Brooklyn (probably Park Slope) and who makes between $100,000 and a quarter-million annually; he owns his home or, if he doesn't, is planning to buy in the next couple of years.
BROWNSTONER'S FOUNDER AND SOLE EMPLOYEE seems keenly aware that his less than four years in Brooklyn make him a newcomer in a borough not exactly tender toward newcomers, especially ones from Manhattan.
And that status might make him unbelievable as an authority on the borough and its real estate (though Mr. Butler doesn't claim to be an authority).
"We definitely moved to Brooklyn out of economic necessity," he said, "but now, even if I struck it rich, I wouldn't move back to Manhattan."
He and his wife have developed Brooklyn habits and haunts. They frequent three restaurants: Diner on Broadway and Berry Street, Ici on DeKalb Avenue and Locanda Vini and Olii on Gates Avenue. He takes his kids to Underwood Park playground, and will go to Fort Greene Park "if we want to actually see some grass." Prospect Park is about a 20-minute walk from the Clinton Hill brownstone.
Mr. Butler's favorite Brooklyn neighborhood is—and he's not just saying this—Clinton Hill. The "middle-class diversity," he says, of Clinton Hill and neighboring Fort Greene appeal to him, but he knows real estate will change all that. Home prices and rents have risen steadily there and elsewhere in western Brooklyn, and projects like Atlantic Yards and the luxury condos within the planned Brooklyn Bridge Park will only further upend and transform the Brooklyn that people once knew.
Plus, frankly, a lot of the new development "is completely bad. It's terrible, the new construction. I think it's a lack of imagination on developers' part, and an underestimation of how much the average buyers in most of these markets actually care.
"The developers," he added, "are still in the mind-set that they're building for 10 years ago, when the potential buyers are very different."
So, for Atlantic Yards, for instance, forget the density, which Mr. Butler believes largely takes a backseat to the sheer aesthetic blight the project might loose upon central Brooklyn.
"My concern is more aesthetic, in that I can't think of a single example where you have one developer making such a large imprint in an area—especially when you have only one architect," he said. "I don't think it's going to engage the existing surrounding communities very well."
Should Forest City Ratner—the Atlantic Yards' developer—shudder? Is being on the bad side of a Brownstoner now unencumbered by a day job dangerous?
A couple of real-estate brokerages—Warren Lewis and Aguayo & Huebener—advertise on Brownstoner, as do contractors. Mr. Butler plans to expand the blog's reach and influence, both on readers and for any advertisers, in the next six months to a year. He'll likely take on editorial contributors and will try to cover community-board meetings and other city-government mishegoss.
But beyond that, Mr. Butler doesn't know where Brownstoner's headed.
"At the end of the day," he said, "it's probably not a totally rational decision [to go full-time]. It's in your gut, and feels like something you've got to do. It was more of a question of when and not if."
The M.B.A. and ex-Wall Streeter has, however, made careful calculations about a blog as a business model.
"I know what I need to be making in six months to not be going broke," Mr. Butler said, laughing. "If your goal in life is to do something you love and to get, hopefully, reasonably well-compensated at some point for it, it's great. I didn't pick it as a profit-maximizing decision."