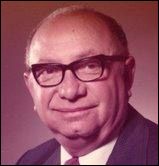 Joseph W. Chinnici, a Cumberland County Republican who served in the State Assembly for sixteen years, died on Sunday. He was 87.
Chinnici won an open Assembly seat in 1971 when James Cafiero moved up to the Senate and was re-elected seven times. He served as Vice Chairman of the Joint Appropriations Committee, and became the Deputy Speaker when the Republicans took control in 1985. When he retired in 1987, he was succeeded by Frank LoBiondo, now a U.S. Congressman.
He spent nine years as a Bridgeton City Councilman in the 1950's and 1960's and served as the Bridgeton City Clerk and as a Cumberland County Freeholder before winning election to the Legislature. He owned Major Clothing Company, which among other things, manufactured pea coats for the U.S. Department of Defense.
A funeral Liturgy will be held at the Church of the Immaculate Conception in Bridgeton at 10AM Thursday morning. A viewing will be held from 6-8 PM Wednesday at the Freitag Funereral Home in Brigdeton, and from 9-10 AM Thursday morning at the church.
In lieu of flowers, the Chinnici family has asked that memorial contributions be sent to the South Jersey Healthcare HospiceCare, 2848 S. Delsea Drive, Vineland, N.J. 08360.