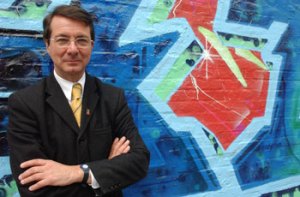 Toward the end of the 2000 Salzburg Festival, Gérard Mortier, the Belgian impresario whom the New York City Opera has just named to take over the company's fortunes in 2009, delivered a memorable operatic rant that Wagner would have applauded. For a decade, Mr. Mortier had run the festival less like the world's most exalted gathering of classical musicians that it had been under his predecessor, Herbert von Karajan, and more like a summer camp for juvenile delinquents. Determined to rid the festival of its deeply encrusted elitism, Mr. Mortier had mounted one belligerently untraditional production after another, a campaign of provocation that culminated that August in a wildly controversial staging of Johann Strauss' Die Fledermaus, replete with neo-Nazis, incest and cocaine. A dapper little fellow of passionate impudence, Mr. Mortier, who'd recently announced his resignation, stood before his attackers in the Great Festival Hall and for 40 unapologetic minutes asserted that if opera is to survive, it must aggressively engage with the world as it is, not as it was.
For all the panache that City Opera has shown under the leadership of its outgoing general director, Paul Kellogg (particularly in its updatings of Handel operas), the State Theater has hardly been a hotbed of activism during his 10-year reign. But then, what American opera company has?
A great deal has been written about why European audiences clamor for stagings that cause acute discomfort, whereas American audiences tend to regard opera as good for nothing more than an evening of highbrow escapism. Certainly the fact that the operatic canon is almost entirely European in origin and subject matter has a great deal to do with it. And so does the fact that most European opera houses owe their existence to the more or less automatic largesse of the state—not to the whimsies of private benefactors. Moreover, since virtually all great operas are, at bottom, attacks on the status quo, there may be something inherent in the form that goes against the essentially optimistic American grain.
Which raises the question of whether City Opera's invitation to this agent provocateur isn't like asking the fox to run the henhouse. Back when I was a regular at Salzburg, I grew tired of Mr. Mortier's bad-boy exertions. I walked out of a Così fan Tutte in which Karita Mattila's Fiordiligi was obliged to sing "Come scoglio" while holding the leashes of two nearly naked, muscle-bound extras as they nipped at her ankles, doggie style. (So that's what this paragon of romantic fidelity was singing about!) But when I eventually returned to a less silly, more sedate Salzburg run by a new intendant, I missed those post-opera drinking sessions at the Café Triangel during which everyone got high on the little Belgian's latest outrage.
Mr. Mortier was dead right about one thing: If opera is to live, it has to be talked about (and I don't mean chatter about why some fast-rising Bulgarian soprano will "never" be Maria Callas). I say, let the feathers fly—not only backstage, but into the lobby of the State Theater and across the plaza, where the Met's new general manager, Peter Gelb, is busy getting that old dowager re-engaged. The most salutary thing that could happen to opera in New York would be for the David and the Goliath of Lincoln Center to go head to head. May the best—not necessarily the biggest—man win.
AS THE MORTIER APPOINTMENT was being announced, I happened to be in Cleveland, where another round of musical chairs was taking place. This one involved the reappearance of the Cleveland Orchestra's former music director, Christophe von Dohnányi, who was returning to conduct a benefit concert with this great band for the first time since he left in 2002.
The 18-year marriage between the patrician German taskmaster and an institution that George Szell built into the world's most seamless orchestral ensemble is widely regarded as one of the most successful matches in recent memory. But his successor, the young Austrian Franz Welser-Möst, quickly made no secret of his intention to correct what he saw as the failings of the Dohnányi regime—chiefly, a lack of spontaneity and warmth in the playing.
Having heard a great many Welser-Möst concerts in the past few seasons, I was curious to hear whether the orchestra had indeed changed as much as the new man wanted it to. The Cleveland players are at once the most distinctive American orchestra in their devotion to precision and balance, and also thoroughbreds who respond instantly to whoever happens to be on the podium. That they were poised to do their old maestro's bidding in two 19th-century warhorses (Schumann's Symphony No. 4 and Beethoven's Eroica Symphony) was immediately apparent.
Mr. Dohnányi has always been a top-down conductor: Every detail seems to emanate directly from his muscular, all-controlling style. The result casts architectural elements in high relief. It's a determinedly grounded approach that worked better for the ruggedly assertive Beethoven than for the more poetically questing Schumann, and the audience gave Mr. Dohnányi a standing ovation. Yet in both works I felt instructed rather than transported: Admirably rock-solid, these performances never really took off.
I could only imagine what they would have been under the more laissez-faire baton of Mr. Welser-Möst: Structural relationships might have been obscured in favor of momentum; seriousness sacrificed for sensuousness.
The return of the old maestro made me nostalgic for the orchestra's current maestro, who—like Mr. Mortier—seems to have his musical ear tuned buoyantly to the future rather than to the past. As I whispered to the orchestra's executive director, Gary Hanson, after the performance, "It was a fine homecoming for Christophe, but I'll take Franz."