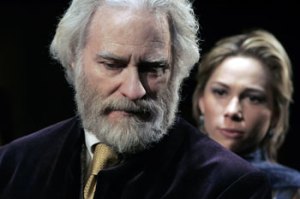 A word in the deaf ears of Oscar Eustis, the new artistic director of the Public Theater:
When you produced Macbeth in Central Park last summer, your claim that it was a timely war play for "our divided and war-torn nation" was made, I can only imagine, in the spirit of over-exuberance. The theme of Macbeth—it's no secret—isn't war, but murderous, consuming ambition. You were trying to make the play relevant to our times when there was no need.
And here you go again in your notes on King Lear, the current production at the Public, starring Kevin Kline:
"A country is thrown into turmoil and war by the stubborn, foolish decisions of the men who lead it. In the moral confusion that follows, the best of the young are deluded, foolish and ineffectual, while the worst flourish and rise. It must be time to do King Lear."
I'm sorry, Mr. Eustis—that's a terrible description of a great play, and this is getting ludicrous. King Lear—arguably the finest, most moving tragedy of human existence—isn't about war per se; least of all is it about any vague, convenient sense of our political present. ("It must be time to do King Lear"!)
It's always time to do King Lear, actually. In addition to Mr. Kline's version, Christopher Plummer, Alvin Epstein and André De Shields have all put themselves to the fire recently in the unrelenting, near-impossible role. Coming soon: Ian McKellen's Lear with the Royal Shakespeare Company at B.A.M. Why, there are even more King Lears than Hedda Gablers, and about as many all-male Twelfth Nights—two of them in Brooklyn this season alone. Or that overcooked plat du jour of Shakespeare productions, Romeo and Juliet—the searing and timely anti-war play the Public will be staging in the park this summer.
Why can't you leave Shakespeare alone, Mr. Eustis? There's an awesome lack of modesty in a director who proceeds to rewrite him, but it hasn't stopped your James Lapine. He firstly infantilizes King Lear with his addition of three pretty little girls as the childhood ghosts of Lear's daughters. (Mr. Lapine's early play, Twelve Dreams, revealed an interest in Jungian psychology.) His addition of the three ghostly girls is just a banal, sub-Freudian director's conceit—a sentimental reference to happy families that couldn't be less appropriate to King Lear. This is a monumental tragedy, after all, about unspeakable events—not a fairy tale, but a swirling, near-surreal nightmare whose comfortless essence is the foundation of Beckett's masterpiece, Waiting for Godot.
Mr. Lapine's use of tinkly, dream-like background music is only consistent with his muddled view that King Lear is somehow a lightweight drama of magical enchantment like—well, like Twelfth Night. Shakespeare set King Lear in pre-Christian times, at the dawn of civilization: Enchantment has no place in it. The merciless play strips humanity bare, to the elemental "thing itself." The 80-year-old king's belated journey toward self-knowledge and death is "above strangeness"; it's beyond anything we know.
That's why so much of the play takes place outdoors in a wasteland where a half-naked, deranged patriarch howls at a storm in the company of a clever fool, where madmen and homeless beggars roam in search of shelter and salvation, and a wretched blind man with his eyes gouged out tries to jump off a cliff that doesn't exist.
We might question, then, Mr. Lapine's choice of modish modern dress (costumes by Jess Goldstein) for a play of pagan timelessness, or question the usual all-purpose industrial set, along with its sand pit that's like a small beach or a playground (scenic design by Heidi Ettinger). But can there be any doubt that King Lear has no need of New Age–y Muzak to help the action along, to help us relax and enjoy? The music by Stephen Sondheim—for it is He (with orchestrator Michael Starobin)—is so plainly wrong that one wonders if Mr. Sondheim bothered to read the text at all.
But then, Mr. Lapine is so determined to improve on poor Shakespeare's play that he takes a verse of the Clown's farewell song that closes Twelfth Night and transfers it to King Lear, where "The rain it raineth every day" is now performed by the king in crazed duet with the Fool. As Sophocles used to say, gimme a break.
There's also the addition of Sonnet 43, now spoken by the Fool ("When most I wink / Then do mine eyes best see"). There isn't quite enough poetry in King Lear for James Lapine. Rumor has it that he even considered having Lear recite "To be or not to be," but changed his mind at the last minute because he thought one or two people might notice.
IN LONDON THEATER, TO BE CALLED A GREAT CHARACTER is a high compliment. Kevin Kline is one of America's best—his Falstaff attested to it. His confident ease with Shakespearean verse is without equal. But Mr. Kline isn't a tragedian (though his Hamlet was admired by some). He's a romantic hero with a flair for light comedy. Innate charm and intelligence are his calling cards.
But ruined Lear possesses neither charm nor, in his foolish dotage, intelligence. Mr. Kline makes far too thoughtful and restrained a Lear. The scale and tragic heft of the ancient king are fatally absent. And with them, our overwhelming awe at the downfall of this symbolic godhead of paranoid power and majesty.
Mr. Kline's opening scene, in which Lear demands irrational, unconditional love from his daughters in return for the spoils of his divided kingdom, proves a forewarning and near-disaster. There's no simmering sense of danger in it. Lear's terribly forbidding opening line, "Meantime we shall express our darker purpose," is thrown away as if he were announcing good news. His chilling "while we unburden'd crawl toward death"—neutrally delivered by Mr. Kline as if crawl had no significance—is greeted by loud, silly laughter from Lear's daughters.
The die is cast: Mr. Kline's mild, reasonable Lear (who's given to occasional temper tantrums); a neurotic, giggly Goneril (Angela Pierce); an unremarkable hag in Regan (Laura Odeh); and an unsympathetic, crucially untouching Cordelia (Kristen Bush). Only two actors in the entire company seem right: Michael Cerveris' outstanding Kent and trusty Larry Bryggman's Gloucester. Though Mr. Kline occasionally hints at Lear's fury and convulsiveness, his storm scene is but a light shower, while his mad scenes in loincloth and wreath come uncomfortably close to the harmless mischief of a bushy-bearded, antic sprite.
Doubtless encouraged by Mr. Lapine, the star has over-thought his Lear to such an extent that we've no emotional connection to him or anyone else. (Gloucester's eyes are literally "plucked out" in the blinding scene, provoking audience laughter.) Yet this is Shakespeare's most emotional play. "Speak what we feel, not what we ought to say" is its defining line.
Lear's death scene ought to pierce our hearts every time. The grieving, dying old king enters with his beloved daughter Cordelia dead in his arms. Father and daughter were recently reconciled, but Cordelia has been hanged in prison. In what must surel y be the most moving scene in the entire Shakespeare canon, Lear carries her body and weeps. ("She's gone forever!") And longs pitifully for her to breathe and live again. ("Cordelia, Cordelia stay awhile.")
No, no, no life!
Why should a dog, a horse, a rat have life,
And thou no breath at all?
Mr. Kline distracts us from the unbearable scene by fussily trying several times to wrap Cordelia's limp arm round his neck as if she were a rag doll. If that stage business weren't tricksy enough, he then beats his heart with each "Never, never, never, never, never" before dying.
No scene in drama speaks to us with such direct, uncluttered, primal feeling. It's no crime for Mr. Kline to have stumbled trying to make sense of Lear's "great stage of fools." But we can only end as we began:
Mr. Eustis, when will your Public Theatre—and ours—trust Shakespeare enough to stop settling for third-rate, "timely" productions? When are you going to permit Shakespeare to speak for himself?