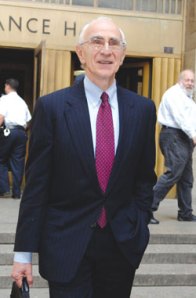 That small, obsessive crowd that settled down to watch the case pitting a young and promising associate against his former employer, the white-shoe law firm of Sullivan & Cromwell, has not been disappointed.
These are not great moments in lawyering, the kind that puts The New York Times' Linda Greenhouse on A1. This is "Lawyers Behaving Badly."
Late on the afternoon of Jan. 31, approximately two weeks after filing a discrimination and retaliation lawsuit against Sullivan & Cromwell, fourth-year associate attorney Aaron Brett Charney sat in a carpeted meeting room at the Penn Club on 44th Street, discussing a settlement.
Representing Sullivan & Cromwell were firm partners David Braff and Gandolfo DiBlasi. Also there was Gera Grinberg, the senior associate with whom Mr. Charney had worked closely, in what everyone agrees was a productive professional relationship that Mr. Charney argued had prompted some of the harassment.
Accompanying Mr. Grinberg were his two lawyers, partners Steven Spielvogel and Edward Gallion of Gallion & Spielvogel.
Four days after that conversation, Mr. Charney boiled his home computer's hard drive in hot water, attacked it with a hammer, boiled it again and then discarded the remains.
Sullivan & Cromwell argues that this action presents grounds for the dismissal of Mr. Charney's suit.
But his lawyers respond that their client was frightened by threats from the powerful law firm and had interpreted talk about erasing his hard drive as a condition of settlement as an instruction.
As an example, Michael Kennedy, an attorney for Mr. Charney, described an alleged "rant" by Mr. DiBlasi.
"That rant said, 'Sullivan & Cromwell is invincible.' That rant says, 'We defended the Nazis, and nobody can do anything or cared. We'll crush you like a bug,'" Mr. Kennedy said, quoting his client's recollections at a Feb. 22 hearing in the New York State Supreme Court. "Those aren't settlement negotiations; those are threats."
"He was so terrified, he would have done virtually anything," Mr. Kennedy declared.
"His version of the Jan. 31 meeting is totally false," said Sullivan & Cromwell spokesman Paul Caminiti.
The most recent hearing, on March 14, kept that meeting at the center of the case, when Mr. Kennedy requested the opportunity to depose three of the attendees: Mr. DiBlasi, Mr. Grinberg—who is on paid leave—and Mr. Gallion.
Mr. Kennedy returned to the question of Mr. Charney's state of mind in destroying his hard drive.
"That really was the commencement of what was a very significant and protracted reign of terror," he said, his tone insistently steady. "They have raised the issue, the specter of spoliation, and we need an opportunity and I think deserve an opportunity to be able to lay it to rest."
"The suggestion by Mr. Kennedy is…just rhetoric but not reality," Charles Stillman, a lawyer for Sullivan & Cromwell, coolly responded.
According to Mr. Kennedy, Mr. Grinberg was the only party at the Penn Club meeting permitted to take notes, and he gave them to Mr. Gallion for safekeeping. But Mr. Gallion then "destroyed" them.
Now there was destruction of evidence committed by another former Sullivan & Cromwell lawyer, Mr. Gallion—this time a document with specific, potentially exculpatory information.
According to sources, Mr. Grinberg first retained Mr. Spielvogel, who had been one of his professors, as his attorney in the matter; Mr. Spielvogel then brought in Mr. Gallion. As is common practice, Sullivan & Cromwell is paying Mr. Grinberg's counsel fees.
"There was a meeting…and it should be very clear that it was Mr. Grinberg who selected Mr. Gallion to be his lawyer," Mr. Stillman said in court, distancing the firm from Mr. Gallion. "A decade ago, Mr. Gallion had been an associate at Sullivan & Cromwell."
During the hearing, Mr. Kennedy was asked to explain why he couldn't produce the notes to the meeting that his client, Mr. Charney, said he'd attended. Mr. Kennedy replied that Mr. Grinberg's current lawyer, Gary Ireland, had informed him that they'd been destroyed.
Flustered, Mr. Ireland—who up to this point had been sitting in the gallery and taking his own notes—stood up and hustled to the podium to introduce himself. "It is my understanding from Mr. Gallion that [those notes] were destroyed," he said, later adding: "They are the subject of the complaint before the Disciplinary Committee."
Mr. Stillman interrupted, insisting that it was improper for Mr. Ireland to reveal such a matter. Justice Fried seemed to agree and called for a recess.
Exactly who is to blame for the continuing discussions over an initially confidential meeting depends at least in part on where you stand at counsel table.
The Sullivan & Cromwell lawyers used the hard drive destruction to raise questions about Mr. Charney's judgment—especially since, as they pointed out, between the settlement talk and the hammering and boiling several days later, Mr. Charney had appeared before a judge, who advised him to treat all material related to the case "as if it were your own client's confidential documents."
For their part, Mr. Charney's lawyers agree about the meeting's significance. But what exactly Sullivan & Cromwell seeks on the hard drive hasn't yet been articulated.
It appears that the ancillary litigation surrounding the circumstances of the settlement talk will continue to dominate the court proceedings.
Noting that Mr. Charney had retained counsel between the settlement talk and the destruction of his hard drive, Mr. Stillman informed the judge last week, "I will probably be coming back to you to examine his lawyers."