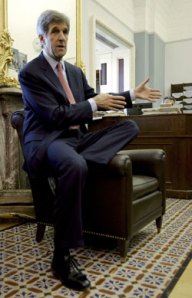 John Kerry was at the 92nd Street Y this week, ostensibly to talk about his new book about environmentalism. But it didn't take long for moderator Charlie Rose to steer the conversation to the subject that Mr. Kerry must be thoroughly sick of discussing by now: the 2004 election.
"Frequently, people say a stronger, faster response to Swift Boat might have put you in the White House," said Mr. Rose, slouching slightly in his chair with purple tie falling to the side. (Teresa Heinz sat between Mr. Rose and her husband with her hands folded, often staring out to the ranks of the paying audience.)
"Well, I've heard that," said Mr. Kerry, with a copy of his book on his lap and a legal pad full of handwritten notes that he ignored. "And there's a certain mythology around that, and some people may say that's true. We did respond. People don't realize it."
Later, Mr. Rose read a scathing excerpt from a recent book—The Way to Win, by Mark Halperin and John Harris—that called Mr. Kerry "a case study" in how not to run for President.
(Ms. Heinz's response: "If all John Kerry is is a case study, I'm sorry for America.")
"Do you want to run again?" Mr. Rose finally asked his guest.
"Um, I can't answer that now," Mr. Kerry said.
Afterwards, the reviews were mixed.
As Mr. Kerry and Mr. Rose chatted near the side of the stage, Amy Nunn, a corporate-communications executive originally from Little Rock, Ark., was left wanting more. "That's the difference between Bill Clinton and John Kerry," she said. "Bill Clinton always worked the crowd."
In the lobby, 88-year-old Inger Humbert, a retired real-estate broker, put on a thick winter jacket and said, "It wasn't worth $50. It was worth $25."
But there were some fans. "I said to him, 'Would you do me a favor and run again and save my kids?'" said Manhattan public-school teacher Elizabeth Sweeney. "He just smiled and said, 'No. Thank you for what you do.' He was very nice."