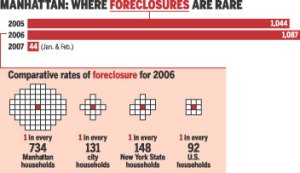 If you've been reading the real-estate pages in the newspapers lately, you could be forgiven for drawing the conclusion that a national wave of foreclosures looms as the bills come due on subprime mortgages inked during the housing boom (which, the same papers relate, ended last year).
But things aren't that grim, especially in Manhattan, where a subprime borrower's about as common as sobriety on St. Patrick's Day.
The flailing of the subprime-mortgage industry, which loans to borrowers with shaky credit, has stoked fears of a foreclosure wave; recent rising defaults nationwide sparked the crisis.
One lender in particular, New Century Financial, has endured such troubles (many of its own making) as to have been banned last week from casting new loans in four states, including New York and New Jersey; and the New York Stock Exchange delisted it.
Based on data from different sources, any foreclosure wave should pass Manhattan by, though, and shouldn't swamp homebuyers nationally. Foreclosure filings dropped in February for the second straight month, according to Foreclosures.com, a California-based firm that tracks foreclosure listings nationwide. February's national amount dropped 3.4 percent from January to 106,074.
Only 22 of those were in Manhattan; that was the same number as in January. That's 44 foreclosures in two months in a borough where about 9,000 home sales close annually.
Web research site Property Shark.com recorded similarly piddling numbers for the borough in the fourth quarter of 2006: 20 total, not nearly enough for any Manhattan ZIP code to pierce the Top 20 list of codes with the most foreclosures. (Queens ZIP codes made up half that list.) Foreclosures citywide dropped 16.7 percent from the third quarter.
And according to RealtyTrac, another California-based firm that tracks foreclosures, one in 734 Manhattan homes entered foreclosure in 2006—or about 0.14 percent of households, nearly identical to the 0.13 percent in 2005. Citywide, the ratio was one in every 131 households last year; and, statewide, one in every 148, down from 2005.
Why the hubbub, then, over the subprime crisis?
A lot of borrowers nationwide tapped into the general buying frenzy of the last few years, rosy eyes aglow over historically low interest rates, muscular home construction, and following, agog, media coverage of the housing boom.
Subprime lenders like New Century were only too happy to capitalize on this borrower lust, as were the investors who funded the subprime lenders with an expectation of higher profit because of subprime mortgages' typically higher interest rates. In 2005, subprime mortgages accounted for one-fifth of the nation's mortgage originations, up from 5 percent in 1994, according to the federal Currency Comptroller.
In Manhattan, though, the number of subprime mortgage originations remains negligible. The prohibitively expensive housing here means less potential buyers and tighter reins on those who do make the sales cut. If you're going to get a hefty loan for a $500,000 studio, you're going to have to have good credit—or be backed up by someone with such (paging Mom and Dad).
But even if a buyer has good enough credit to get a loan for the typical 10 percent Manhattan down payment as well as a mortgage, co-op boards, which serve as gatekeepers for much of the borough's for-sale housing, might still reject a buyer with shaky credit.
In short, in Manhattan, subprime mortgages aren't common because they can't be common. The system's evolved to one favoring those with good credit or a lot of liquid money.
"Most of the borrowers in Manhattan are well-qualified," said Jeff Appel, a senior vice president at Preferred Empire Mortgage Company.
They have to be to pay for housing even at the cheaper end. The average price of a one-bedroom in Manhattan, year-end 2006? $694,926, according to appraisal firm Miller Samuel. The price of a studio? Just over $441,000.
In other words, not subprime at all.