By MAX PIZARRO
PoliticsNJ.com
In one of three districts in the state that elects a Democrat and a Republican to the State Assembly, Linda Greenstein and Bill Baroni have been fierce competitors in the last two legislative campaigns, with Baroni winning the most votes both times.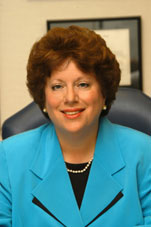 In 2003, Baroni, in his first campaign, collected 27,181 votes in the general election; Greenstein, who was elected was elected in 1999, netted 24,752. Two years later, Baroni garnered 37,241 votes, while Greenstein received 35,816 votes.
Now Baroni is running for State Senate, and Greenstein is tempted to go for a face off — though everything hinges on party talks ongoing this week, and the party's decision regarding the current Senate nominee, Seema Singh.
Democrats nominated Singh, a first-time candidate who has worked for three Governors, before perennial winner, Republican State Sen. Peter A. Inverso, announced on Monday that he would not seek re-election.
Conventional wisdom in both parties is that the Senate candidate — like Inverso, and like Baroni — should be from Hamilton. Not absolutely, but preferably.
Greenstein, a former Plainsboro Committeewoman, disputes that strategy. She points to her very close losses to Baroni in the past two elections, her amassing of key endorsements in each election cycle, and her ability to overcome the presence of an ethically challenged running mate in 2003, incumbent Gary Guear.
She said that in 2005, she was the victim of a anti-Democratic tide in Hamilton Township, where her running mate, Dan Benson, was on the Council that flipped from Democrat to Republican. "Three council people went down like lead pipes," Greenstein said, explaining her third place finish in Hamilton.
Hours after Inverso's announcement, CWA Local 1034 President Carla Katz, who runs the state's largest public employee union — a particulary powerful group in Mercer County — announced her public support of Baroni for Senate Greenstein says that Katz made her endorsement with the understanding that Singh would be the Democratic candidate, but late Tuesday night, CWA leaders continued to affirm their support of Baroni.
Greenstein told PoliticsNJ.com that she has made several calls to labor unions that have supported her and Baroni in the past and asked them to "hold off" on any endorsements until she, Singh and the Mercer and Middlesex Democratic organizations have reached a decision on the '07 slate — probably before the end of the week or over the weekend.
"I started calling people, and many of them told me they haven't committed yet," Greenstein said. "Of these, of the groups that supported Bill and me in the past, not a single one told me 'we're supporting Bill and not you.'"
Commitments of support by labor groups — and the decision of Glen D. Gilmore, who will announce tomorrow if he'll run for Senate or Hamilton Mayor again — will determine whether Greenstein runs against Baroni, or for a fifth term in the State Assembly.