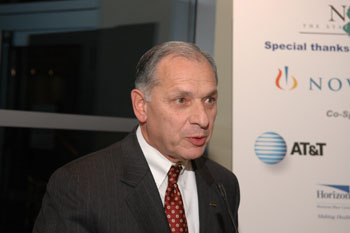 Five-term Republican State Sen. Peter Inverso will not seek re-election, and becomes the 12th Senator — and ninth Republican — to retire this year. Staffers at the Senate Republican leadership office have confirmed that Inverso will announce his retirement today at a news conference in Hamilton.
Assemblyman Bill Baroni is expected to seek the GOP nomination for State Senate. Senate Republicans say that Inverso will endorse Baroni for his seat.
On Saturday, Mercer County Democrats endorsed Seema Singh, the state Ratepayer Advocate, as their candidate for Senate. Baroni vs. Singh offers a contest between Baroni's base in blue collar Hamilton and Singh's appeal to a growing block of Asian American voters in the 14th district.
A run for State Senate in 2007 effectively takes the 35-year-old Baroni out of the race for U.S. Senate next year. GOP leaders had suggested that Baroni was a leading candidate to take on incumbent Frank Lautenberg in 2008.
Inverso, 68, was elected to the Senate in 1991, when he upset veteran Democrat Francis McManimon amidst voter reaction to Gov. Jim Florio's $2.4 billion tax hike. No other sitting Senator has survived as many tough re-election contests as Inverso, who has beaten top-tier challengers like Mercer County Sheriffs Gilbert Lugossey and Samuel Plumeri and former Assemblyman/state Personnel Commisisoner Anthony "Skip" Cimino. His sixteen years in the Legislature makes him the second-longest serving Senator from Mercer County in state history; Democrat Sido Ridolfi spent eighteen years in the Senate, while Joseph Merlino, Gerald Stockman and McManimon each served for ten years.
Baroni was elected to the Assembly in 2003, defeating two-term incumbent Gary Guear — the only Republican to unseat a Democratic legislator that year. He defeated Guear by 5,733 votes, and was re-elected over Hamilton Township Council President Daniel Benson in 2005 with a 7,327 vote plurality.
Hamilton Mayor Glen Gilmore said earlier this year that he would not run for State Senate in 2007, and he is considered a strong candidate for re-election to a third term as Mayor this year. Greenstein has declined opportunities to run for Senate in the past, and Assembly Democratic insiders suggest that she would be unlikely to risk her legislative seat for a race against Baroni, who outpolled her in 2003 and 2005 by substantial margins.
Singh, a 45-year-old lawyer from South Brunswick, becomes the first Asian-Indian candidate to run for the Legislature in a competitive district. As Ratepayer Advocate, she represents New Jersey consumers in all utility matters involving the electric, natural gas, telecommunications, cable television and water industries, and insurance matters at both the state and federal level. She has also served on the New Jersey Executive Commission on Ethical Standards.
Democrats had been unable to unite behind an Assembly candidate to challenge Baroni, and adjourned their convention on Saturday without picking between James Stevenson, the first African American to serve on the Hamilton Board of Education, and former Hamilton Library Trustee Joseph Leist, who had Greenstein's support. Now with an open seat in the swing district, Democrats are likely to attract a top-tier candidate.
"Public service is a privilege and an honor carrying with it the commitment to put the public interest before self-interest. I have always let that guide me in fulfilling my legislative responsibilities," Inverso said in a statement released today. "I am immensely grateful that the people of my district have placed their trust and confidence in me and permitted me to represent and serve them in the State Legislature for nearly sixteen years.
"I am saddened by Senator Peter Inverso's retirement. I've known Pete Inverso since I was three years old, and he continues to serve as my mentor in politics," said Baroni. "Senator Inverso leaves behind a legacy of honesty, ethics, good government, and independence. I am ready to continue Senator Inverso's legacy."