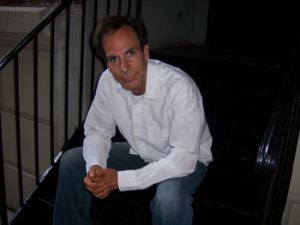 On two occasions when executives of Village Voice Media came to visit The Village Voice's then editor, David Blum, in New York, they asked for reservations at the Waverly Inn, Graydon Carter's secret-phone-number-protected West Village eatery.
Mr. Blum's bosses—in town from the Sun Belt and the West, where they built the New Times alternative-weekly chain—succeeded in dining in the sanctum of $55 truffled mac-and-cheese and anti-publicity publicity.
But in other respects, the alt-cowboys are still coming at the Manhattan media world from the outside. On March 2, Village Voice Media fired Mr. Blum, a New York native who had been in the job for six months. Three days later, the company announced that the new editor in chief of The Voice would be Tony Ortega, an 11-year veteran of the company, who edits the Broward-Palm Beach New Times.
Mr. Ortega, 43, is The Voice's fifth editor in chief since the October 2005 announcement of a merger between newspaper chains controlled by New Times and The Voice. Under the deal, which was consummated in January 2006, New Times management took control of the whole operation, but assumed the hallowed, half-century-old Voice name.
More than a year later, the new Village Voice Media still hasn't gotten a handle on running the actual Village Voice: a fractious paper in a stagnant niche in the country's most competitive print-media market. And the gap between the paper and its distant but hands-on owners keeps swallowing editors.
"My job as editor in chief of The Village Voice was not all spent putting out the newspaper, but also keeping people happy thousands of miles away," Mr. Blum said on March 3, shortly after his firing was announced.
Mr. Blum had New York bona fides: He'd worked as a reporter, critic and editor for The Wall Street Journal, New York magazine and The New York Sun. But he had never run a weekly newspaper, and specifically not one of the highly regimented New Times products. He was chosen after the previous editor-designate, Erik Wemple of Washington City Paper, backed out shortly after arrival.
Mr. Blum said he had felt that he didn't have the confidence of Village Voice Media and its executive editor, Mike Lacey. He received frequent e-mails and phone calls about running the paper.
The final phone call from Mr. Lacey came March 2, telling him that he was out. Two days earlier, there had been a bitter, hour-and-a-half-long editorial meeting at which issues of race and class dominated. A familiar topic had come up: Who is The Voice's target audience?
There had been plenty of other discussion sessions in Mr. Blum's time at The Voice. Several staffers said his editorial meetings tended to deal in abstract, pedagogical explorations of the types of stories he wanted, rather than pitches and assignments.
And staffers said Mr. Blum had seemed more at ease with recent hires, plucked from Columbia's journalism school—where he has worked as an adjunct—than with the strong-willed Voice lifers.
"He was comfortable in the professor role," a Voice staffer said. "I don't know if he was comfortable in the editor role."
Another staffer said that Mr. Blum seemed to favor rambling, specific human-interest stories over shorter, newsier pieces.
(Mr. Blum did resurrect the dormant "Press Clips" column, after a long search for a writer that included a few conversations with this reporter.)
The paper's news space took a hit this past fall when Mr. Blum killed the front-of-the-book "City State" section, to the chagrin of the veterans.
"In one form or another, we've had an upfront local-politics section for as long as I've been there," said reporter Wayne Barrett, who started at The Voice in January of 1978.
Mr. Barrett said he "certainly did disagree with the decision which David made to eliminate the section."
With the front reduced, writers wondered where stories would go at all. Editorial space was a source of contention—particularly when an investigative piece by Mr. Barrett on corruption in the State Supreme Court was relegated to inside the paper, while a new sex columnist got the cover. Several staffers said that the piece was passed over because the head office in Phoenix wanted the sex-themed cover art.
Mr. Blum said that New Times papers had a tradition of giving art directors "freedom to put something on the cover that is the most easily illustrated, rather than the story that is the most significant."
The news hole at the front, Mr. Blum said, was due to be restored March 7, with the launch of a section called "Eight Million Stories."
"I wanted to replace the 'City State' section … with an upfront news section that had less of a focus on politics and government, but covered the city as a whole," Mr. Blum said. "It seemed to me that 'City State' was too often filled with stories for the daily newspapers and not a weekly."
"The thing that mystifies me about New Times, and Lacey told me himself, is that he and his partner had coveted The Voice for years," Mr. Barrett said. "They liked the name, but I don't know what they liked about the paper before they bought it."
Mr. Lacey didn't return multiple phone calls and e-mails seeking comment.
Staffers were more impressed by Mr. Blum when he bucked the home office in handling the yearly music critics' poll, "Pazz & Jop." Music critic Robert Christgau, who had run the poll for 33 years, was fired in August 2006, along with seven other old-line staffers. That prompted Gawker Media's Idolator Web site to start a competing poll called "Jackin' Pop."
Bill Jensen, Village Voice Media's director of new media, wrote an introductory essay for the first post-Christgau "Pazz & Jop" poll, in which he denounced aging music critics and attacked the Idolator project: "So who gives a shit about a three-month old blog doing a poll of its own?"
Mr. Blum refused to publish Mr. Jensen's piece, substituting a mild-mannered in-house essay. Leaked to Idolator, the combative original—its kicker, to doubters of The Voice's pop credentials, was: "Dewey Defeats Truman, motherfuckers"—became a blog-world laughingstock.
"They felt strongly that we weren't being aggressive enough in attacking our competitors," Mr. Blum said.
It was Mr. Jensen who announced to the staff that Mr. Blum had been fired and that he was taking over as interim editor.
Two days later, on a Sunday, Mr. Lacey phoned Mr. Ortega to offer him the job. Mr. Ortega had left work during the afternoon on Friday and hadn't checked the Internet since, and was unaware that Mr. Blum had been fired.
Mr. Ortega said he had informally chatted with Andy Van De Voorde, the company's executive associate editor, in 2005 about possibly moving to New York if anything ever came up.
"I had given them the impression that I was interested, but I figured I was one of 50," Mr. Ortega said by phone shortly after midnight on March 6. He had been out celebrating with his Florida staff.
A few weeks ago, Mr. Ortega said, he had talked to Mr. Van De Voorde again, and had expressed an interest in the vacant editor's position at the chain's OC Weekly. "I thought you were interested in New York," Mr. Van De Voorde said, by Mr. Ortega's account.
At that point, there was still no opening.
Reached after the announcement of Mr. Ortega's hiring, Mr. Blum said he was delighted by the choice. "He really is one of the brightest and smartest editors of the bunch," Mr. Blum said. "He puts out a great paper, and he has excellent credentials."
"He has the added advantage of long experience working with Mike Lacey," Mr. Blum said. "That's a plus. I don't mean that as a criticism of Lacey, but it's a benefit to have a working relationship."
Mr. Ortega and Mr. Blum spent time together in October 2006 at a retreat in New Orleans for the editors of all 17 Village Voice Media weeklies. There was a bus tour of the Katrina-ravaged Ninth Ward, a few editorial discussions, and plenty of eating and drinking.
"I had a really good time talking to David," Mr. Ortega said. "We went out drinking. I could tell that David was trying to figure us out."
Now The Voice has an editor who intimately understands the New Times tradition. "I'm sure lots of people wonder, 'Why would you want to add yourself to the body count?'" Mr. Ortega said.
"I come from the perspective of someone who has been with this company, and things have worked out very well," he added.
Libby Case Ends at High Noon
In the end, I. Lewis (Scooter) Libby was found guilty of lying about the circumstances surrounding the leaking of a C.I.A. agent's name to the press in response to an op-ed piece by former ambassador Joseph Wilson, the agent's husband, who had written that the White House used discredited information in claiming that Saddam Hussein was shopping for uranium—a claim that was central to the argument that Saddam had an active and ongoing program to make nuclear, biological and chemical weapons, which the White House said posed such a direct and imminent threat to the United States that it was necessary to invade Iraq.
Somewhere at the end of that long and branching chain of causation: guilty.
"Almost four years ago, I wrote a piece for Time.com called 'A War on Wilson?', about how the administration was taking on this newfound critic of the just-completed march on Baghdad," said Portfolio magazine politics editor Matthew Cooper, the former Time reporter, who was subpoenaed and threatened with jail in the leak investigation. "The piece still holds up."
"Am I glad to have this thing behind me?" Mr. Cooper said. "Of course."
"I'm so glad this case is over," said Lucy Dalglish of the Reporters Committee for Freedom of the Press, which had advocated in defense of reporters and newspapers subpoenaed about the identity of their confidential sources.
Ms. Dalglish also said: "I don't think 'guilty' or 'not guilty' really impacted the media."
Judith Miller, the former New York Times reporter who was jailed for weeks while protecting Mr. Libby's anonymity as her source, said, "There's still an appeals process, and I will have nothing to say at this point."
"I think there is a significant chance he will get pardoned just before Bush goes out of office," said Robert Bennett, the prominent D.C. defense lawyer who represented Ms. Miller.
Readers who clicked to refresh the New York Times Web page between the announcement that a verdict had been reached and the reporting of the results could fill the anxious minutes by reading the adjoining A.P. story: "2 Suicide Bombers Kill 93 in Iraq."
Mr. Wilson's original Times op-ed has been much parsed and contested during the past three years, mostly in the sections describing the relationship—implicit? explicit? exaggerated?—between the office of the Vice President and the C.I.A. and his orders to travel to Africa. The office of the Vice President was where Mr. Libby worked.
Less study has been devoted to the ending of Mr. Wilson's piece.
"More than 200 American soldiers have lost their lives in Iraq already," Mr. Wilson wrote then. "We have a duty to ensure that their sacrifice came for the right reasons."
—By Tom Scocca with reporting by Michael Calderone and Anna Schneider-Mayerson