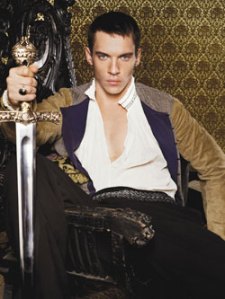 Thanks to on-demand viewership, TV programming honchos really need to come up with something good these days. There are a few gems in this spring's lineup: a cable drama (The Tudors), a generational comedic spin-off (The Winner) and real (!!) reality television (This American Life). Add already popular programs like Ugly Betty, The Office and Lost to the return of HBO favorites The Sopranos and Entourage, and relaxing on the couch might actually be entertaining, too.
Fox includes The Winner in its Sunday-night post-Simpsons lineup starting March 4. Former Daily Show correspondent Rob Corddry plays Glen Abbott, a now-successful businessman who discovers that Alison McKellar (Erinn Hayes), the only woman he's ever kissed—a consolation prize after a sucker punch—has moved home next-door to care for her ailing mother. Abbot immediately bonds with her son, Josh McKellar (Keir Gilchrist), simultaneously celebrating and exploiting the notion that men mature at a pathetic pace compared to their female counterparts.
ABC is using its popular Grey's Anatomy to lead viewers into midseason drama October Road on March 15. Road stars One Tree Hill's Bryan Greenberg as Nick Garrett, a successful author whose hometown-based novel became a best-seller. When a case of writer's block consumes him, Garret decides to move back home after a 10-year absence, gets a job at the local university, and finds that his novel has fractured past relationships. Self-absorbed writers all across New York will relate.
After 12 years on public radio, and boasting 1.7 million listeners a week, host Ira Glass—along with indie film producer Christine Vachon (Boys Don't Cry, Happiness)—adapts the stories of real American experience in a television version of This American Life. A breath of fresh air for "reality television"! It premieres March 22 on Showtime.
Calling Kevin Bacon …. That show is back! (Pregnant Bridget Moynahan, too!) Yep, the Six Degrees folks are giving it another go. Six Degrees, a Lost-esque drama by the same producers, takes place on the far more populated island of Manhattan and follows the intersecting paths of six characters. Based on a mysterious "theory" about six people, six episodes aired in September to lukewarm reviews. One good thing—the stars sure are hot. Six Degrees returns to ABC on March 23.
Jonathan Rhys-Meyers is leaping into the pool of big-screen actors settling down, temporarily at least, for the small screen. After carefully testing the waters as the King of Rock 'n' Roll in the Golden Globe–winning miniseries Elvis, Mr. Rhys-Meyers now plays King Henry VIII in the infancy of his 40-year reign. The series chronicles the king's coquetry with Catherine of Aragon and Anne Boleyn, as well as his relationships with philosopher Sir Thomas More. The Tudors premieres April 1.
On April 8, The Sopranos returns to finish what it started last year, concluding the series with eight final episodes. The first 12 episodes of season six, which premiered on March 12, 2006, found Tony Soprano (James Gandolfini) in a coma after being shot by a delusional Uncle Junior (Dominic Chianese), leaving his capos without a clear successor. When Tony wakes up, the world is even more intolerant of Jersey's Cosa Nostra. Is this the end of our Tony? Will this season be better than last season? Please, Mr. Chase!
That same night, the Entourage boys return from their vacation to have what would seem to the rest of us like, well, a vacation. As his celebrity stock rises, Vinny (Adrian Grenier) finds that his relationship with agent Ari Gold (Jeremy Piven) has become increasingly tense. Vinny will either stick with his super-agent, or leave him for greener pastures. But could they really get rid of Jeremy Piven? Come on!